Peter Mayhew Interview, July 2001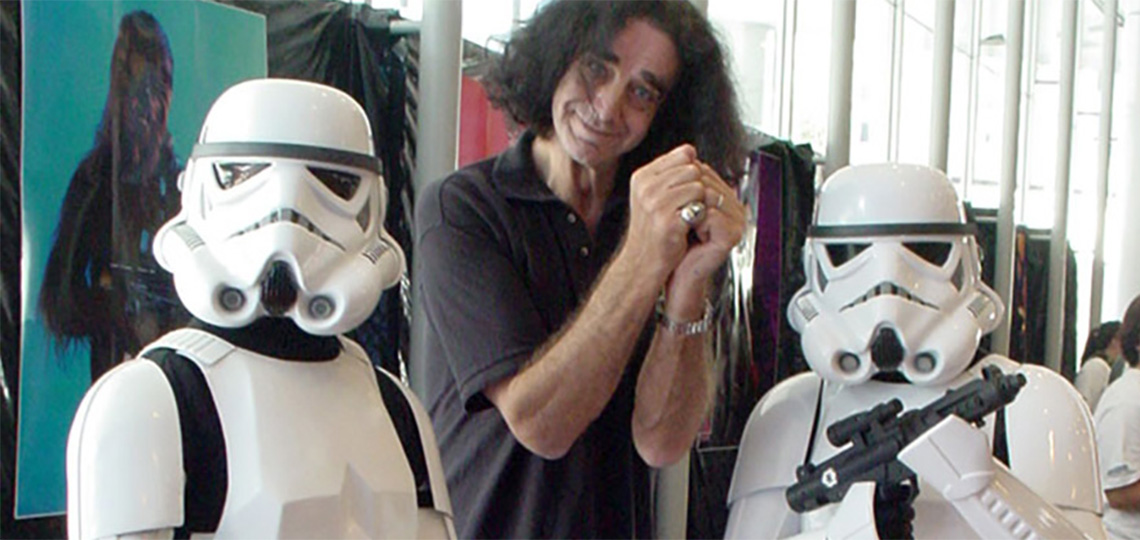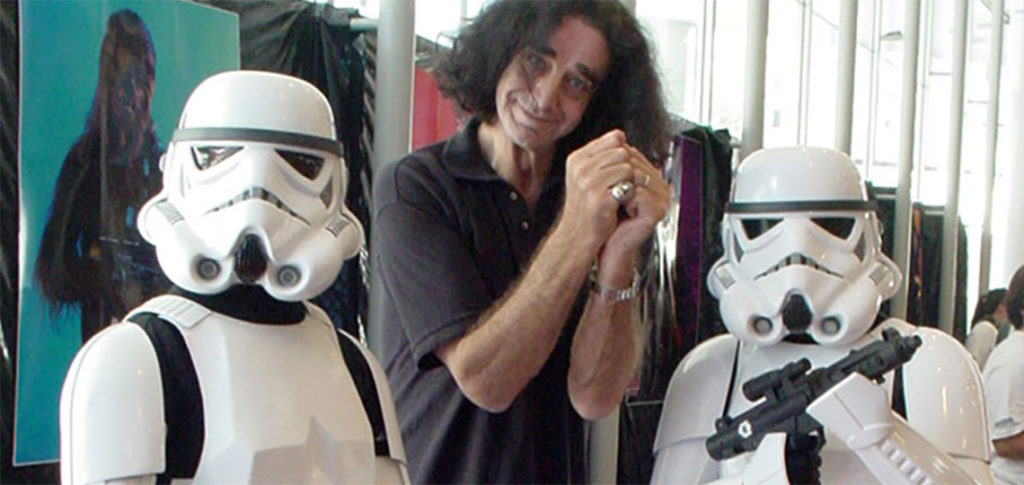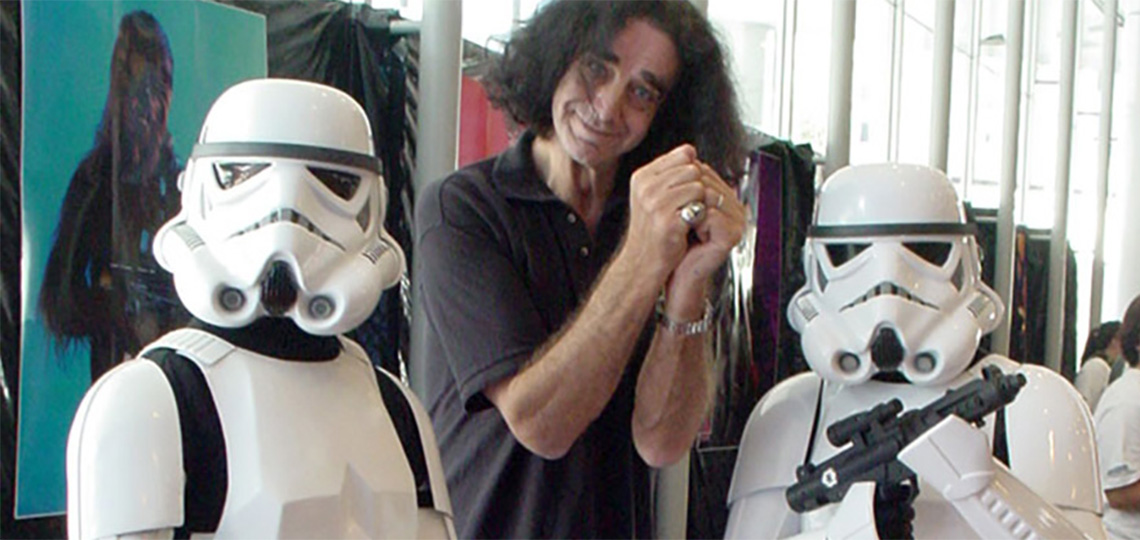 Back in July 2001, SWNZ was very fortunate to be able to undertake a telephone interview with the late Peter Mayhew (who, sadly, passed away on April 30th, 2019). Peter has long been an accessible and enthusiastic representative of the Star Wars universe, and this was an appreciated opportunity to learn more about the actor and his alter-ego. Although some of the comments and information are now dated, as the interview was conducted prior to even Episode II: The Attack of the Clones being released and when the pre-Disney Expanded Universe was in full effect, the long conversation we had with Peter is a great way to look back and remember him and his contributions to Star Wars. This interview was originally published in the first issue of the short-lived SWNZ Magazine that came out in late 2001.
---
SWNZ: Can we get a bit of introduction to Peter Mayhew before leaping straight into Chewbacca and Star Wars? You grew up in England, and indeed were living there at the time of the Star Wars filming, but now live in Texas, USA. Can you give us a brief picture please, of your life before Star Wars?
Peter Mayhew: Yes, I grew up in England. Before Star Wars, and before Ray Harryhausen's Sinbad and the Eye of the Tiger (which I worked on about 1.5 years before Star Wars, I was working in the hospital (London's King's College Hospital) as an orderly. Life was pretty good. Out of the blue, a newspaper reporter came along, and was looking for people with big feet for a story… I've got fairly big feet, about ize 17-18. The article he wrote appeared in the evening paper. At that time, the producers from Sinbad were looking for a person big enough to play the Minotaur (Ray Harryhausen wasn't using models for filming at that time). They contacted me and offered the job. It just happened from there: they asked "do you think you can do it", and I simply answered "yes". I had never done anything like it before, and I thought I'd just give it a try. We went out on location in Spain and Malta for 3 months, and I let a lot of movie industry people.
In April 1976, Star Wars came along. I got a phone from one of the production staff, who asked "would you like to do a character in a sci-fi movie?" The guy who did all the make-up and masks for Sinbad had been talking to the creature make-up artist from Star Wars (they were friends), who had said they were looking for someone big. The guy from Sinbad said "give Peter a call, and see if he is involved in anything at the moment", and I wasn't…
SWNZ: How did your Sinbad film experience compare with your entry into George Lucas' world shortly thereafter?
Peter Mayhew: They were totally different, because most of Sinbad was on location, whereas most of Star Wars was done in the studio (with the exception of the Tunisia desert scenes, which I wasn't involved in anyway). Even the cantina scenes were done in the studio.
SWNZ: How long was your actual involvement with A New Hope: how many days were you actually involved in filming?
Peter Mayhew: Star Wars was roughly 4 months. Not working every day, but probably 4 out of 5 days.
SWNZ: Hard work, or fun? Did it meet your expectations?
Peter Mayhew: Yes, it was fun, it was different. There was a lot of hanging around. When you were working, you were working, but like a lot of other things, you stand around then do your little bit, then stand around again. The character was easy in some respects, because he didn't have any lines, but there was a lot of mime involved: body language, eye movements, and so forth. It was a challenge, but once I had more or less established Chewie's attitude in my mind, I could do it a lot easier. If you think about it, the only thing he can't do is talk, but he is otherwise very human. I don't know why, but it just came naturally.
SWNZ: I understand that the cut scene involving the human version of Jabba in the Mos Eisley spaceport was one of the first scenes you were involved in. How did you feel, first with it not making the final production, and then 2 decades later seeing it revived and re-edited in the Special Edition?
Peter Mayhew: When we were shooting, we knew that Jabba was a concept character, because the computers weren't as good in those days as they are today, so you obviously couldn't achieve the computer-generated characters. That first scene gave me a lot of experience… just watching the other actors working. And then it came back in the Special Edition, which I did like: when Harrison crosses behind Jabba, and stands on his tail, it is very funny. The first time I saw the Special Edition, I thought "hmmm, no reaction", but when I watched it again, Jabba's eyes and expression were amazing.
SWNZ: Favourite Star Wars villain?
Peter Mayhew: I should say Darth Vader, but really I think Admiral Ozzel was an interesting character: he was the one that Vader assassinated.
SWNZ: Favourite Star Wars hero?
Peter Mayhew: Obviously, Chewie.
SWNZ: Favorite rock band?
Peter Mayhew: Queen. It is surprising how all the old pop-stars were brought up on Star Wars.
SWNZ: In your biography on your website, it is recorded that you returned to hospital work at the Mayday Hospital, in London, after completion of A New Hope filming. Did you have any desire to continue film-work at that stage?
Peter Mayhew: Well, at that time I needed a job, because I had no idea what was going to happen after completing filming. The movie industry can be a dodgy area, so they have to make the wages higher, but you can never know how much you will be working… and I didn't know what was going on. Having done the film, I wanted to do some more, but then again, I didn't know when the next job offer was going to come along.
SWNZ: How did you find the filming for the Star Wars Holiday Special in comparison to the other 3 films? What are you thoughts on the place that the Holiday Special occupies in the Star Wars chronology? Glad it happened, wish it never happened, or indifferent?
Peter Mayhew: I enjoyed it, it was another job, a chance to get back in the costume, and whatever happens to it, it will in some way be part of the timeline. It was fun to do. I think it was done to find out how many people they could get into costume, because of what was coming up in [Return of the] Jedi, with all the little ewoks.
SWNZ: Right from the word "go" you seemed to have given Chewie a very recognizable and distinct character. Did George have much to say about how to play the character, or was this left up to you? Having been with and in Chewie's character for some time now, how would you describe him?
Peter Mayhew: I can't explain it, but Chewie has a character all his own. I can be sitting down talking to people, and put the costume on, put the head on, and Chewie comes alive. I would do the scenes, and then when I take the head off, I'm back to normal. I don't have any of his characteristics in my own life. This happened in all the films, and again, about 3 years ago, when Chewie got the lifetime achievement award from MTV. I hadn't worn the costume for 14 years (it still fit) and the same thing happened: I put it on, and Chewie came alive, took it off, and was back to normal. It's weird. I like playing the character. He is kind and considerate, but he is a coward at times.
SWNZ: The Empire Strikes Back: cold and wet location filming. Good or bad?
Peter Mayhew: Wet and horrible. We were up in Norway, up in the mountains, and I was the only one that was warm in the 15 below zero climate… because my costume was made of mohair. So, it was good and bad. As far as being a film to watch, I think it is the best one of the lot.
SWNZ: And I understand you were back in the hospital workforce after the completion of ESB. I guess things must have been gathering a little momentum by that point: did you know at that time that there was to be a third film requiring your reprisal of the Chewbacca role?
Peter Mayhew: I knew there was a future in there, but it was just a question of how long it was going to go on for. And obviously, having talked to people while working, I knew that Chewie was going to be around, not only in Empire, but in the third one, Jedi, which was already planned.
SWNZ: Did you have anything to do with the Star Wars fan phenomenon at that stage?
Peter Mayhew: Not much at that stage. We got fan letters and stuff, but we hadn't really started doing conventions.
SWNZ: Star Wars popularity waned a little in the period between ROTJ and the Special Edition releases. When was it that you first got into the Star Wars conference circuit and so forth?
Peter Mayhew: There were some after Empire, but they were only little ones, because Empire was still very much a small movie, it didn't have the reputation it had today. The first one was sort of a small flea-market type of thing for fans… it was a tiny little convention, which wasn't really successful, but it was fun.
SWNZ: "The Men Behind the Masks" tour – you traveled quite a bit with Jeremy Bulloch, David Prowse, and Kenny Baker, around the time of the original trilogy Special Editions.
Have you had much to do with many of the other Star Wars actors on the convention circuit?

Peter Mayhew: I saw Carrie about a month ago when we did a Disney Star Wars weekend, and that's the last time I saw any of them. I am going to see Boba Fett this coming weekend.
SWNZ: Favorite convention? Favorite city to visit?
Peter Mayhew: Chicago Comic Con, and the San Diego convention.
SWNZ: And you're scheduled to appear in Schreveport this coming weekend? How often are you making it to conventions these days?
Peter Mayhew: We probably do, on average two a month. It's a full time job. You could be in Dallas one weekend, and San Diego the next weekend, or Chicago, or whatever: it has got to be a full time job.
SWNZ: Chewbacca's noble death. I have read elsewhere that you consider yourself a Star Wars purist, such that the only valid Star Wars storyline is that from the pen of Lucas. With that viewpoint in mind, do you feel that you have accepted Chewie's brave sacrifice into your world of Star Wars, or have you chosen to largely ignore that fact?
Do you think his death was a fair plot element as it was used in "Vector Prime", or are you disappointed with the way it happened (or that it happened at all)?

Peter Mayhew: No, not really disappointed, because if you think about it, for the ongoing story to be interesting (and believable), someone had to be killed off. You can't kill the robots; if you kill Mark off, well, it is his story, so that would be the end of the story; and you need Harrison and Carrie for the romance. So poor old Chewie had to go. According to the book, he is lost, not dead. There is always a possibility of him coming back, or showing up in Episode III, making a short cameo… well, I don't know, it is not up to me… let's put it this way: I know what I would like happen, but whether it would ever work out or not, I don't know…. and they won't commit themselves to Episode III until Episode II is out.
SWNZ: Have you read the 4-part comic-book eulogy ("Chewbacca") from Dark Horse Comics?
Peter Mayhew: I have read the book, and I also wrote the frontpiece for the comic series trade paperback. It was very nice to be asked by Dark Horse to write that.
SWNZ: What's next for Peter Mayhew?
Peter Mayhew: More conventions… Louisiana this weekend, then San Diego. I would look forward to coming to New Zealand for a convention one day, if things could be worked out… if we can do the Australian side of it as well, that would work out well.
Originally published in the SWNZ Magazine, Oct 2001.
Interview conducted by Matt Glasgow and Jonny Bloore.
---
Editor's note: we were, of course, deeply saddened to hear of Peter's recent passing. We were very fortunate that, subsequent to this interview, Peter did actually attend conventions in New Zealand, at the Auckland Armageddon Expo in 2002 and the Wellington Armageddon Expo in 2003, where local fans were able to hear some of the above stories when he presented Q&A panels on the main stages of the conventions.