Din Djarin Chibi Silver Coin from NZ Mint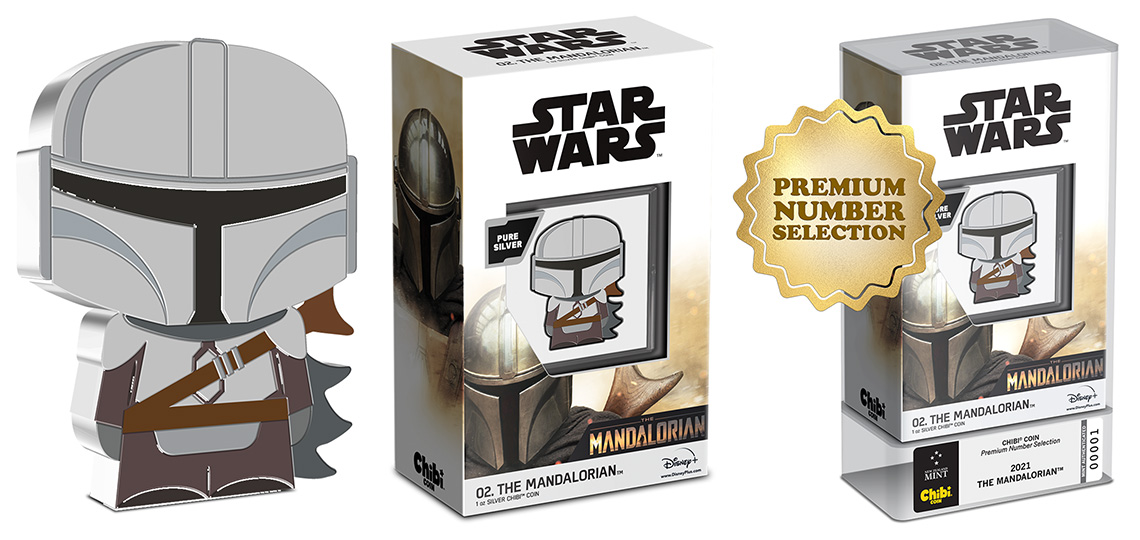 Star Wars Chibi coins from NZ Mint have slowed down just a bit from their previous a monthly schedule, but that didn't stop today's release of Din Djarin aka The Mandalorian selling out within a few hours of launch. He is the 11th coin in the Star Wars Chibi series (check out our full coverage of this series here). As with the preceding Obi-Wan Kenobi Chibi coin, a variation exists for this release, with a second version of the coin being available in premium packaging – the first 5% of the mintage (numbers 1-100) will be made available as an authenticated Premium Number Selection and packaged in a secure, click-close acrylic display case.
Licensed by Lucasfilm Ltd, this 1oz of pure silver has been shaped and coloured to represent the formidable bounty hunter in the Chibi art style. Dressed in beskar armor, his face hidden behind a T-visored mask, you can see a peep of his phase-pulse Amban sniper rifle and cape behind him. The Ian Rank Broadley effigy of Her Majesty Queen Elizabeth II is found on the obverse to confirm it as a legal tender coin.

The box features imagery from The Mandalorian and a large window to allow for easy display. A Certificate of Authenticity is printed on the box along with confirmation of the coin's unique number in the limited 2,000 mintage. Don't let this one get away!