SWNZ News Digest – 15 March 2018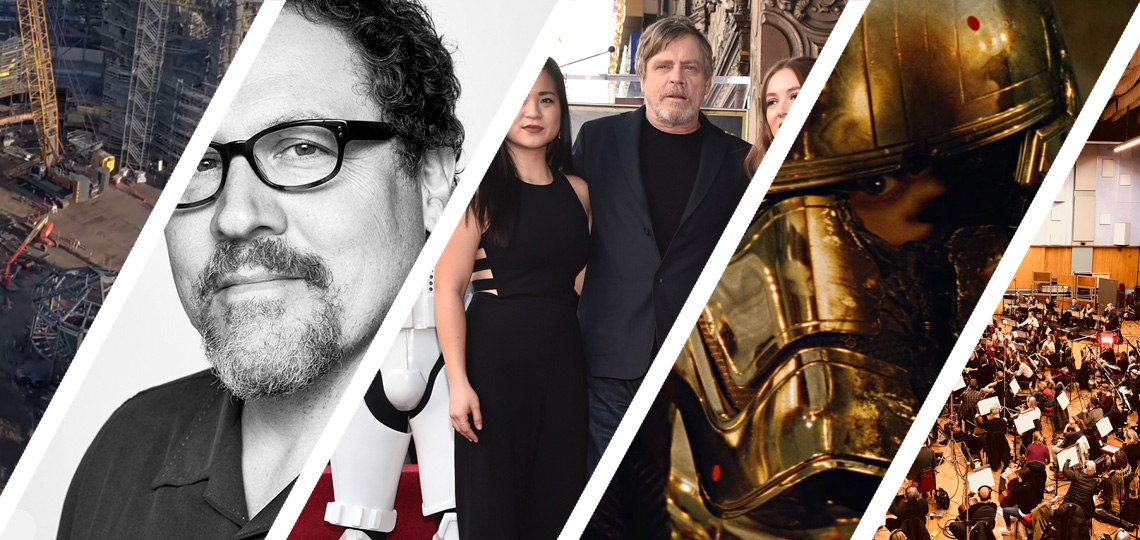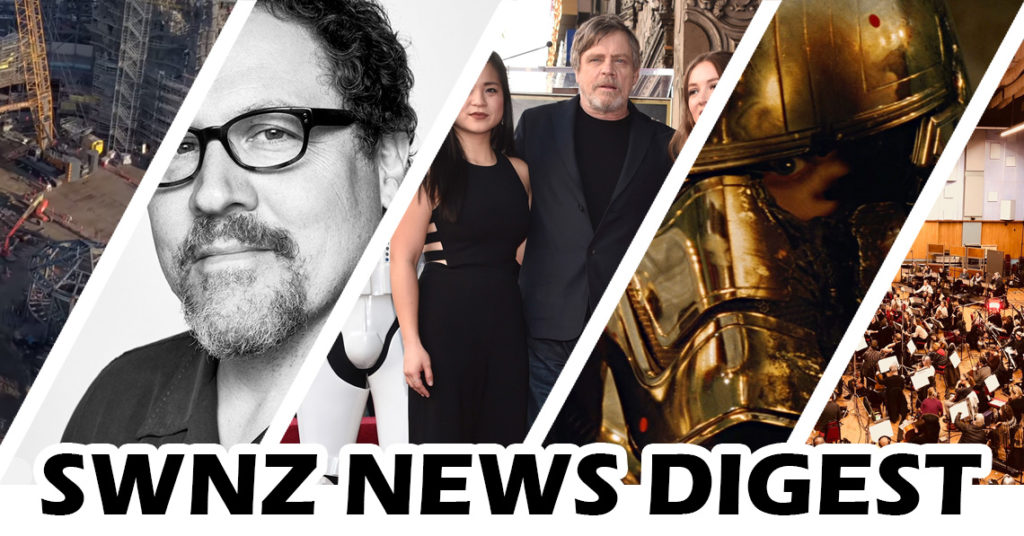 Welcome to the SWNZ News Digest, where we keep you up to date with all the recent official Star Wars news headlines and links, in case you missed them, or because they are exciting enough to re-visit.
---
Mark Hamill's Hollywood Star Ceremony
Mark Hamill was awarded his Hollywood Walk of Fame star last week, at a ceremony that included congratulatory speeches from George Lucas and Harrison Ford. Also in attendance were Kelly Marie-Tran and Billie Lourd.
You can watch the video of the speeches and unveiling of the star at Variety.com's YouTube channel.
---
Jon Favreau Star Wars TV Series
Bob Iger has previously confirmed for us that a number of Star Wars television series are in development (discussed back here in February). Taking that story just a little bit further, Lucasfilm has formally announced that Emmy-nominated producer and actor Jon Favreau has signed on to executive produce and write a live-action Star Wars series for Disney's new direct-to-consumer platform. We hope to hear more soon.
Read the official announcement on StarWars.com.
---
Recording the 'Solo' Score
Director of Solo: A Star Wars Story, Ron Howard, tweeted confirmation that the Solo score (by composer John Powell) has begun being recorded at Abbey Road Studios.
---
Denny's Solo Promo Art
Amongst the retailers that will be running Solo: A Star Wars Story promotions are the Denny's chain of family restaurants. Some of the promotional artwork associated with that campaign has been released online. It is not clear if this promotion will be running in New Zealand branches of the international chain (we certainly hope so)… we've reached out to them for confirmation, but are awaiting a reply.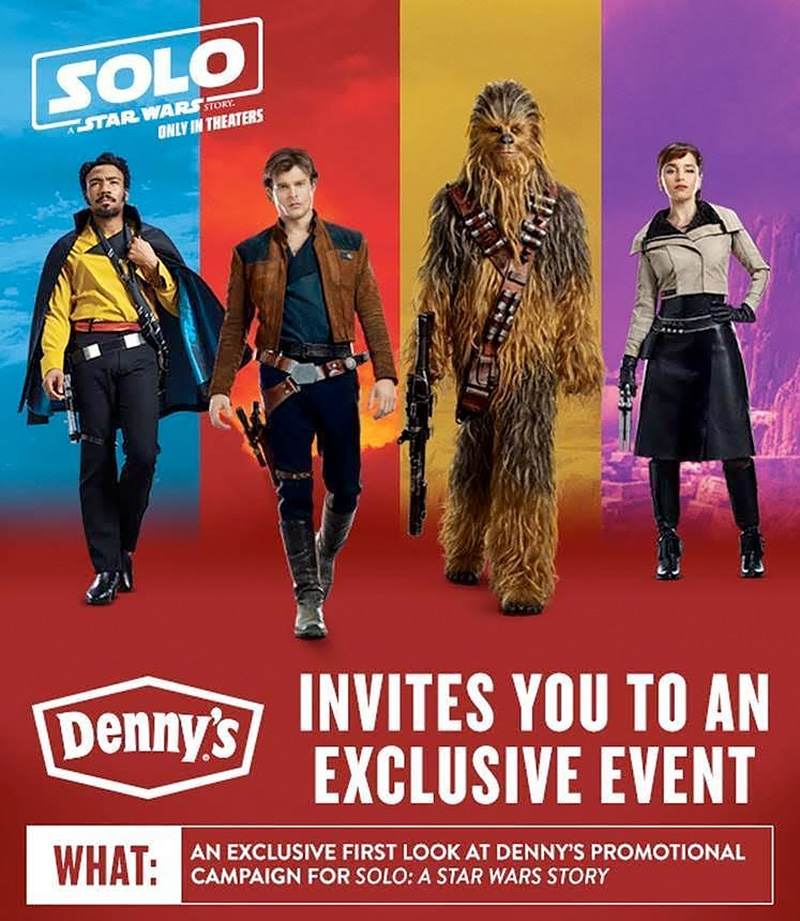 ---
Galaxy's Edge Flyover Video
Star Wars: Galaxy's Edge is the Star Wars-themed section of the Disney Land and Walt Disney World parks that is currently under construction, due to open at both sites next year. The amount of work that is going into these expansions is huge. During the week, the official Disney Parks YouTube channel quietly released a flyover video showing the extent of the  fabrication currently taking place – watch that video here.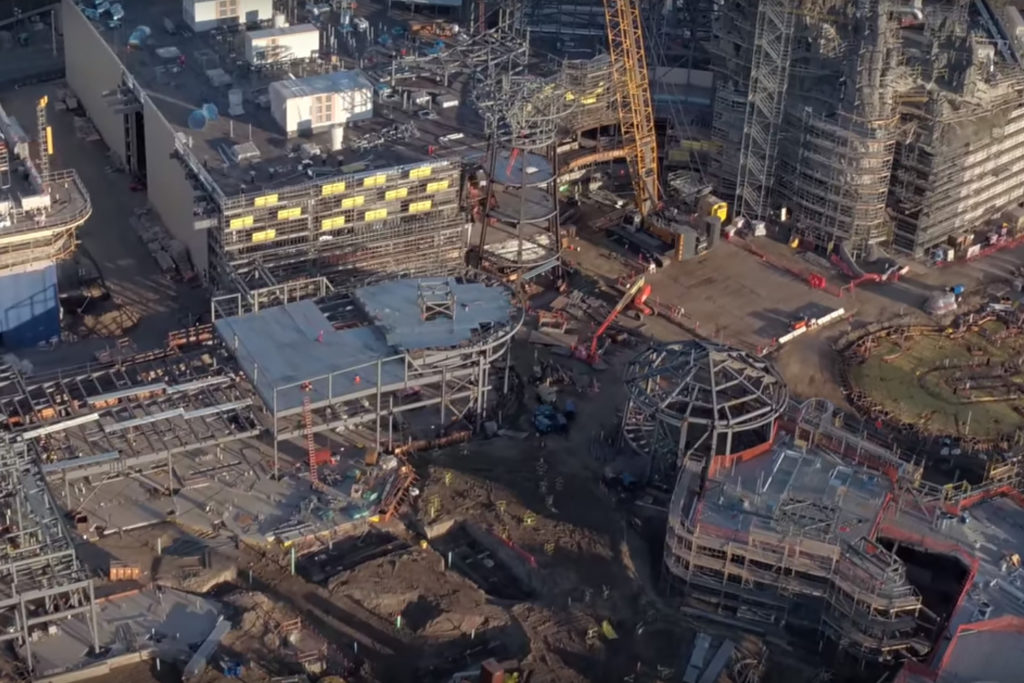 ---
SNL Star Wars Spoof
Although it didn't make it to broadcast, comedy sketch show Saturday Night Live put together a Star Wars spoof in association with a recent episode that poses the question… "how do characters in Star Wars understand so many languages?" Worth a watch… check the video out on the SNL YouTube channel here, as well as some coverage in Entertainment Weekly magazine here.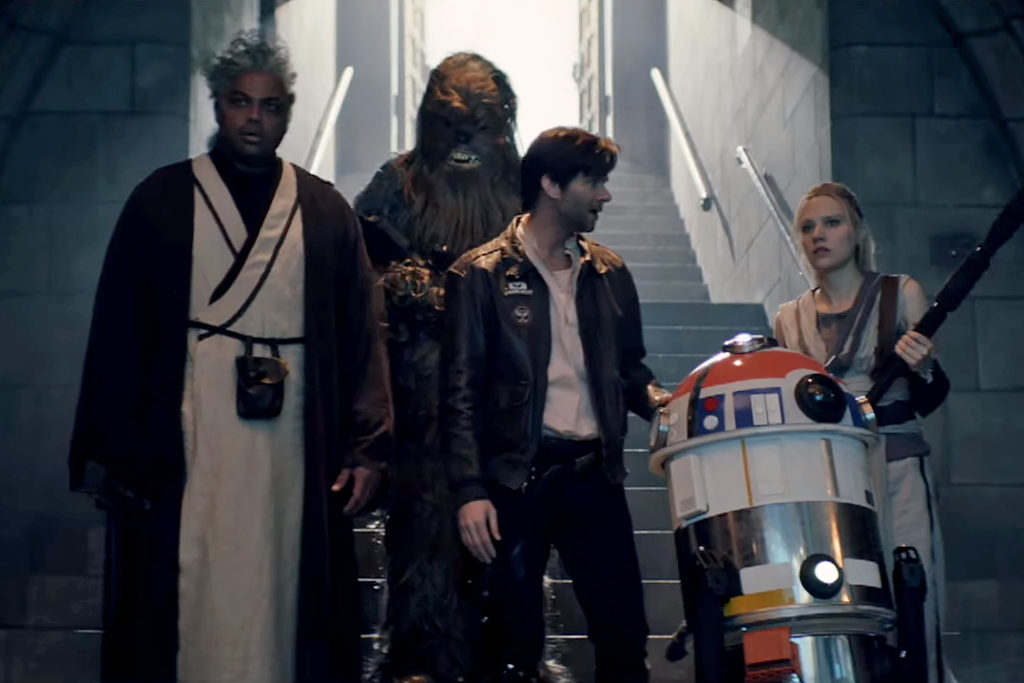 ---
The Last Jedi Bonus Features
The home video releases of The Last Jedi come out in a couple of weeks (go shopping for all the different versions here). We're expecting a lot of behind-the-scenes footage to make up part of the bonus material, as well as the numerous confirmed deleted scenes. While we wait, StarWars.com has put together a list of nine links to preview videos of that bonus material, including:
The Director and the Jedi Trailer
Creating Crystal Foxes – Showdown on Crait
The New Walker – Showdown on Crait
Peace & Purpose – Showdown on Crait
World of White and Red – Showdown on Crait
Kylo's Choice – Lighting the Spark: Creating the Space Battle
Carrie Fisher & Rian Johnson – The Director and the Jedi
Evil Intentions – Snoke and Mirrors
Phasma's End – Deleted Scene
Check out the article and preview videos here.