Quick Review – Kotobukiya Stormtrooper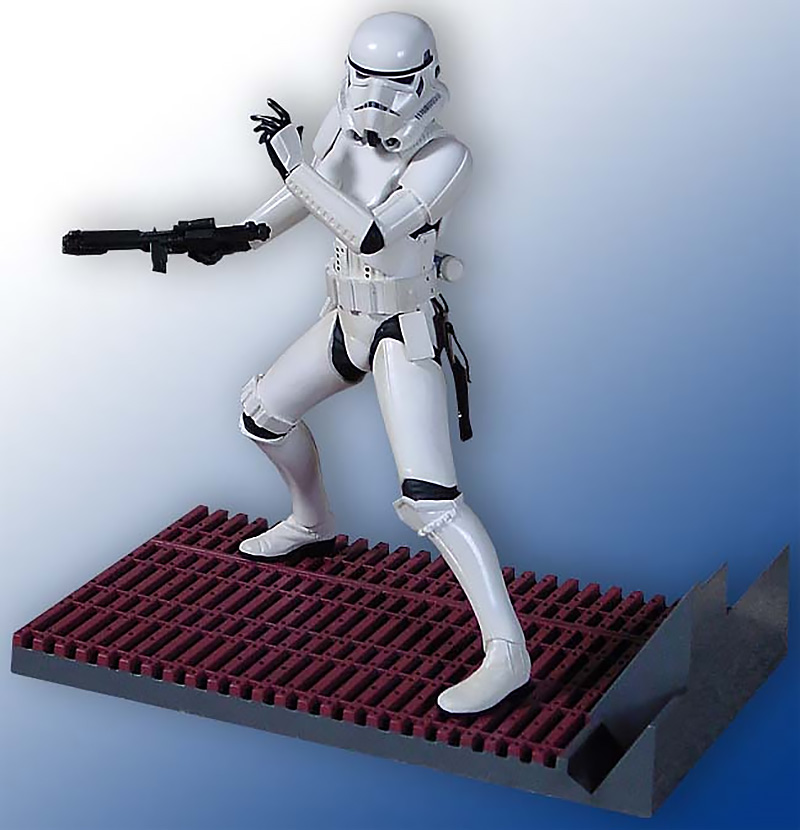 Kotobukiya is well-known for their line of vinyl Star Wars statues, but it is hard to appreciate them without having seen them up close. There are currently 19 figures in the range, covering all six movies. I recently received the Stormtrooper figure, and after putting it together, I know why these are highly regarded collectibles.
Each figure comes as a pre-painted vinyl model kit, which sounds complicated, but they fit together much like the Hasbro 'Unleashed' figures. The stormtrooper figure came in 8 pieces – base, legs, torso, arms x2, belts x2, helmet and head. This figure can be assembled as a stormtrooper, or Luke in stormtrooper disguise – it includes Luke's head to replace the stormtrooper helmet, and Luke's belt includes a comlink and grappling hook, as opposed to the simple stormtrooper belt.
Once built, the figure stands 13 inches high (just over 33cm). The pieces 'snap fit' together with pegs, the base in particular was quite a tight fit, but the upper pieces disassemble easily, to facilitate changing between Luke and stormtrooper whenever you want. The joins can't be seen in the assembled statue. The detail is amazing, down to the blaster; a lot of work has gone into getting this figure very accurate, and making it look like the individual components of armour have been molded separately. The pose is interesting and dynamic; it isn't a typical stormtrooper stance, but it works really well. There is no articulation, but the design aesthetically makes use of the large volume it occupies.
They retail for around US$99, putting them in the higher end of Star Wars collectibles, but they are well worth their price. Overall, I am impressed with this figure, I know it will become a center display piece in my collection.