Reva (Third Sister) Chibi Silver Coin from NZ Mint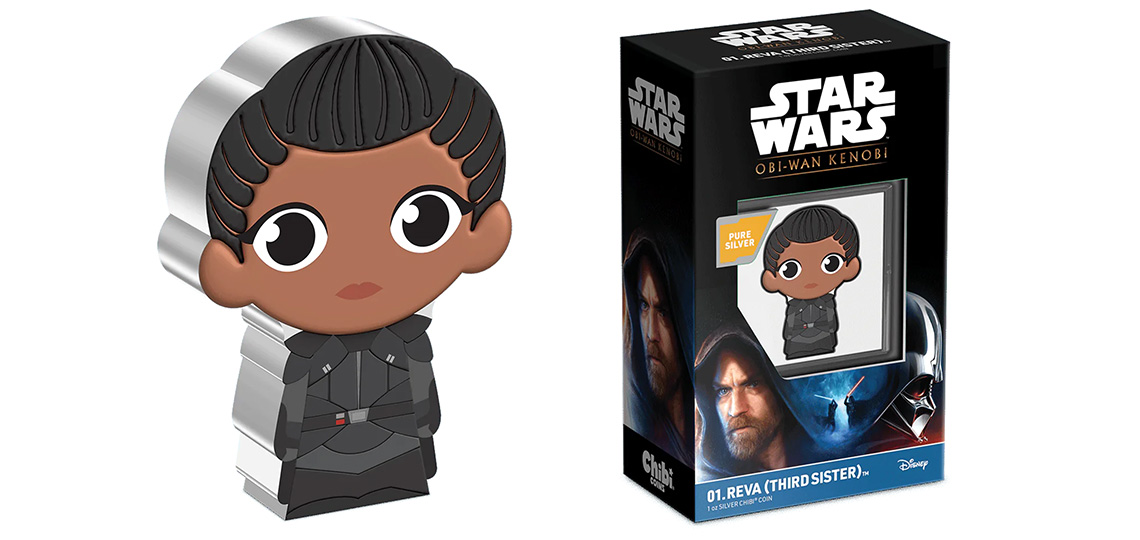 Reva (Third Sister) is the 25th coin in the Star Wars Chibi series of legal tender silver coins from NZ Mint, and the 1st coin from the Disney+ streaming series Obi-Wan Kenobi (check out our full coverage of this coin collection here). As with the more recent preceding releases, a variation exists for this collectible, with a second version of the coin being available in premium packaging – the first 5% of the mintage (numbers 1-100) will be made available as an authenticated Premium Number Selection and packaged in a secure, click-close acrylic display case.
The ruthless Reva (Third Sister) takes revenge on this 1oz pure silver coin!

This piece has been coloured and shaped to resemble Reva as seen in the 2022 Star Wars series, Obi-Wan Kenobi. She is seen wearing her sleek black armour and signature hair with cornrows on the sides. Some slight relief has also been added to the design, giving a more realistic look.

Despite its uniqueness, this is still a legal tender coin with the obverse bearing the effigy of Her Majesty Queen Elizabeth ll.

Officially licensed, each piece arrives in a custom-designed box, themed with imagery of Obi-Wan and Darth Vader. A large window on the front ensures you can easily display it in your collection. Printed on the back is a Certificate of Authenticity and the coin's unique number in the limited mintage.

With only 2,000 available worldwide, you'll need an Inquisitor to hunt one down!