C-3PO Chibi Gilded Silver Coin from NZ Mint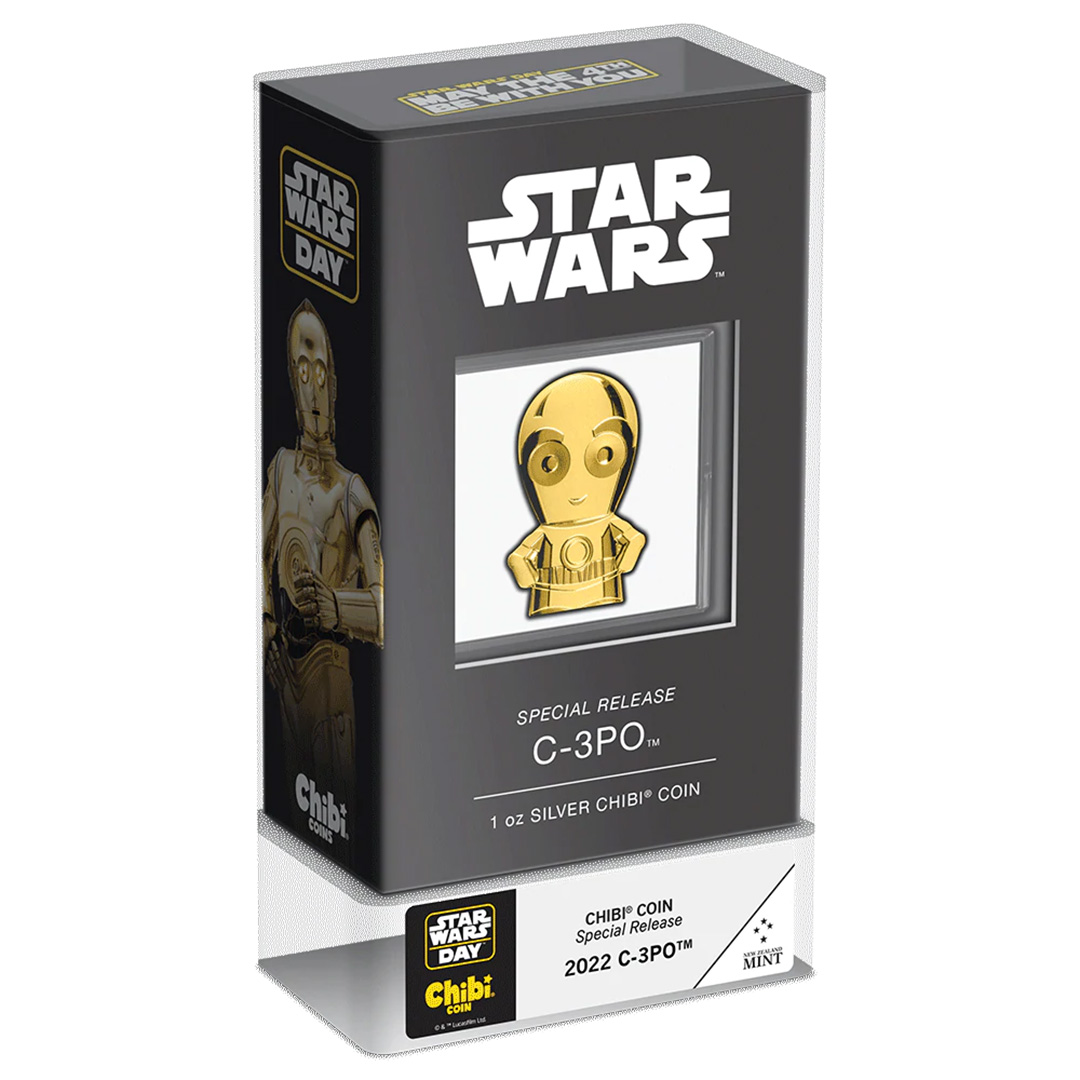 As part of their Chibi series of coins, but described as a Special Release, NZ Mint have just revealed a gilded C-3PO silver Chibi coin (check out our full coverage of this series here). Yes, he's a 1oz silver coin like the others in the range, but he comes with a gold-plating for extra shine! Mintage will be limited to 2,000 coins.
This Chibi Coin is a special release for the golden protocol droid, C-3PO. Set to commemorate Star Wars Day 2022, it is still made from 1oz of pure silver but has been plated in gold to resemble the lovable, anxious droid more closely. Shaped to show C-3PO in his oft-exasperated stance of "hands-on-hips", the use of frosting and a mirror finish further define this unique version. The Ian Rank Broadley effigy of Her Majesty Queen Elizabeth II is found on the obverse of the coin and confirms it as legal tender.

This one-of-a-kind, officially licensed Star Wars collectible arrives inside a specially designed coin capsule for protection. Placed inside a custom-made box that includes a large window, the coin can be easily displayed. Images of the original C-3PO adorn the sides. This box has then been placed in a click-close acrylic display case – so you can keep this prized collectible in pristine condition. A label reinforcing the coin as a 2022 Star Wars Day special release is displayed on the front.

Only 2,000 of these exclusive coins will be minted. A Certificate of Authenticity is printed on the box along with confirmation of each coin's unique number in the mintage. Order soon, or the odds of getting one might go against you! No doubt C-3PO could confirm that!
You can read our 2017 interview with Brent Hindman, head of sales and marketing at NZ Mint, to glimpse behind the scenes of their design and manufacturing processes related to the NZ Mint Star Wars coin collections, and check out all of our NZ Mint coverage under the NZ Mint tag.