Boba Fett (The Book of Boba Fett) Chibi Silver Coin from NZ Mint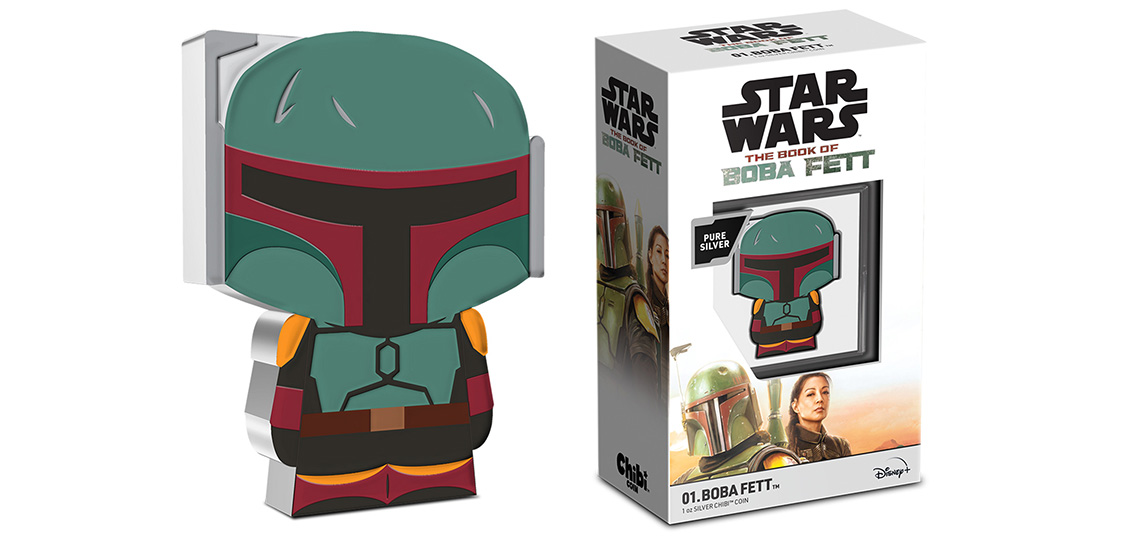 Boba Fett, from The Book of Boba Fett, is the 14th coin in the Star Wars Chibi series of legal tender silver coins from NZ Mint (check out our full coverage of this series here; a The Empire Strikes Back version has been previously released in 2020). As with the preceding Rey coin, a variation exists for this release, with a second version of the coin being available in premium packaging – the first 5% of the mintage (numbers 1-100) will be made available as an authenticated Premium Number Selection and packaged in a secure, click-close acrylic display case.
Made from 1oz of pure silver, this officially licensed Chibi Coin is shaped and coloured to show Boba Fett as he appears in the Lucasfilm series, The Book of Boba Fett. This unique Star Wars collectible is placed inside a custom-made case moulded to the coin's shape, for protection. The Ian Rank Broadley effigy of Her Majesty Queen Elizabeth II is found on the obverse of the coin and confirms it as legal tender.

Only 2,000 will be minted – each a verified limited-edition collectible coin with a Certificate of Authenticity. This certificate is printed on the box along with confirmation of each coin's unique number in the mintage. The box is also Boba Fett-themed and includes a large window, so you can easily display this unique treasure.