Uncle Tobys 'Revenge of the Sith' Promotions, 2005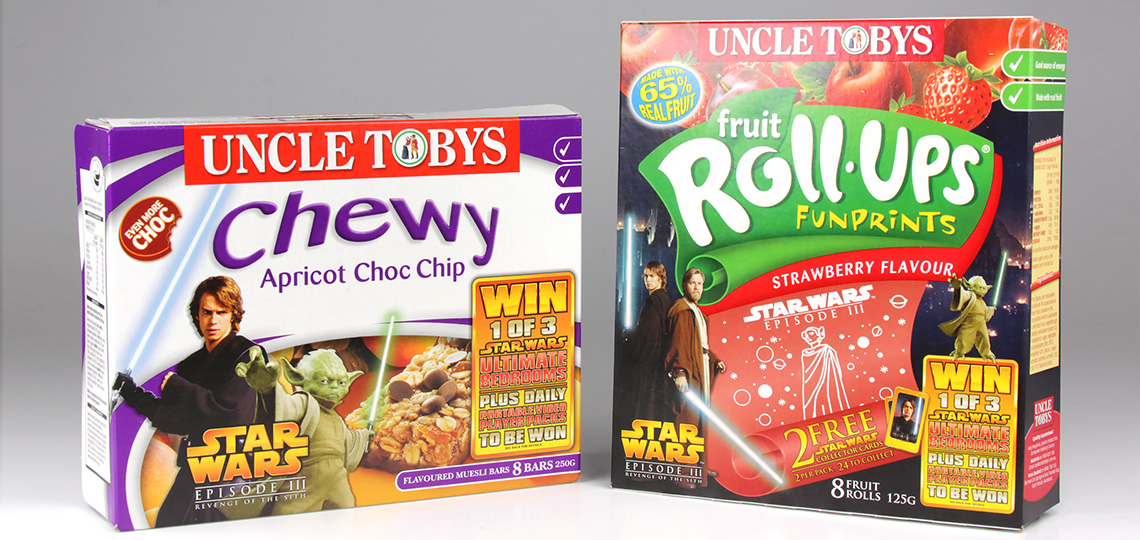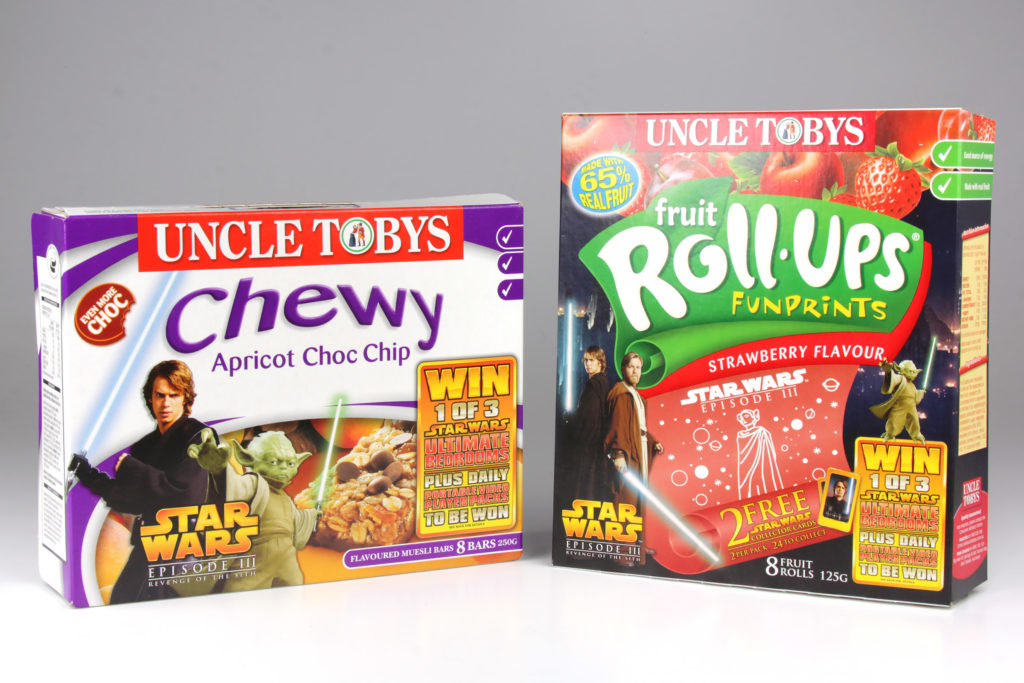 From 01 April 2005 through to 30 September 2005, Goodman Fielder ran a Revenge of the Sith Promotion in association with their Uncle Tobys "Chewy" muesli bars, and Fruit Roll-Ups. That promo campaign across the two product lines was also associated with a Star Wars competition for the "Ultimate Star Wars bedroom"!
Chewy Muesli Bars
The five different muesli bar flavours in this range each had boxes featuring different characters. Although much Episode 3 licensed material of that time featured graphics from a very limited library of promotional images, Uncle Tobys packaging managed to incorporate the character shots and branding into its standard product livery, to good effect. The back of the muesli bar boxes were all the same, describing the competition run in conjunction with these cereal bars – "Win one of 3 ultimate Star Wars bedrooms" consisting of LCD TV, Playstation 2 console and games, CD player, DVD library, Star Wars bedclothes, Vader voice changers, lightsaber and more.
Fruit Roll-Up Funprints
Fruit Roll-Ups Funprints actually had Star Wars characters printed on the snack food. Yup, right there on the food. The packaging of both the 8 and 16 roll-up boxes came with cut-out character cards on the rear – 2 cards per box. Interestingly, because of the overall layout of the graphics and text, the cards on the larger 16 item box were actually smaller than those on the 8 item box. For unknown reasons, the distribution of the card images on the packaging found in New Zealand wasn't particularly balanced, making it very challenging to aggregate a full set of 24 character cards.
Goodman Fielder produced these products for Australia, New Zealand, and possibly other countries in the Asia Pacific region that it serves. The local version of the packaging conveys the contact details for Goodman Fielder New Zealand Limited. The current incarnation of Goodman Fielder came about in 2001 when component companies merged on both sides of the Tasman. Interestingly, GF NZ formed from the merger of Bluebird, Quality Bakers New Zealand, Champion and Meadow Lea Foods. Both of the first two brands/companies have utilised Lucasfilm licenses in past years: 1997, Quality Bakers bread cards; 1999, Bluebird Multipack Episode 1 cards; and 1999, Bluebird Chips Episode 1 cards. In late 2005, however, after this Star Wars promotion, Goodman Fielder was relisted on the sharemarket, and at that time sold off the Uncle Tobys brand to Nestlé.
Uncle Tobys 'Revenge of the Sith' Promotion Gallery