Quality Bakers Bread Star Wars Cards, 1997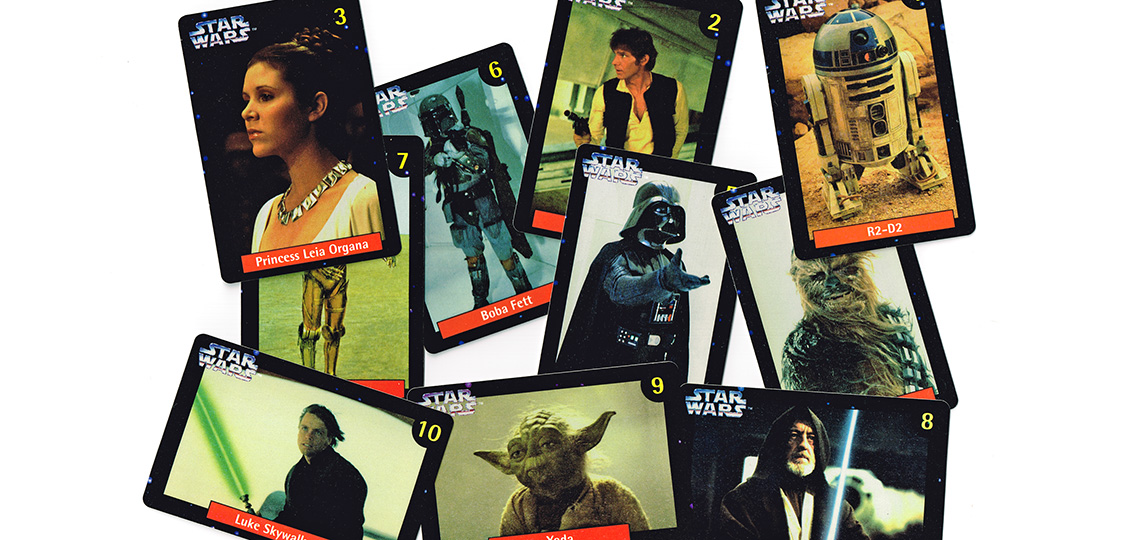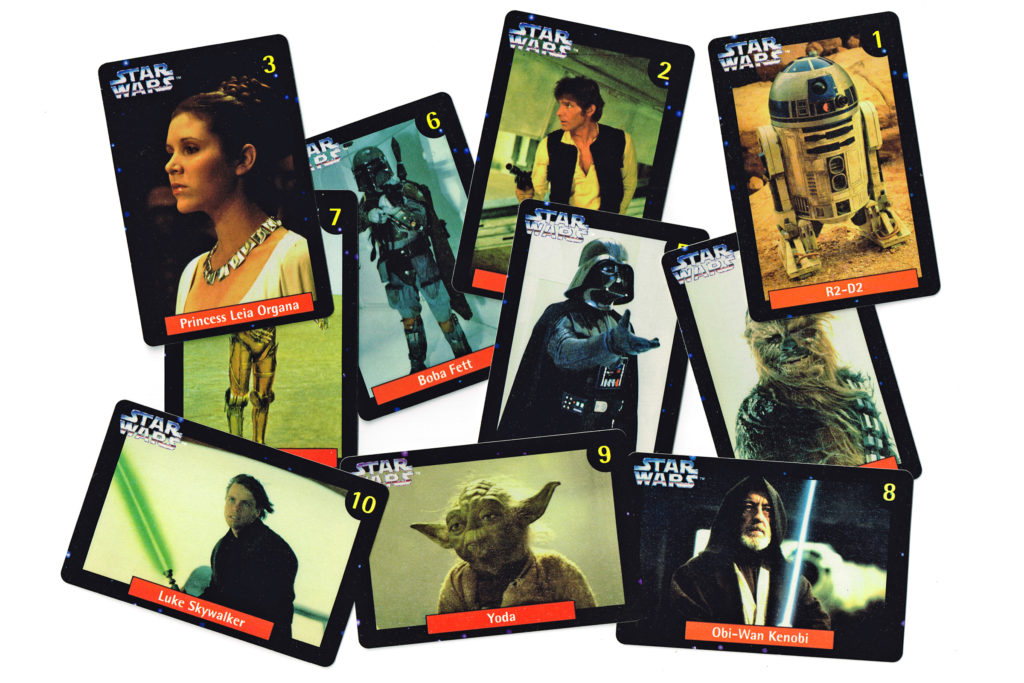 The Quality Bakers bread cards were fun Star Wars memorabilia items that you could acquire with your weekly grocery purchases. This set of collectible cards came out in 1997, timed to coincide with the availability of the Original Trilogy on VHS, and was a component of a promotional competition. The newly released Star Wars videos were amongst the prizes, as were lesser, but instant, awards of watches and yo-yos. The competition was topped with a $10,000 cash draw.
Ten numbered cards (57 x 85mm) depict our favourite heroes, and a couple of equally renown villains, from Original Trilogy movie scenes and publicity shots. Made from fairly lightweight cardstock, they have a tendency to curl if not stored pressed in some way. The fronts were printed with a glossy, full-colour finish. The back of the cards (printed in a monochrome blue, save for a splash of yellow in the Quality Bakers logo) recall the stories (including both on-screen, and Expanded Universe details) behind their associated character; some in very elaborate detail. Boba Fett's card, for instance, claims: "Wearing Mandalore battle armor — the armor worn by a group of evil warriors defeated during the Clone Wars by the Jedi Knights — which Fett had modified with weapons and equipment". The American spelling, which is quoted verbatim, suggests this descriptive prose had its origins outside of New Zealand.
The cards came one per loaf of Quality Bakers bread. They were attached to the inside of the bread bag, making it difficult, but not impossible, to ascertain which card you were getting.
Each of the collectors cards came with a transparent game card lightly adhered to its front (unfortunately, removable very occasionally damaged the collector card). When laid over the "Prize Panel" on the bread bag, the seemingly random patterns on each combined to form a word: "YoYo", "Watch" or "Draw". The former two related to instant prizes. Or, by collecting four "Draw" cards, you could enter into the random drawing that began with the $10,000 grand prize, but which carried on to give away Star Wars videos to the next 100 participants whose names came out of the hat. The draw took place on 19th December, 1997. In the gallery below, also, is an advertising poster promoting the competition.
And for the completists out there, there are of course the bread bags themselves. The graphics and text relating to the promotion (and conveying the full details of the competition) are identical on each bag, but the colourful differences, denoting the different bread products, make these packaging items another collectible set in their own right. You can definitely consider yourself a hardcore collector if your set of mint bread bags still contains a never-removed collectors card securely inside!
Quality Bakers Bread Star Wars Card Gallery