Confection Concepts Empire Strikes Back Postacards, 1997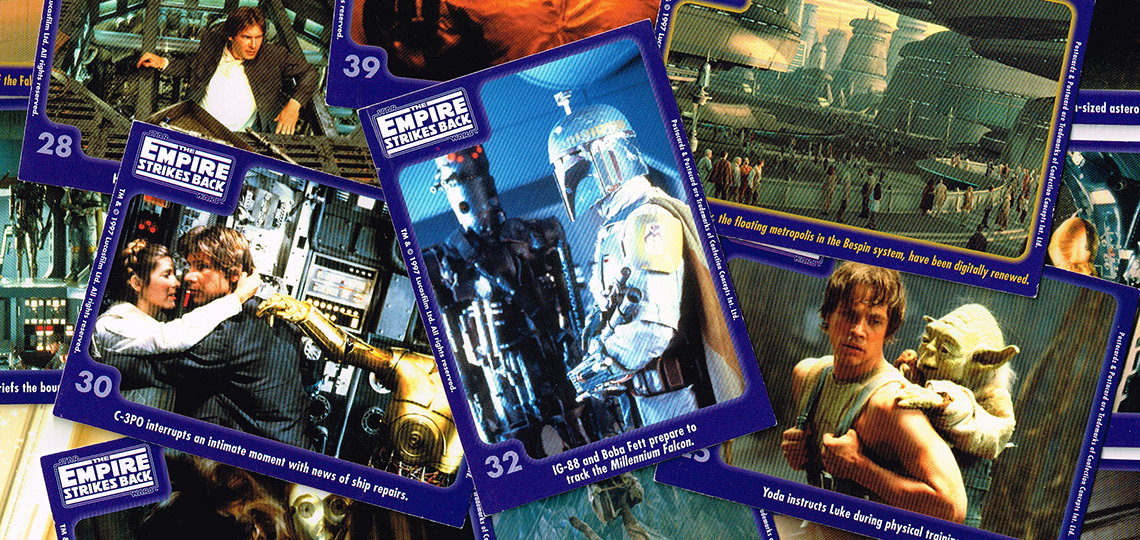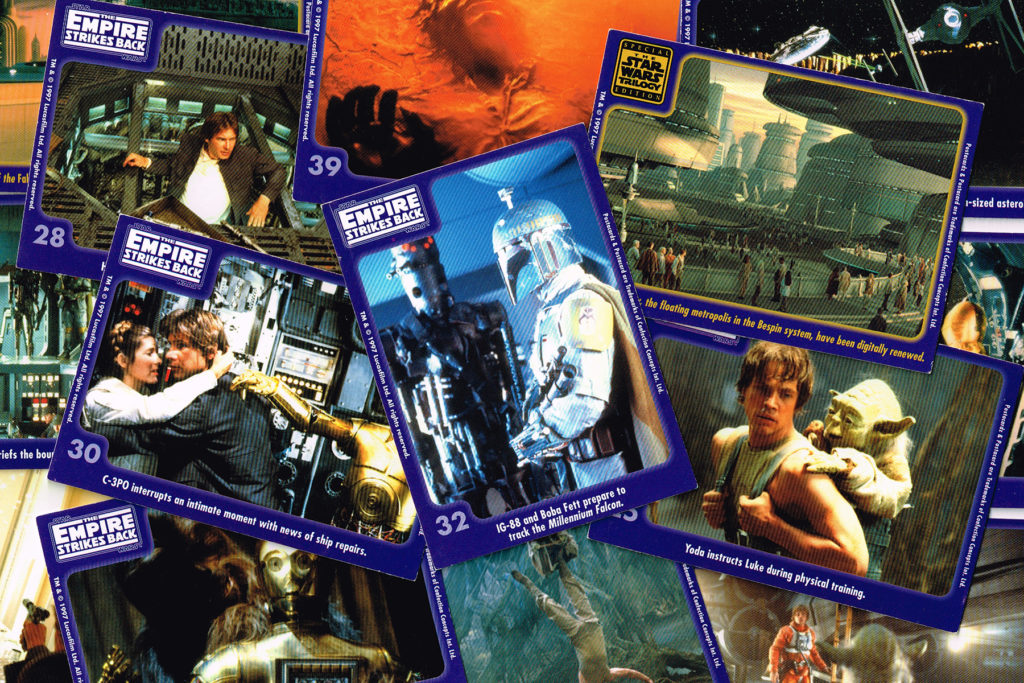 Confection Concepts International Ltd. was a New Zealand-based chocolate manufacturer that released licensed collectible card sets (e.g. The Simpsons as well as Star Wars) over a short time span in the late '90s. Although it was their intention to produce cards series for each of the Original Trilogy movies, only two sets (Star Wars and The Empire Strikes Back) made it to market before they ceased trading in 1999, and the promised Return of the Jedi set never eventuated.
In contrast to the A New Hope companion card set which contained 50 cards (described in our earlier article here), the set of The Empire Strikes Back "PostaCardz" numbers only 45. Curiously, they are also of a different physical size: the ESB series are larger at 89 x 64mm compared to the approximate 90 x 60mm dimensions of their ANH cousins, are printed on heavier card, and seem to have utilised an ink or printing method that is more resistant to scratching.
As with their predecessors, these trading cards came packaged with confectionery, one postacard per chocolate bar. Some lucky purchasers would have found more than just a trading card inside, however: randomly inserted amongst the standard cards were "Special Prize Cards", offering limited edition uncut sheets (packed at a ratio of 1:2500), Star Wars Trilogy Special Edition videos (1:5000), complete set of 45 postacardz (1:500), or Kenner Star Wars action figures (1:250).
These collectibles came out in 1997, shortly after the A New Hope series, so were still riding the hype of the Special Edition movie releases. Cards with images from the ESB Special Edition were denoted with a different, gold-coloured logo, image border, and caption text. We saw 18 out of 50 such cards in the SW series, but a strangely low grand total of 3 out of 45 in the ESB set.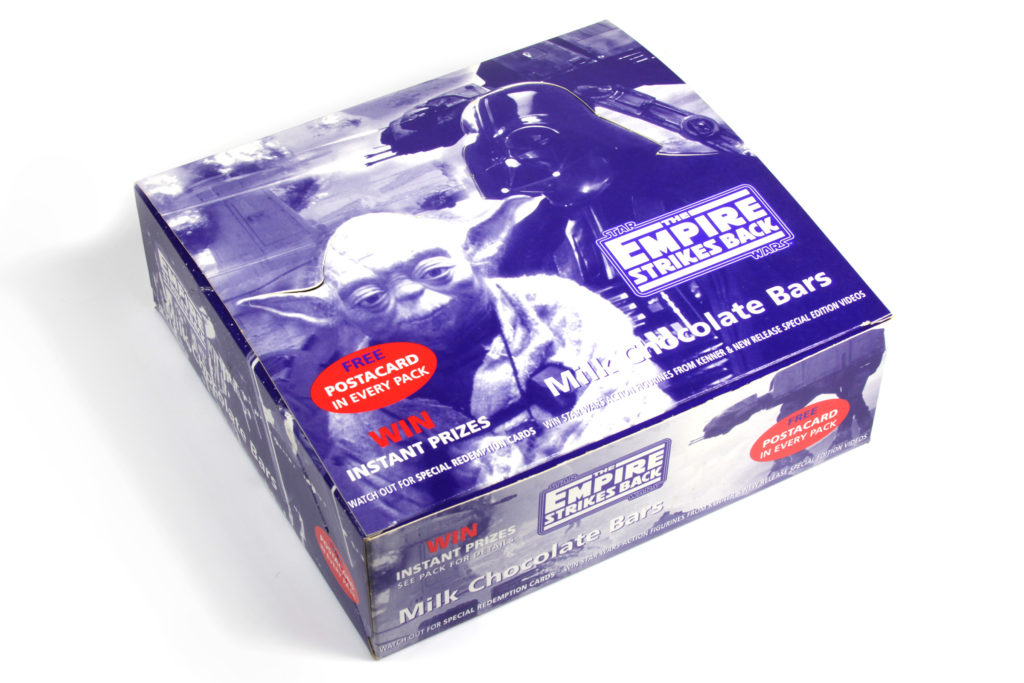 The chocolate bar wrapper was largely monochrome, blue on white (but with a few text or text-background elements in red), matching the graphics and design of the counter-top boxes from which the chocolate products were sold. This made it a little more bland than the first series wrapper, but, particularly these days, still quite collectible in its own right. The fact that a Return of the Jedi card set was intended is implied on the ESB wrapper: "Series Two of a three series Star Wars Special Edition poster collection". A completed set of 45 cards could be assembled to reveal a full-colour Empire Strikes Back movie poster image on the card backs (the excellent Drew Struzan version). And, just to keep everything tidy and safe, an exclusive 45-pocket wall hangar was available by sending 5 empty wrappers, plus a $10 money order along to the manufacturers.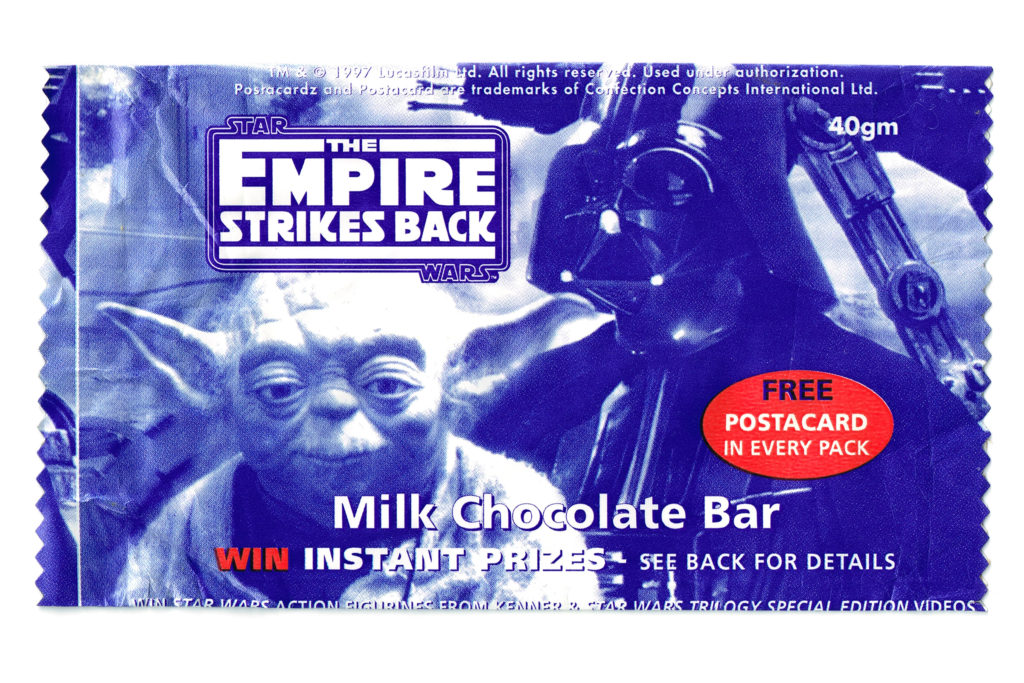 When Confection Concepts went into liquidation, they sold off a lot of their  unused promotional materials, reams of uncut chocolate bar wrappers, and even plastic molds used to make the chocolate bars. It is a unfortunate that they did not achieve longer term success as a business, but the Star Wars products from this New Zealand company were widely available and eagerly collected by fans for a short period in our history, and will remain fondly remembered by many.
The Empire Strikes Back Postacards Gallery
With thanks to TK-102, Sean F, and David Polis for assistance with images/items.