Confection Concepts Star Wars Postacards, 1997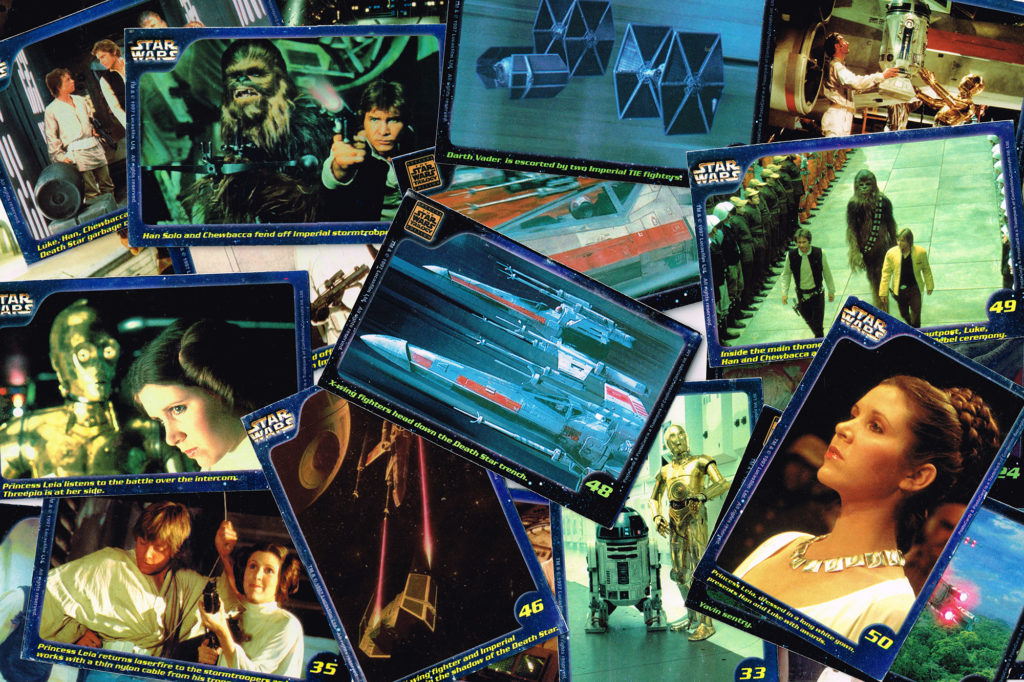 Between the years of 1983 and 1997, once the merchandising from Return of the Jedi began to wane, Star Wars as a brand and license started to fade from the public consciousness. The coming of the Special Editions in 1997 introduced Lucas's vision to the children of the time, rekindled the passion in many who had visited that Galaxy in their childhood, and bought new marketing opportunities for those who realised the inimitable value of the Star Wars brand.
This series of 50 "Postacardz" was issued around the time of the Special Edition releases, by a New Zealand-based company, Confection Concepts International Ltd., who produced a couple of licensed collectible card sets (e.g. The Simpsons as well as Star Wars) in conjunction with chocolate products. The Star Wars cards were distributed with 40g chocolate bars (which were approximately the same size as the trading cards, and were embossed with images of Star Wars characters), but at a rate of one card per chocolate bar, a lot of calories needed to be consumed to complete the set.  Confection Concepts did have a website at the time, and you could join their collecting club which offered such opportunities as card trading with the company itself, at a rate of two cards needing to be sent in to receive one that you might be missing from your set.
The chocolate bars could only be purchased locally in NZ, and could be found at a wide variety of retailers. A counter-top box (pictured below) held 48 such bars – packaging such as this box, and the store advertising display cards (210 x 350mm) have also gained attention as collectibles in their own right.
The cards themselves are approximately the dimensions of a standard trading card at 90mm x 60mm, although this Star Wars series are on fairly thin cardstock. Occasionally, the cutting of the cards during production must have been a bit off, as it is not too uncommon to find a card that is not a perfect rectangle, having corners that are slightly off 90 degrees. It's also worth noting that the printing process used on this first series from Confection Concepts was of a level of quality that left the image quite vulnerable to scratching, even from minimal handling – so, if you do have a set, make sure they are stored safely in card sleeves of some sort to avoid degradation of the image.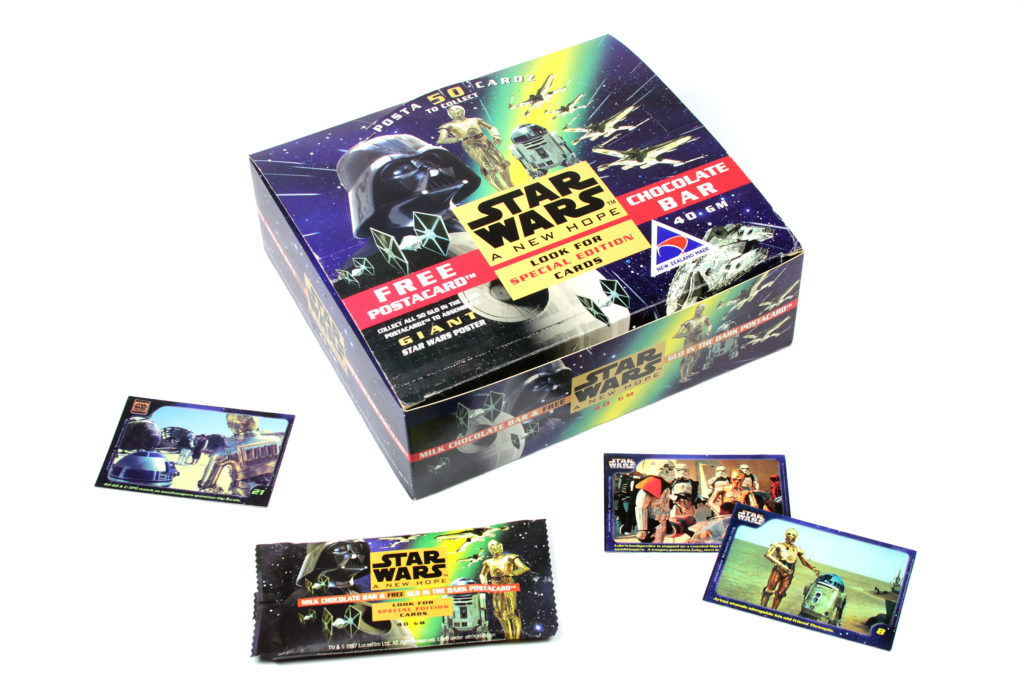 The images on the cards included scenes from both the original version and the Special Edition versions of 'A New Hope' – cards depicting the latter bore the Special Edition logo in the top left of the card, and the writing/numbering was green in colour (the rest had yellow text). The chocolate bar wrapper reported that the odds of finding Special Edition cards were 1 in 24 packs.
The flipside of the cards fitted together to build a full colour Star Wars Special Edition poster (the excellent Drew Struzan version), with glow-in-the-dark highlights! If you sent in (to Confection Concepts) 10 empty wrappers and a $5.00 money order, you would receive a 50-pocket card holder that could be used to store and display your full set of cards.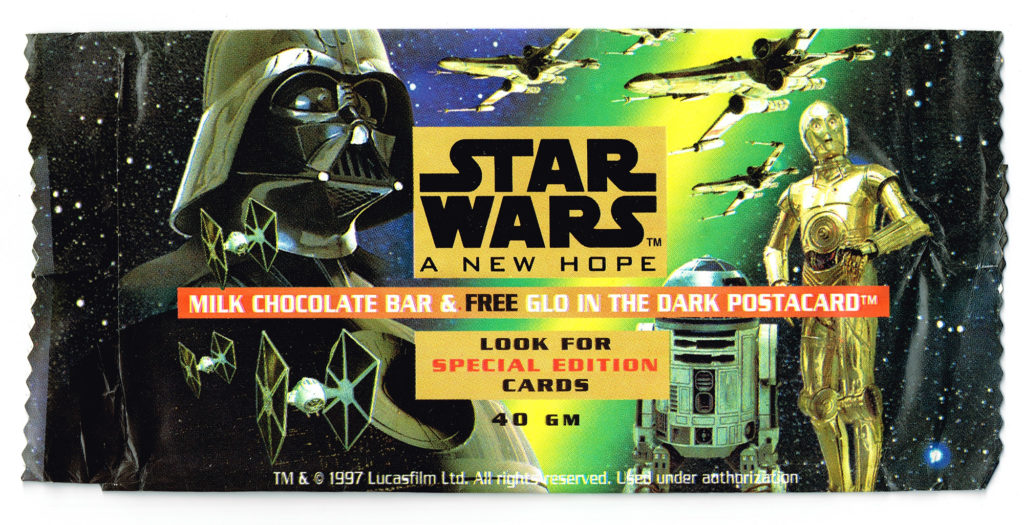 Confection Concepts went on to release a similar 45-card Empire Strikes Back set, and were slated to pump out a Return of the Jedi follow-up. The Empire cards featured a different manufacturing process, with higher quality printing, and thicker card stock. Alas, however, Confection Concepts terminated its Star Wars license in 1998, and the third, ROTJ series never made it to production. Confection Concepts ceased trading in 1999, and is listed on the NZ companies register as having gone in to liquidation in 2000.
A consequence of their liquidation was that Confection Concepts sold off a lot of their assets, including unused promotional materials, reams of uncut chocolate bar wrappers, and even plastic molds used to make the chocolate bars. It was a sadly premature end for this New Zealand company and its Star Wars products, but this series is remembered fondly by many for contributing Star Wars collectibles at a time when they were considerably more rare than in the current, modern era.
Confection Concepts Star Wars Gallery