Easter Egg Addition At Countdown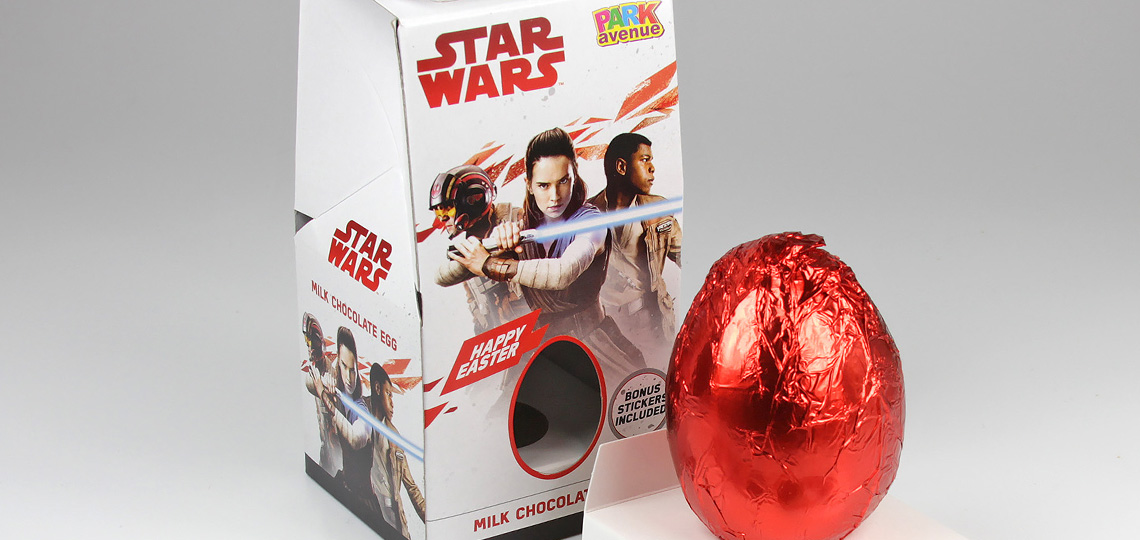 Another Star Wars Easter egg product has hit the retailer shelves in New Zealand – this 40g egg from Australian manufacturer Park Avenue is rolling out to Countdown branches as we speak. It joins a number of other Easter products from a local and international confectioners, including a few in total from Park Avenue. This item is also listed on the Countdown online shopping website (for $3.49), but the image shown there is of the 2017 Rogue One-branded version of the same product.
This 40g egg comes packaged with a strip of 6 small The Last Jedi stickers. It is smaller and cheaper than the similar Park Avenue 60g egg which comes with a ceramic mug.
Here's a summary of all of the Easter Eggs and related chocolate products released in New Zealand for 2018 to date.
Park Avenue Easter Eggs 2018
40g Easter egg with stickers, Countdown supermarkets, $3.49 (store link)
60g Easter egg with ceramic mug ("Roll With It"), The Warehouse, $6.00 (store link, SWNZ article)
60g Easter egg with 3d-sculpted mug (Darth Vader or Stormtrooper), K-Mart, $9.00 (store link, SWNZ article)
Waikato Valley Chocolate Easter Eggs 2018
Kinnerton Easter Product 2018
Kinder Surprise 2018
20g Kinder Surprise Star Wars 2018 Eggs, multiple retailers (SWNZ article)