Bodie Taylor as the Clone Soldiers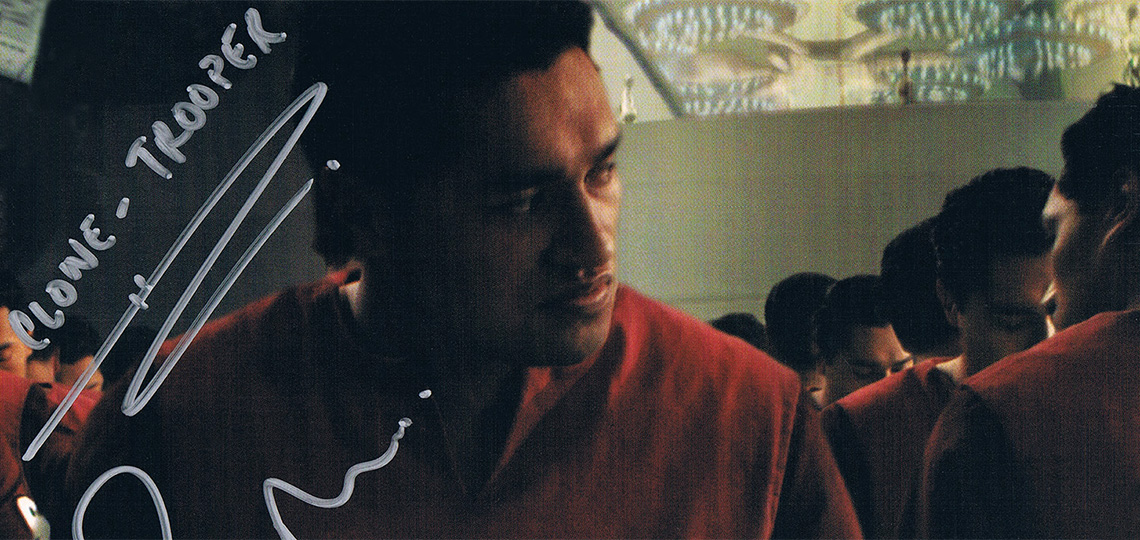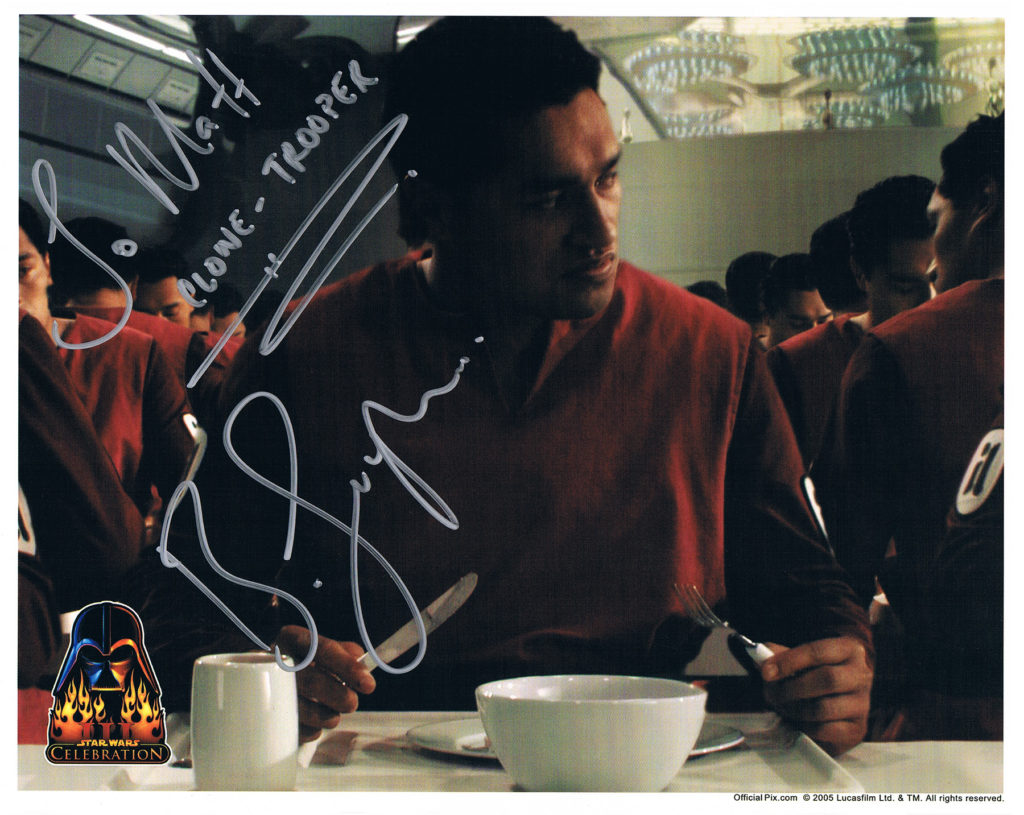 Born in 1976, Bodie Taylor is a New Zealander of Māori descent. He has appeared in the production 'Te Tangata Whai Rawa O Venice', a Māori-language version of Shakespeare's 'The Merchant of Venice', on television as a warrior in the television drama 'Mataku', and on the big screen in 'The Legend of Johnny Lingo'. He appeared in 'Attack of the Clones' as the helmetless clone troopers, replicated by ILM's visual effects to appear as hundreds of training soldiers. He returns as a clone in Star Wars Episode 3.
The following is his story, written by Bodie himself…
I was brought up in the district of Waikato. It was there that I was cultivated in the culture of the Maaori.
I was about 14 and started to dance the indigenous dances of our ancestors. Haka, and staff manipulation, were components of the dance and they fascinated me. From there I went to an indigenous performing arts school, Te Wananga o Aotearoa ki Rotorua. It was there that I was introduced to drama and dance styles: Ballet, Jazz, and Polynesian styles. After many years of training I graduated top of my class. By that time I had a new interest and vision, the traditional wood art of the Maaori, so I managed to secure a position in the most prestigious school of wood carving, Te Whakarewarewa Arts and crafts. Although it wavered away from the stage and performing arts, what I gained was a persistence for perfection. A systematised way of completing wood art forms. From there I graduated and now had a renewed hunger for the stage. I auditioned for the Maaori production 'Ahorangi', in 2000, which was directed by Chris Winitana and co-produced by Tina Kaipara. The production was huge and we spent 1 month in preparation for 5 months of hard slog performing around the country.
It during our stay and performance in Hamilton that Temuera Morrison and the casting director of LucasFilm came and auditioned one of our featuring stars, Tupoutahi Winitana (now regularly seen on the television programmes in New Zealand). On Temuera's arrival to the set he spotted me and asked if I would be interested in doing a audition. I was not going to turn down the opportunity. After the audition that included me demonstrating my expertise in Maaori weaponry and leg movement, we (myself and Tupoutahi) were told we were picked to act in the upcoming Star Wars movie (Episode 2). Although I was quite taken away by it all, I didn't really believe it…until I was faxed a contract from LucasFilm to become a part of their Star Wars production! "My Gods!", I said.
(Tupoutahi was originally slated to play the part of the young Boba Fett. Daniel Logan ultimately took that role, as the filming schedule for EP2 conflicted with the 'Ahorangi' production, to which Tupoutahi was committed. Read the NZ Herald article here).
Anyway, I then secured a place in the Robert Bruce talent agency, along with my sister who is also an actress, Stacey Taylor. From there, Robert managed to sell my profile into the movie industry, and I was introduced to the camera set as a special guest on the television series 'Matuku' and the 'Merchant of Venice'.
After Star Wars I gained a part in the movie 'The Legend of Johnny Lingo', as Johnny's advisory, Pua. That was a great experience as I was introduced to some of New Zealand's greatest movie actors. From there I have been travelling around the world doing stage productions.
Temuera and I had just finished doing some more contracts for LucasFilms (EP3!). Again, an amazing experience: I met with Ewan McGregor, Natalie Portman, and Hayden Christiansen, and you could just tell they were great people with great goals and a persistence in life that could not be compromised. So basically, the Force moves with them, including all others who chooses to be a part of their greatness.
Now I work for a company named 'Awarua'. It is here that I create and facilitate my passion for people and their purpose in life. But soon I plan to venture out on my own. My own company, 'Tihoi Ltd', basically creates docos and workshops for different educational fractions of the the biggest educational institute in New Zealand, Te Wananga o Aotearoa.
My future goals are to maintain my vision for transformation in New Zealand and to strive to obtain a great role in the movie industry of New Zealand.
Bodie Taylor.

(Originally published 08 Sep 2003).