Celebration Orlando News Digest – 14 April 2017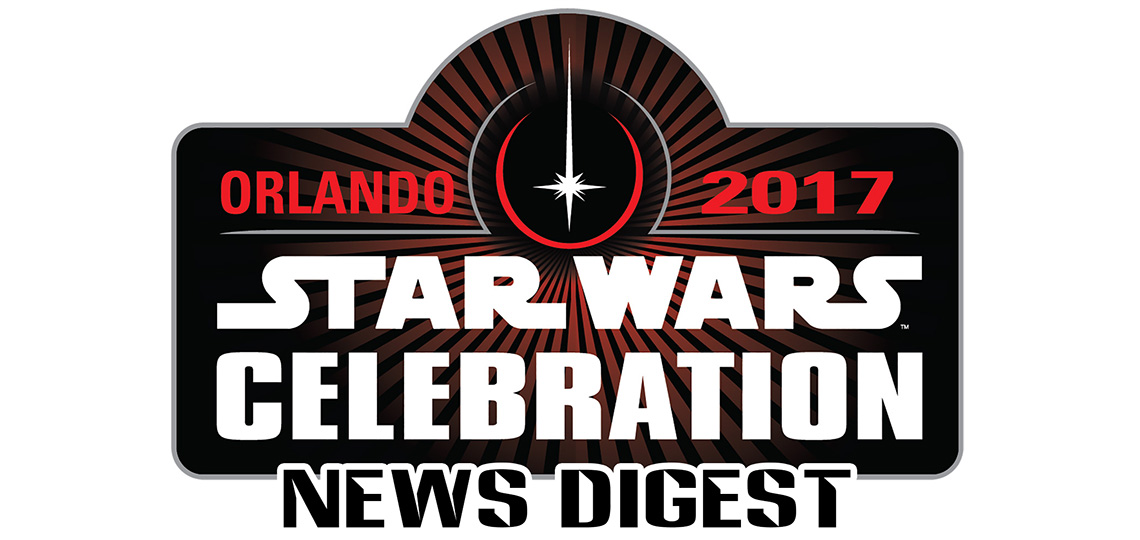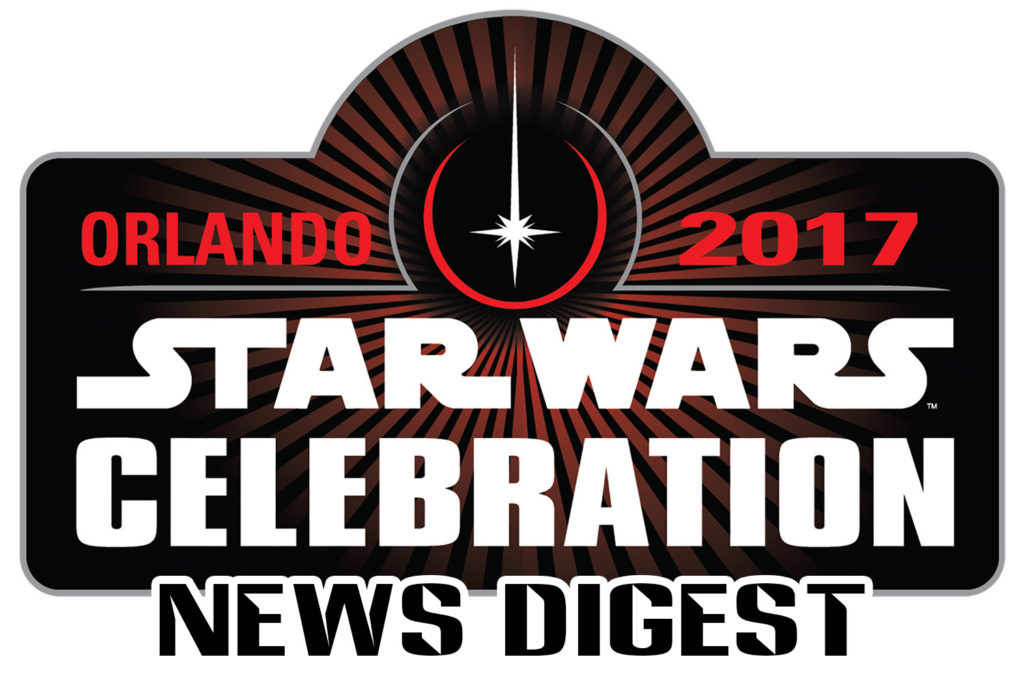 Welcome to a special edition of the SWNZ News Digest, with a round-up of the Star Wars news headlines and links revealed at, or related to, Star Wars Celebration Orlando.
George, Harrison, John Williams at 40th Anniversary Panel
The Star Wars Celebration event opened with a 40th Anniversary Panel, hosted by Warwick Davis. This promised to be an exciting, star-studded spectacle, with all sorts of rumours about who might turn up on stage… in the end, the secrets they had managed to keep under wraps surpassed, I think, even the wildest speculation. George Lucas entered first (introduced by Warwick) and was basically on stage the whole time. He was, along the way, joined by Hayden Christensen, Ian McDiarmid, Harrison Ford, Mark Hamill, Billie Lourd, Peter Mayhew, Anthony Daniels, Billy Dee Williams, and Kathleen Kennedy. The panel included a touching tribute to Carrie Fisher (see below), and then was capped off with an appearance by John Williams conducting a live orchestra that played a number of Star Wars themes in sequence. Full video will be available online on an official channel shortly (stay tuned, we'll link later), but in the meantime, here are a selection of key screen-caps from the livestream.
Carrie Fisher Tribute
A wonderful tribute to Carrie was played at the Celebration 40th Anniversary panel, introduced by her daughter Billie Lourd. It's nearly 5 minutes long, and includes all sorts of behind-the-scenes, on-screen, and interview footage of Carrie. It's quite emotional, but is a very nice memorial. We'll have some screen-caps online soon, as there is a lot of material not seen elsewhere, and it really does highlight Carrie's humour and personality. The video has been published separate from the panel livestream – you can watch it here.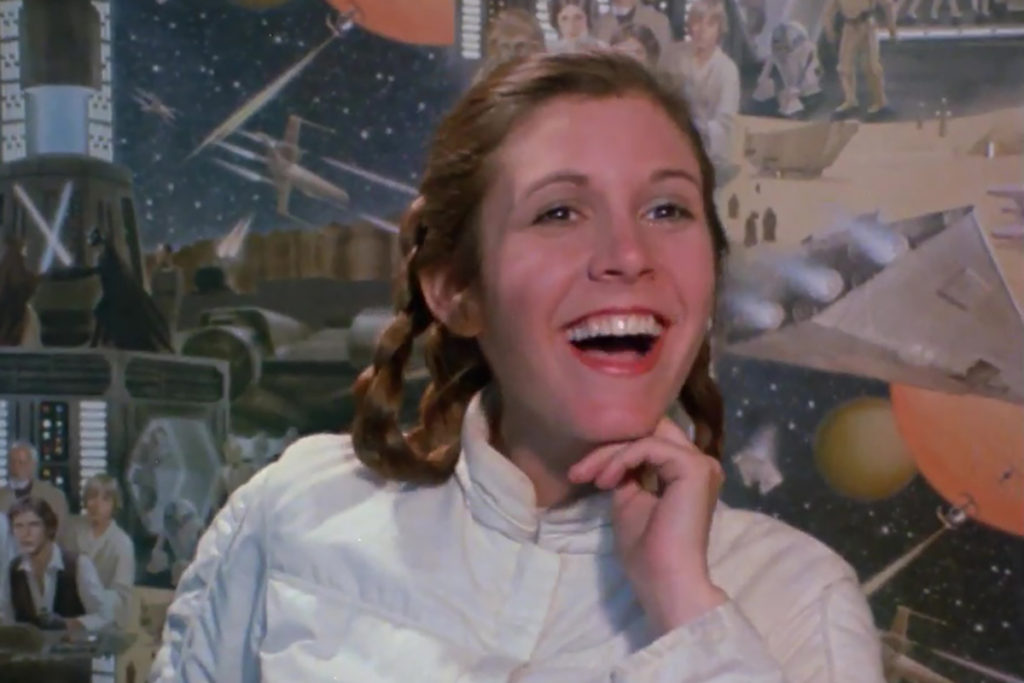 Life-Size Fan-Made Props at Celebration
One of the most immersive highlights of the Celebration events are the life-sized creatures, vehicles, and sets at the convention. StarWars.com takes a look at the creation of these impressive constructions – read the article here. You can also see quite a few of these life-size pieces in our first Celebration Orlando gallery here.
Forces of Destiny Animated Shorts Announced
Forces of Destiny will be a series of animated shorts, focusing on the heroines of the Star Wars Universe, including Rey, Ahsoka Tano, Jyn Erso, Princess Leia, and Sabine Wren. They will feature the voices of the original actresses, and there will be an associated campaign of tie-in books and toys. Forces of Destiny launches in July on Disney YouTube, with a two-part TV special featuring eight additional shorts to follow on Disney Channel in spring (Southern hemisphere) 2017 . Read the full announcement on StarWars.com here, with some additional material on USAToday.com here. Kathleen Kennedy introduces to series in a YouTube clip here, and you can even watch a sample video on USAToday.com here.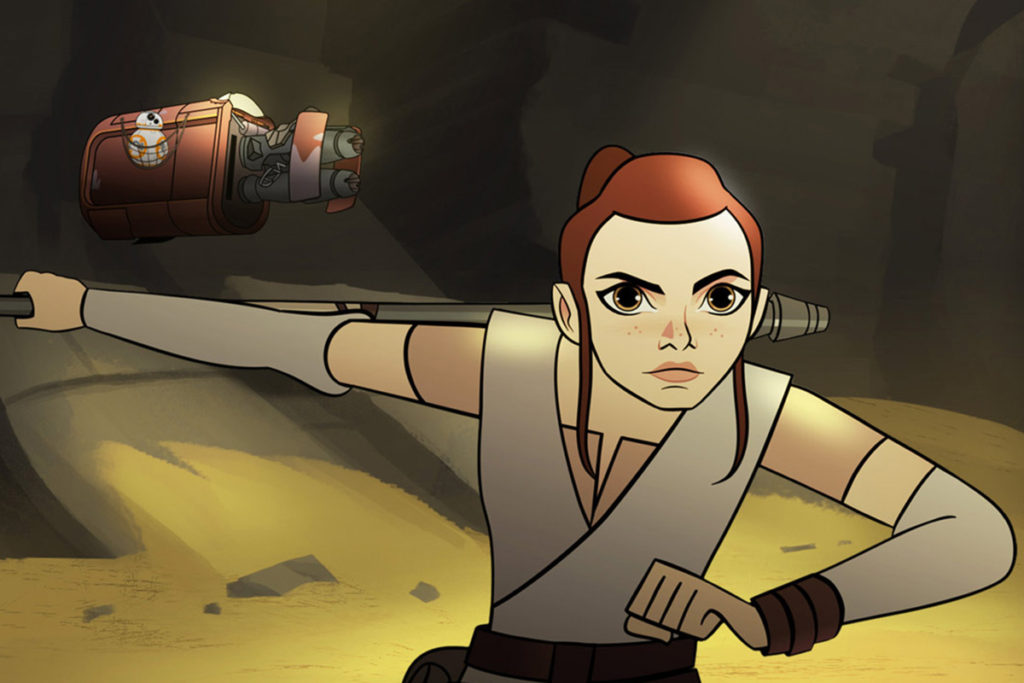 TBS6 Landspeeder Revealed
Following on from the reveal of a Black Series 6″ scale version of Rey and her Jakku speeder (covered in our last News Digest), Hasbro have shown off, via Yahoo Movies, a Black Series 6″ scale Luke Skywalker and X-34 Landspeeder. This collectible toy is on view at the Hasbro stand at Celebration. Yahoo.com has the announcement with pictures here.