Return of the Jedi Ice Block and Stickers (1983)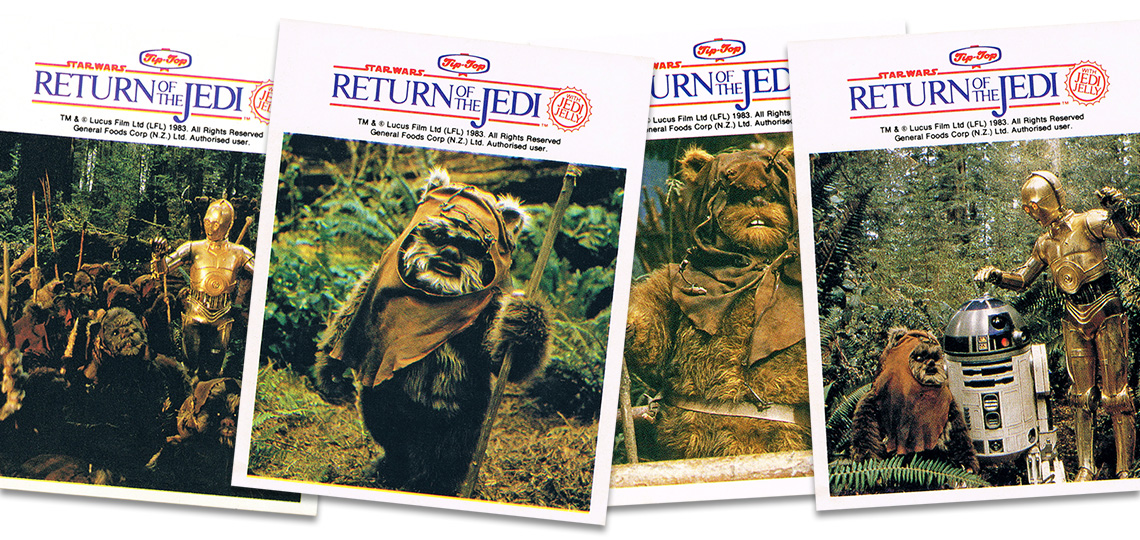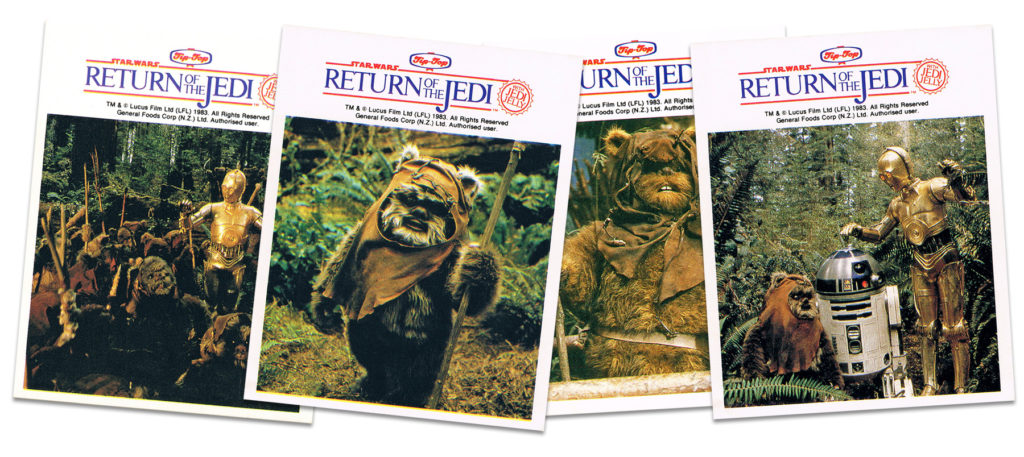 Tip-Top wrapped up its trilogy of ice-block-related collectibles in 1983, with a small set of 4 Ewok stickers. Commonly referred to as "Jedi Jelly" ice-blocks and/or "Jedi Jelly" stickers, we can see here that the naming of this frozen confection is a little more ambiguous. Both the marketing poster and the ice-block wrapper brand this as a "Return of the Jedi" item which contains "Jedi Jelly" as a feature ingredient. Like their ANH and ESB counterparts, these Tip-Top collectibles (marketed by General Foods Corp., NZ, Ltd) remain quite sought after, including on the international market, and although they are a set of only four, a mint quadruplet will be elusive for many.
On all of the stickers, those of you with sharp eyes will have noticed a significant spelling error: in the first line of small print under the ROTJ logo, the trademark and copyrights have been attributed to "Lucus Film Ltd"!
In addition to the accompanying stickers, this ice-block offered another bonus: "Win six *Atari* video games – with Star Wars game cassette plus thousands of Return of the Jedi transfer sets to be won". Competition entry was by way of submitting three Jedi ice-block wrappers along with the solution to this thoroughly cryptic puzzle: "Unscramble the names of these two characters from Return of the Jedi – KULE KERLAWYKS, NAH OSLO".
Below are images of the wrappers from all 3 of the vintage Tip-Top Ice Cream products. Click on the thumbnails for the full versions. They are, from left to right, R2-D2 Space Ice wrapper, the Darth Vader ice block wrapper, and the Return of the Jedi ice-block wrapper.