New Zealand Return of the Jedi Premiere (1983)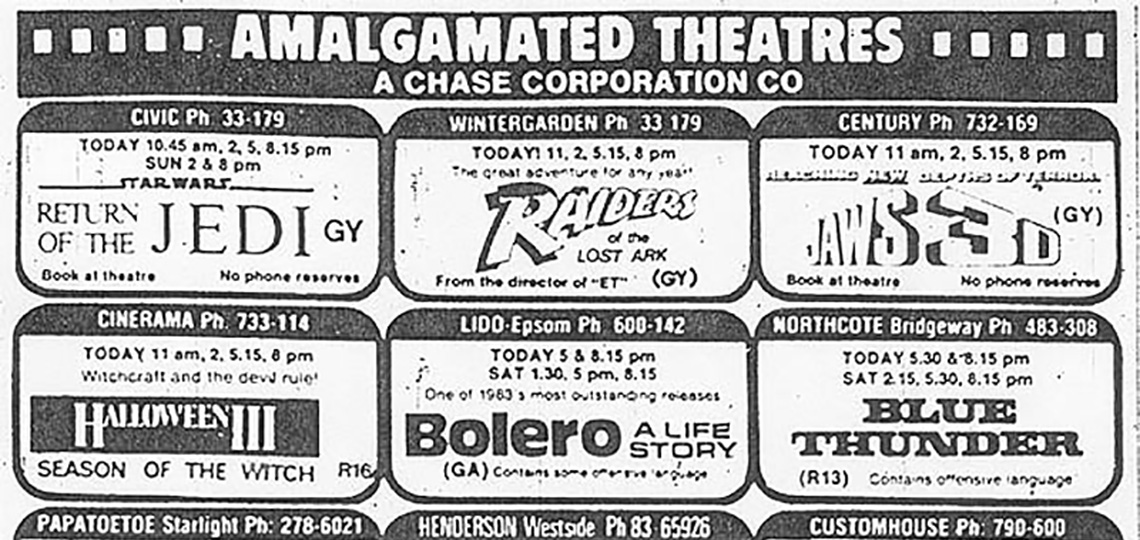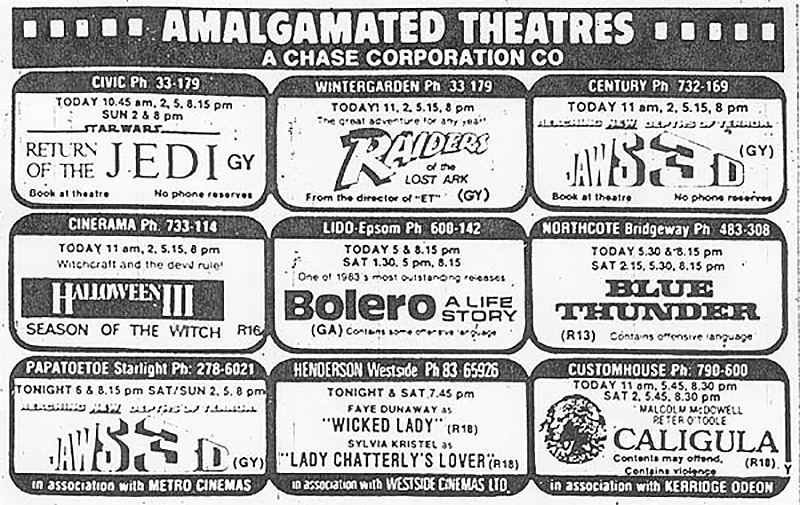 1983. The year McDonalds introduced the Chicken McNugget. The year Microsoft Word for MS-DOS was released. Swatch watches are born; IBM XTs came with 128kB of memory and a 10MB hard drive; M*A*S*H ends after 10 years, becoming the longest running TV series of its time. The year Luke Skywalker learns Princess Leia is his twin sister.
A couple of newspaper clippings conclude our trilogy of monochrome flashback articles. New Zealand Herald archive research confirms the NZ opening date for 'Return of the Jedi' as being 25th November, 1983. Again, this is a little earlier in the year, and a little closer to the original US release, than its predecessor. Seat purchases could be made well ahead of the screening date, making the third Star Wars film "the biggest advance booking in NZ cinema history". The Bay of Plenty Times featured a promotional photo from an encounter on Endor…disappointingly mis-identifying Han Solo as Luke Skywalker and mis-spelling "Wookiee".


On other screens, you could catch 'James Bond: Octopussy' (with Roger Moore – who had a movie on the screen at the same time as each of the original trilogy releases in New Zealand), 'Raiders of the Lost Ark' (with Harrison Ford, of course, enjoying a re-release prior to 'Indiana Jones and the Temple of Doom' coming out in 1984), 'The Black Stallion Returns' ('The Black Stallion' was a peer of 'The Empire Strikes Back'), and Roy Scheider in 'Blue Thunder'. 'Jaws 3D' starred Dennis Quaid…but that franchise was well past its prime.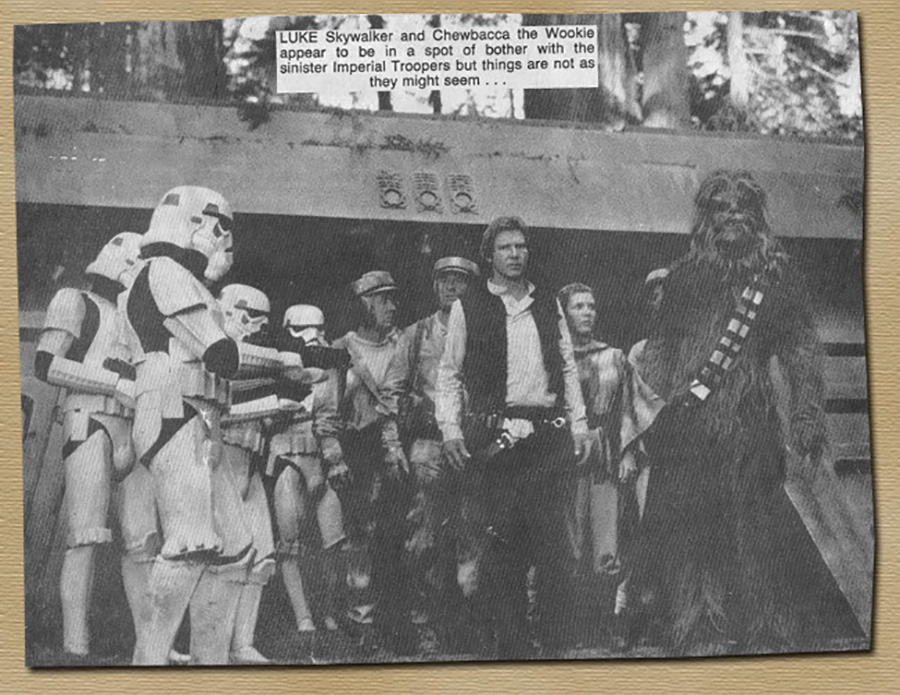 To say that the maiden releases of the original trilogy films hold significant memories for many of us would be a vast understatement. Scanning through the newspapers to secure the images for these articles, I was taken back to an arguably simpler time – advertisements for micronauts, Atari games and cassette tapes; new car number plates in the "I" to "J" range; a mere couple of television channels, with programming that started at midday and was closed down before midnight ('Dr Who' was on at 6pm, followed by 'Grange Hill'). And therein lies the magic – the timing and the environment in which Episodes 4-6 made their debut, and the younger eyes through which we viewed them, render the original trilogy incomparable…pristine in our memories, and inimitable under any other conditions.
Video Store Rental Availability – 1985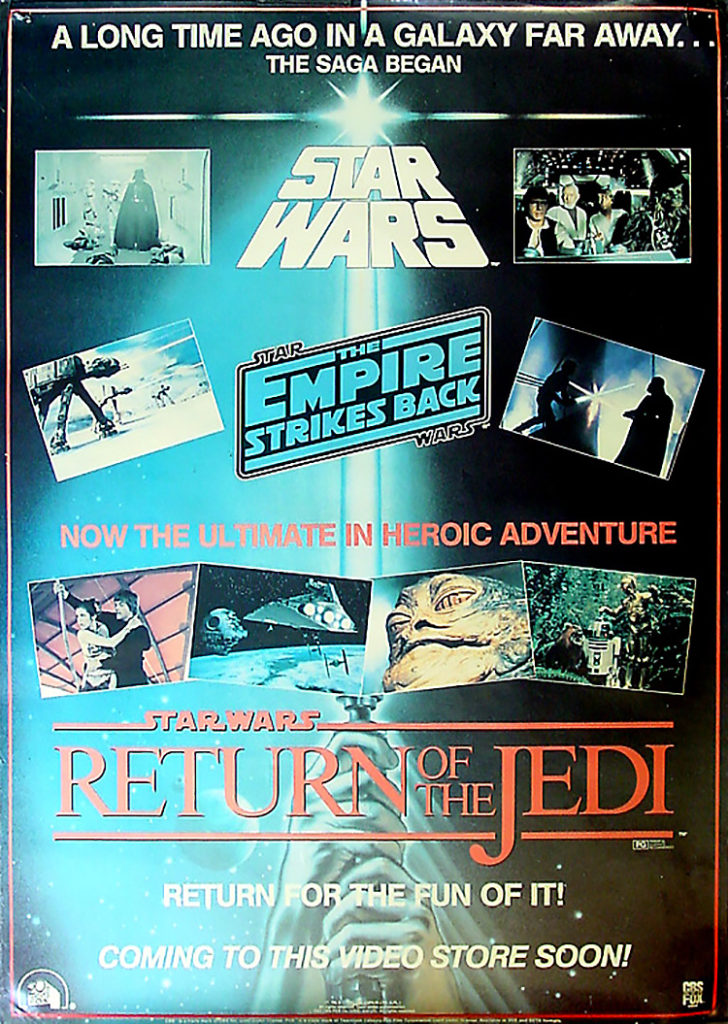 The above photograph of a New Zealand edition of an advertising poster takes us back to 1985…when 'Return of the Jedi' had just becomed available to borrow from your local rental store (in VHS, or Beta).
Special Edition Release – 1997
Star Wars: "Back On The Big Screen". It's hard to believe that it is nearly two decades ago now that the Special Edition Trilogy took us back to our childhood through the silver screen. Not everyone was fully enamoured with every single change, and further revisions have since crept in to the canon of the epic, …but it was, without a doubt, the return of "Star Wars".
'Star Wars', 'Empire', and 'Jedi' were released two weeks apart, on March 27, April 10 and April 24 respectively…New Zealand got them each about 7 weeks after their North American debut. Even then we were still suffering a delay between most of the world seeing movies, and them showing up on our shores. A number of venues had midnight (12:01am) screenings.
Before it had even opened in NZ, Star Wars: Special Edition alone was reported to have generated over US$200 million in box office sales…not bad for an outlay of US$22 million to digitally renovate all of the Original Trilogy films.