New Zealand Empire Strikes Back Premiere – 1980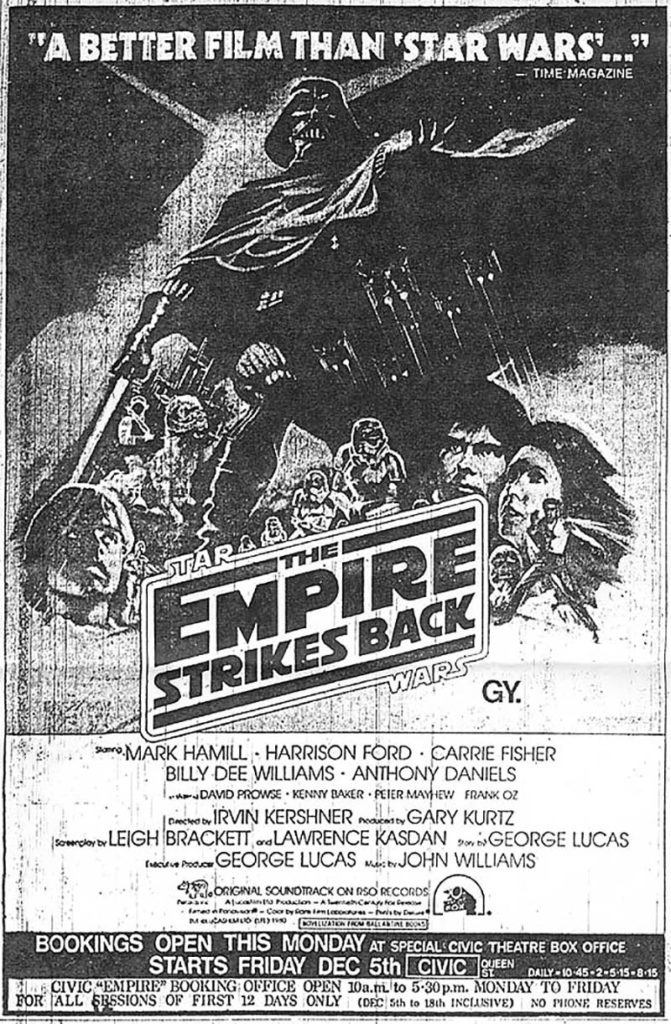 Following up on the Star Wars Premiere article, we take a look here at the first screenings of 'The Empire Strikes Back', which hit our cinema screens for the first time on the 5th of December, 1980. It was a little less of a disrupted debut, without the projectionist strikes that plagued Star Wars in 1977, and it entered our theatres a little earlier in the holiday season. Consequently, we see a bit of a double advertising launch in the newspapers – once for the actual release, and a second time to pump it for the school and public holidays. The entertainment section of the 16th November edition of the New Zealand Herald had not only a full-page advert for the titles screening at the Civic in Auckland, but also a couple of separate articles on Mark Hamill's and Harrison Ford's respective role in the tale touted as being "A better film than 'Star Wars'".
Hamill describes his Empire character: "I have identified very closely with the character of Luke Skywalker, and I think it will be clear that in the new picture, both he and I have matured since Star Wars. Luke was a callow youth in the first movie, and to some extent I was naive and inexperienced too, about life in general. Luke was suddenly thrust into amazing adventures in different parts of the galaxy. Similarly, I was taken to Africa and to England to play the role, having previously hardly been out of California". Ford keeps it uncomplicated: "I intentionally keep my interpretation simple. Han is no longer the only stamp in my passport, but somehow he is becoming a part of me".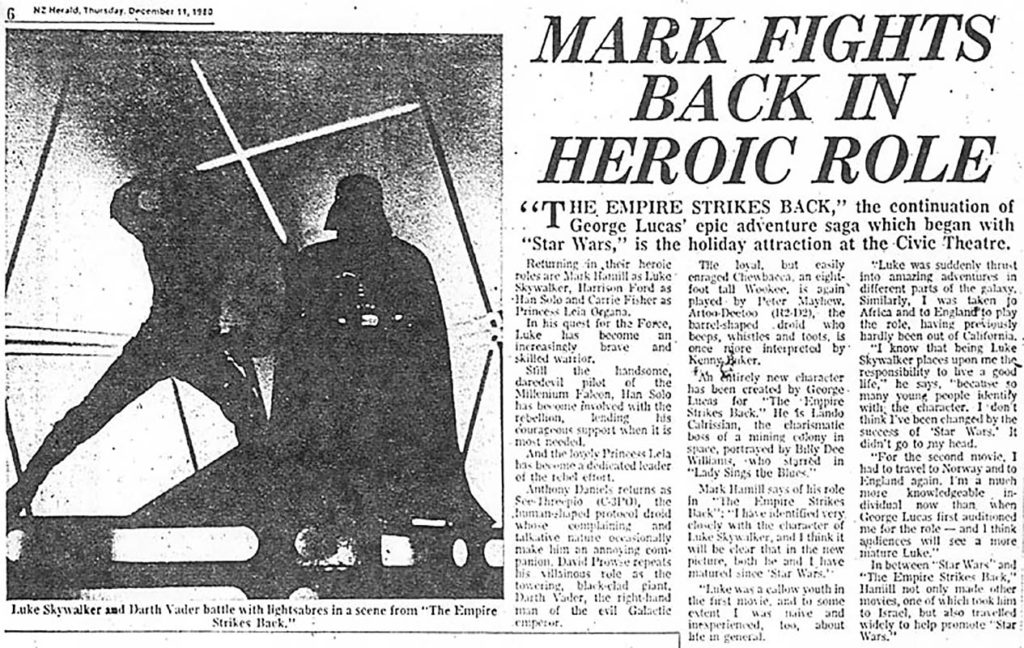 As with the preceding Star Wars premiere article, a bit of a scan around the other, contemporary movie listings will surely spark some nostalgia – in addition to 'The Empire Strikes Back', you could have caught Redford and Newman in 'The Sting', 'Cheech and Chong's Next Movie', a couple of Peter Seller's films, 'Being There' and 'The Fiendish Plot of Dr FuManchu', or Francis Ford Coppola's 'The Black Stallion'. Burt Reynolds also struck back, with 'Smokey and the Bandit Ride Again', and in between his Bond films, Roger Moore had teamed up with Gregory Peck and David Niven in 'The Sea Wolves'.
It's that "The wait is almost over ~ starts Friday" advertisement that really takes me back. After over 6 months of reading about the second Star Wars film in comics and magazines, the suspense was at a level unparalleled in the internet age!

Special Edition Release – 1997
Star Wars: "Back On The Big Screen". It's hard to believe that it is nearly two decades ago now that the Special Edition Trilogy took us back to our childhood through the silver screen. Not everyone was fully enamoured with every single change, and further revisions have since crept in to the canon of the epic, …but it was, without a doubt, the return of "Star Wars".
'Star Wars', 'Empire', and 'Jedi' were released two weeks apart, on March 27, April 10 and April 24 respectively…New Zealand got them each about 7 weeks after their North American debut. Even then we were still suffering a delay between most of the world seeing movies, and them showing up on our shores. A number of venues had midnight (12:01am) screenings.
Before it had even opened in NZ, Star Wars: Special Edition alone was reported to have generated over US$200 million in box office sales…not bad for an outlay of US$22 million to digitally renovate all of the Original Trilogy films.