New Zealand Star Wars Premiere – 1977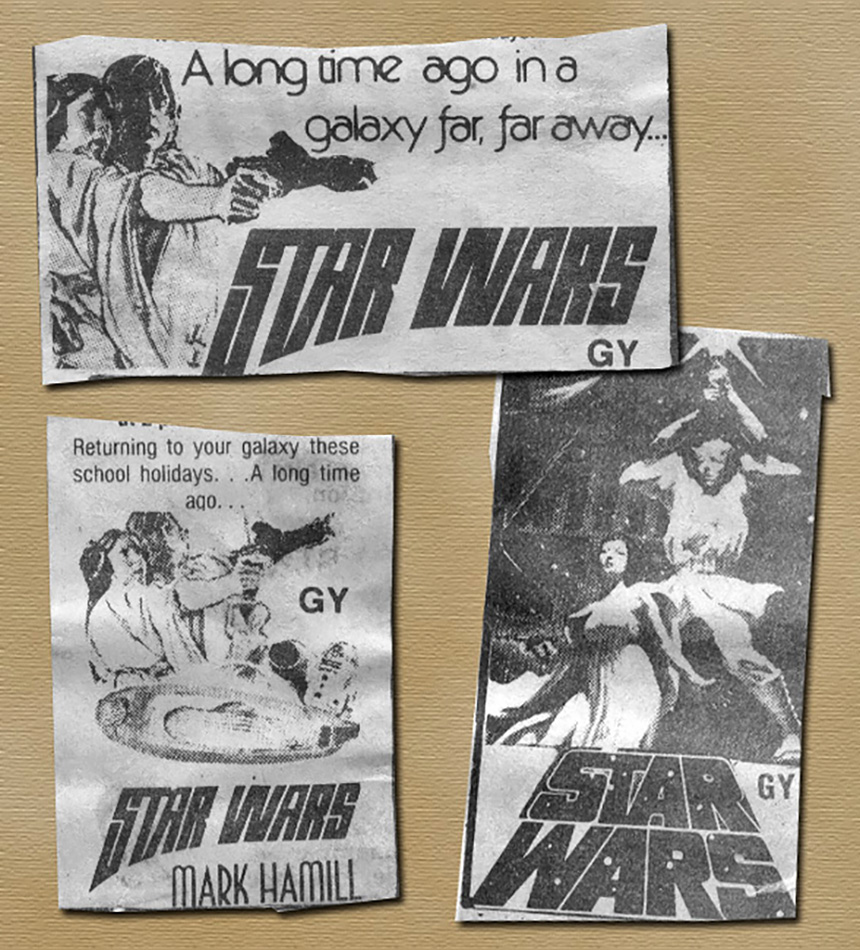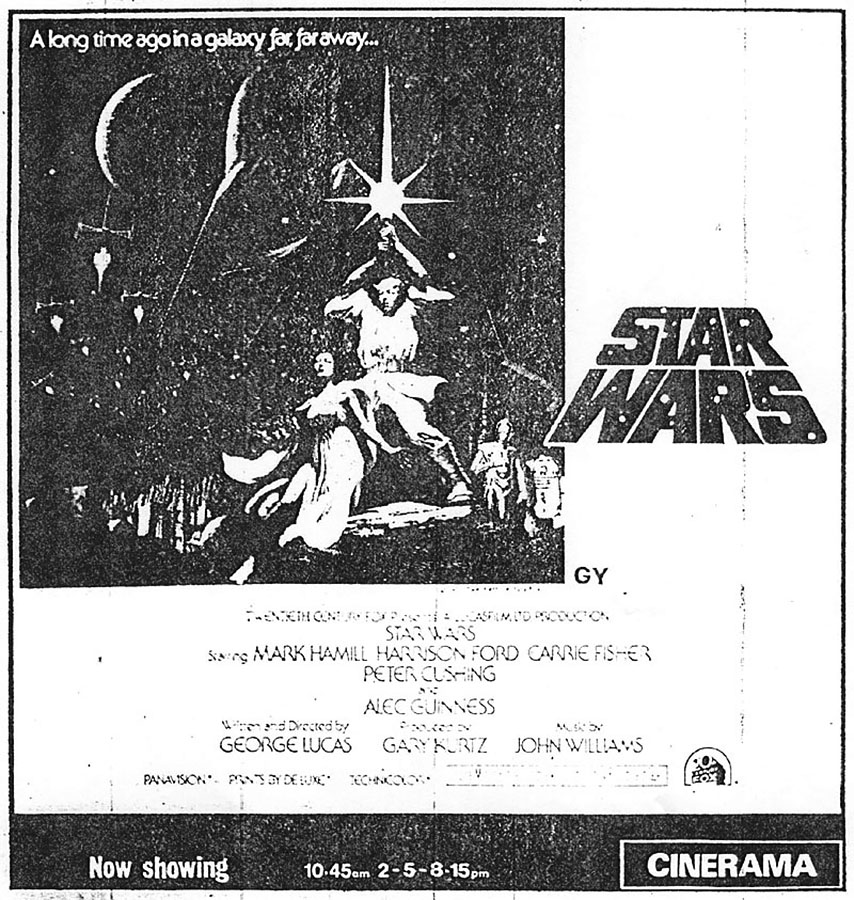 When did Star Wars first screen in New Zealand? It's a question that I've heard a few times now, so I decided to undertake some research in the Auckland Library microfiche archives to verify my memory of the premiere. For the Auckland region, the first opportunity to see it was on Christmas eve of 1977, at the Cinerama theatre in Queen Street, Auckland. Almost 7 months after the US, where it debuted on 25 May 1977! Outside of Auckland, kiwis got to see the movie a few days earlier…more on that shortly.
This was before the proliferation of multiplex cinemas…only one screen was showing Star Wars, with 4 shows daily: 10.45am, 2pm, 5pm and 8.15pm. The booking details for the listing read:
Feature occupies entire programme. Book at theatre only. No phone reserves. 8.15pm reserves 6 days ahead [!!] Tomorrow's 10.45pm session tickets on sale at Theatre from 3pm today.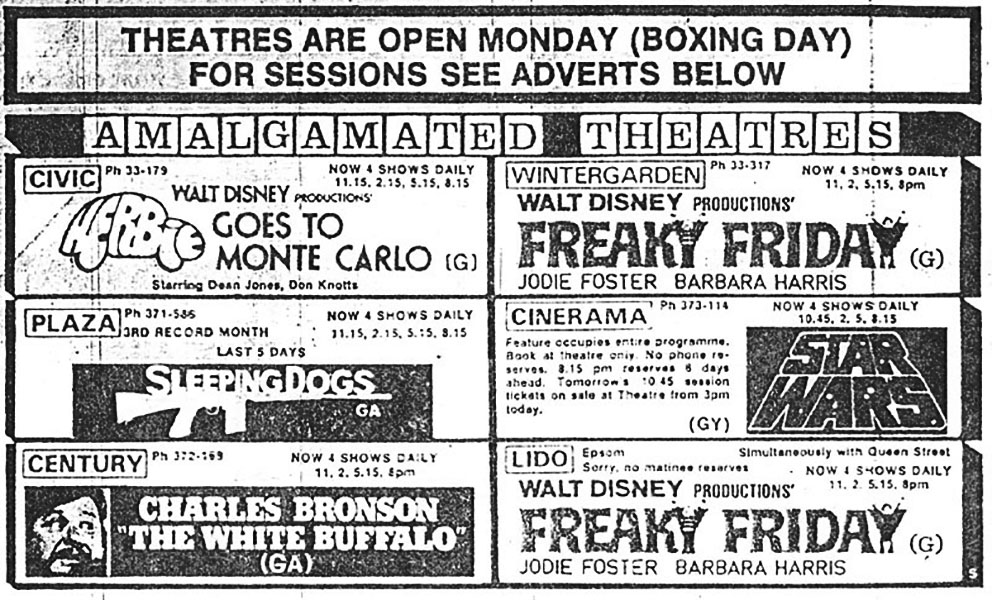 Also on the big screens at that time were…'Sleeping Dogs', Charles Bronson in 'The White Buffalo', 'Herbie Goes to Monte Carlo', Jodie Foster in 'Freaky Friday', Roger Moore in 'The Spy Who Loved Me', Liza Minnelli and Robert DeNiro in 'New York, New York', Evel Knievel in 'Viva Knievel', and Clint Eastwood in 'The Gauntlet'. If you were quick, you could have caught one of the final screenings of the 70s family adventure 'Puf-n-Stuf'! All the big names of yesteryear.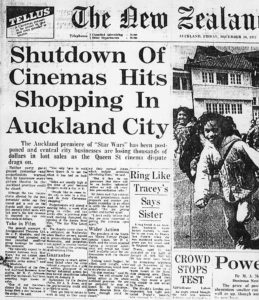 There was some real-world problems behind the Star Wars premiere however – it was originally scheduled to show in Auckland about a week prior. Other parts of the country got to see the movie as originally calendared, but in Auckland there was a hold-up due to the fact that the projectionists of the main theatre chains were on strike at the time. In fact, the delay of the Star Wars screening made headline news on 16 December, 1977, the date the film was supposed to premiere. That story read:
Shutdown of cinemas hits shopping in Auckland city. The Auckland premiere of 'Star Wars' has been postponed and central city businesses are losing thousands of dollars in lost sales as the Queen St cinema dispute drags on…The general manager of Amalgamated Theatres Ltd, Mr JP Moodabe, said that the company had accepted and then cancelled unofficial group bookings for today's film premiere. 'We naturally expect to do massive business with Star Wars, but we cannot open under the threat of future possible strike action' said Mr Moodabe.
We got there in the end though; and, for some of us, nothing's ever been the same since!
Preview Screening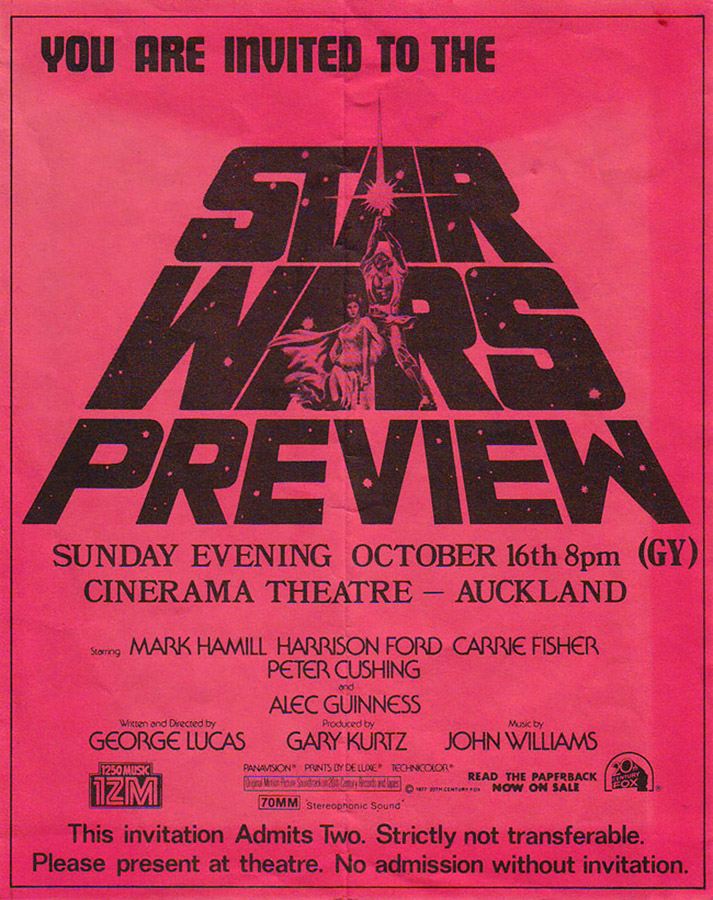 December was the month for the public premiere of Star Wars in Auckland …but… the above scan (thanks Stuart T.) shows an example of an invitation-only preview screening some time earlier, in conjunction with the 1ZM radio station. Check out the date on the ticket… October 16th 1977! There were a few other previews with similar tickets before the general release of Star Wars, promoted by radio stations around the country. If anyone has any additional information about, or recollection of, this event (or other previews), please get in touch with me.
School Holiday Re-release – 1978
The above newspaper clippings (1978) have been stuck in one of my childhood scrapbooks for nearly three decades! I could never have guessed at the time that I cut them out as a seven-year old (hence the less than perfectly straight edges and not quite right-angled corners) that this would be their ultimate fate. They appeared in the Bay of Plenty Times, and highlight the fact that not only did Star Wars enjoy quite a long run in the cinemas for its initial release, but it was re-screened on a few occasions through 1978, around the country – these clippings relate to its time in the Tauranga (Odeon) and Mount Maunganui (Regent) theatres during one of the school holiday breaks.
Special Edition Release – 1997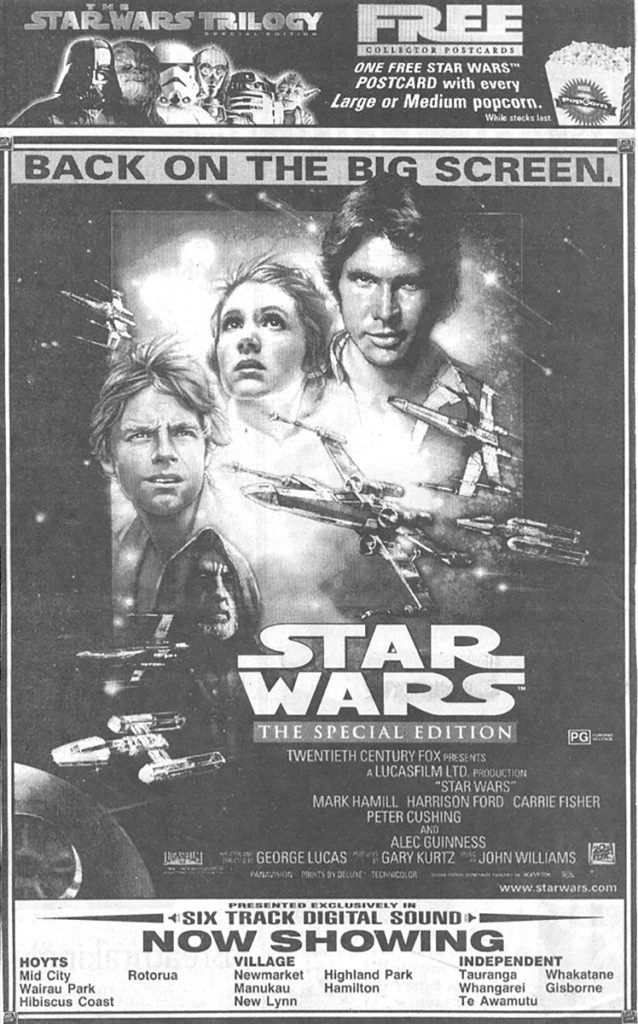 Star Wars: "Back On The Big Screen". It's hard to believe that it is nearly two decades ago now that the Special Edition Trilogy took us back to our childhood through the silver screen. Not everyone was fully enamoured with every single change, and further revisions have since crept in to the canon of the epic, …but it was, without a doubt, the return of "Star Wars".
'Star Wars', 'Empire', and 'Jedi' were released two weeks apart, on March 27, April 10 and April 24 respectively…New Zealand got them each about 7 weeks after their North American debut. Even then we were still suffering a delay between most of the world seeing movies, and them showing up on our shores. A number of venues had midnight (12:01am) screenings.
Before it had even opened in NZ, Star Wars: Special Edition alone was reported to have generated over US$200 million in box office sales…not bad for an outlay of US$22 million to digitally renovate all of the Original Trilogy films.
All SWNZ content will always be freely available. However, if you'd like to support this site, please consider buying the admin team a coffee via Ko-Fi. Either way, thank you for visiting; we appreciate your support!