Star Wars Movie Marathons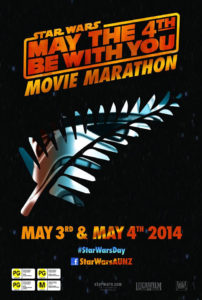 Details about the Star Wars movie marathons taking place up and down the country on the 3rd and 4th of May are starting to be released, and we are expecting confirmation of screening times very shortly. Keep an eye on the following cinema info pages, and we'll also update here when a solid screening schedule comes to light.
Update – pricing for Event Cinemas, and pricing, cinemas, and session times for Hoyts cinemas are up now: link
– Event Cinemas, prequel trilogy
– Event Cinemas, original trilogy
– Hoyts Cinemas
More discussion is also up on the SWNZ forums.