Episode III Premiere Anniversary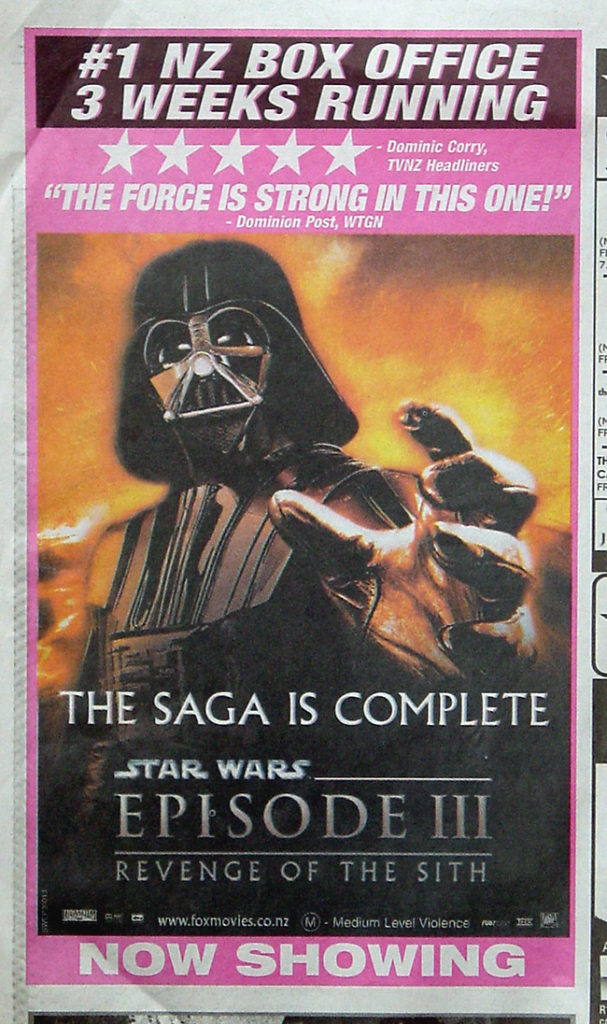 Today, May 16th, marks the six year anniversary of the New Zealand charity premiere of Star Wars Episode 3: Revenge of the Sith. 2005 was a heyday of prequel hype in our country, notably different from the marketing of The Phantom Menace and Attack of the Clones in that there was a lot of focus on, and involvement of, the kiwi celebrities and fan base. This article is a photo-essay focusing on that marketing, with flashbacks to earlier SWNZ articles on the associated events.
The build up actually began in April of 2005, when Hasbro and K-Mart collaborated to herald the movie with a midnight EP3 toy release. By the first week of May, tickets had gone on sale for the charity premiere, with proceeds going to Variety – The Children's Charity. The NZ Herald preempted the premiere with lots of general Star Wars trivia and coverage, and also ran articles about the ticket sales and associated excitement amongst fans. Other involved media channels included TVNZ's Breakfast show, regional/local newspapers, magazines (including NZ Womens Weekly, New Idea, and Readers Digest) and many radio stations.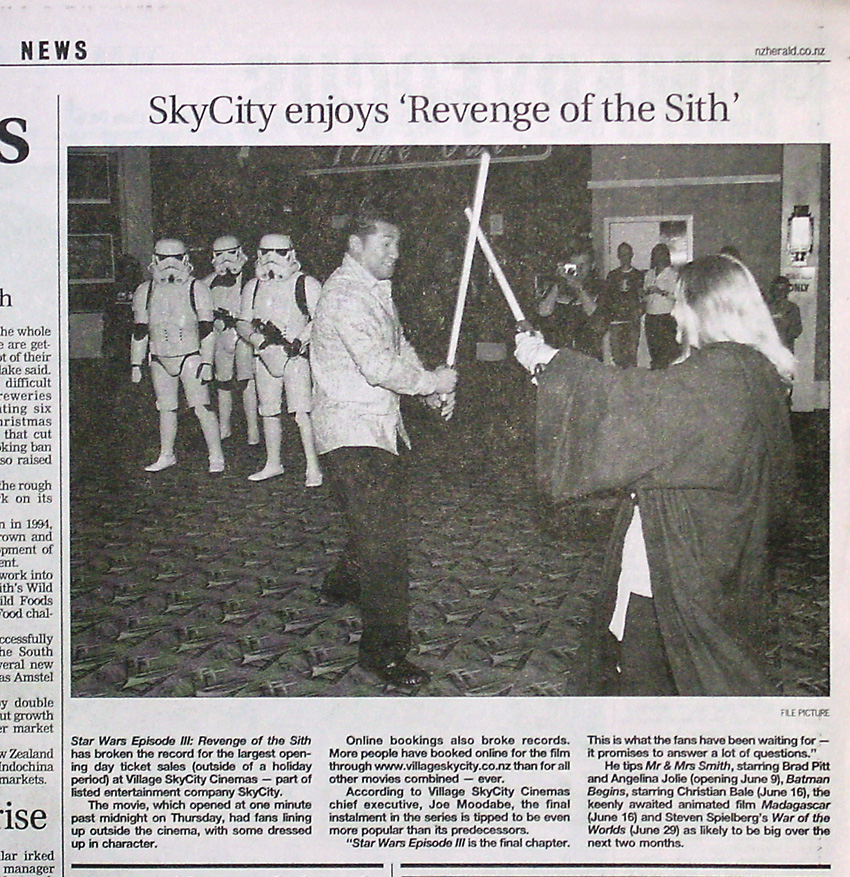 The charity premiere itself was a huge production. During the day, the Mayor of Auckland at the time, Dick Hubbard, wore formal regalia to meet with 501st Garrison imperial costumers and media in Aotea Square, preceding a truck-bed parade down Queen St to promote the imminent movie screening. The venue for the evening event was the Village SkyCity cinema complex in Newmarket. A (very) packed house raised an estimated $25,000 for Variety. New Zealand's celebrity Star Wars contingent was represented by Keisha Castle-Hughes, Bodie Taylor and Jay Laga'aia (the latter two having just recently returned from Lucasfilm's Celebration III convention in Indianapolis, USA).
The excitement continued well beyond the premiere of the 16th, with general release at 12:01am of the following Thursday morning, and the Saturday and Sunday of the opening weekend, all affording further opportunities for fanfare. On the Wednesday evening, 18th May, for instance, the Hoyts cinemas in Wairau Park, Auckland, featured local stormtroopers, a Jedi representation, and Star Wars theme music from a local orchestral band. Other regions had similar revelry.
All up, it was definitely a peak in Star Wars fandom in New Zealand; slightly bittersweet in that it is unlikely to be matched again in terms of sheer media activity and exposure. But then…the Star Wars movies are hitting the big screens again from next year, in 3D format, so we just never know what the future might hold…!
Do you have any photos from the Episode 3 events in your area? You can share them and discuss this topic in the SWNZ Message Boards.
Revenge of the Sith Movie Premiere Gallery