Daniel Falconer – Artist and Designer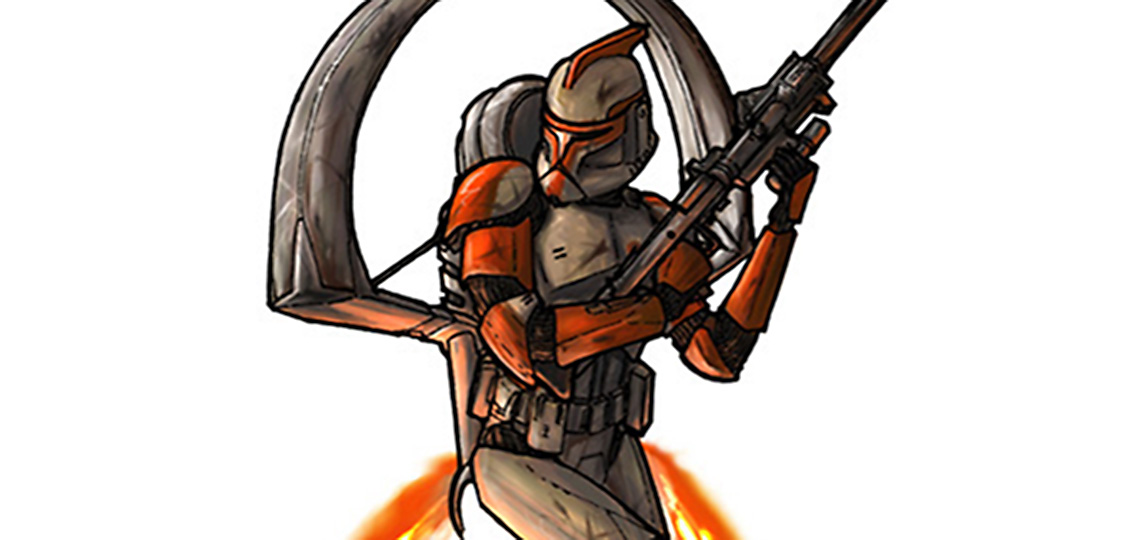 The individuals who make up the talent pool behind New Zealand's movie-making reputation are often a modest bunch, despite contributing significantly to some of the most spectacular cinematic epics of the modern age. Daniel Falconer is an an example of this. An accomplished conceptual artist who has been working at Weta Workshop for over a dozen years, his resume includes a degree in graphic design (majoring in illustration), spans a number of disciplines – creature, prop and environment design; sculpting; writing – and encompasses a number of movie project titles that need no introduction beyond their name – The Lord of the Rings; the Hercules and Xena series; Peter Jackson's King Kong; The Lion, the Witch and the Wardrobe and its sequel Prince Caspian; he's even crossed paths with an occasional Muppet!
It's his illustration work that is auxiliary to the silver screen that, in particular, brings Daniel's story to the pages of SWNZ, though. Daniel unabashedly describes himself as a "Star Wars nut" – he is a fan, like the rest of us, but through skill and hard work has achieved what many of us have aspired to, and now contributes on an ongoing basis to the official Star Wars universe. If you are a follower of the Star Wars Roleplaying Game and its associated library, chances are that you've already seen Daniel's depictions of clones, droids and aliens without realising the kiwi connection.
It is with pleasure that Star Wars New Zealand has been able to steal some of Daniel Falconer's time, in order to put to him a few questions on Star Wars and related matters…
SWNZ: You don't mind me exposing you as a "Star Wars nut", do you? Tell us a bit about your relationship to Star Wars as a fan, and perhaps your collecting foci and history?
Daniel: Thank you for your incredibly generous introduction Matt. I don't mind you exposing me as a Star Wars nut at all because it is the honest truth and I am proud of it. It's something most folks who know me find out fairly soon after meeting me anyways.
I first saw The Empire Strikes Back in a cinema when I was four. It was my first cinema experience, not counting a catastrophic attempt to see Watership Down six months earlier – still going to therapy for that one. The Star Wars universe grabbed my attention back then and has stayed with me ever since. While being the stage upon which George Lucas has retold classic stories, the power and beauty of that world, or worlds, has always impressed me. It inspired my imagination and made me dream of other worlds filled with unseen wonders. As mush as I loved the story and characters, I loved the environment in which they lived. I'd make up games at home in which Luke Skywalker and his friends visited new worlds and had new adventures, exploring and expanding the galaxy that the movies introduced me to in my own imagination.
As I grew up and began to explore the equally interesting world behind the scenes of the movies, it also opened my eyes to a career path that ultimately became my own, but we'll get to that some more later.
As I said, the movies inspired me to make up my own games as a kid, exploring the Star Wars galaxy beyond what we saw on screen. I think it's part of the enduring success of Star Wars that you can forget you are watching a movie shot on soundstages or outdoor sets and totally buy into the idea that to the left of frame the forests of the Endor moon continue for hundreds of miles, or behind that cantina, a dusty Mos Eisley back alley would probably lead you to somewhere you'd be mugged. The worlds of Star Wars seem vast and brimming with possibilities. That was what excited me as a kid, playing with my Kenner figures, and as an adult, still hooked to George Lucas's line, it inspires me just as much now.
I think I had around twenty figures when I was a child. As a grown up, I have indulged myself somewhat more than my parents did and now have a much larger collection of modern Hasbro figures numbering in the hundreds. Just as then, it's the wider world of Star Wars that excites me, so I have focussed on collecting the background characters and scene filler guys whose stories we barely know. It's awesome that Hasbro has embraced the depth of the Star Wars galaxy and is producing figures of all these virtually nameless, "blink and you miss 'em" kind of characters. I'm in the process of building detailed dioramas to display them all, though with a full time career and family, it is sometimes tough to find the time to work on them, plus, with two children, space is something of a premium at home, so sadly most of my collection is currently in storage awaiting an opportunity to be displayed.
SWNZ: The Star Wars RPG resources – how did you first come to be involved in those projects? What related work had you done before, and what might we be able to expect to see in the future?
Daniel: I've been lucky enough not just to play in the Star Wars galaxy, but occasionally work there too, a journey that began through playing, oddly enough – I was a role player in my school and college days, and one day discovered that some of my workmates were too. For old times sake, we decided to set aside some time to crack out our old dice and play some role playing games. One of the guys ran a regular Dungeons & Dragons game, while I ran a Star Wars game using the new (at the time) Wizards of the Coast rule system which had just been released. I ran a campaign that stretched over several years, set on Tatooine with my friends and workmates playing scum and villainy on the desert world trying to make a dishonest living in the midst of the Rebellion and a Hutt crime war.
Being a visual kind of guy, I enjoyed drawing up the various characters and creatures than my players met in the course of the game and had soon amassed quite a decent resource of artwork.
The internet is an awesome thing and through it I discovered a wide and thriving community of fellow Star Wars role players all over the world. We'd share ideas and resources and I made some really good friends through it. Among those friends were a group of like minded folks who were also producing artwork for their games. We realised we were sitting on some really good stuff that other gamers would love to be able to make use of, so we went about establishing a web gallery where we could upload our work and have it available for free download by other gamers. I say we, but to be fair, I did very little of the real work. I'm not all that tech savvy.
The site, called the Star Wars Artists' Guild or SWAGonline.net, became a place where fan artists like me could share ideas and post our work. It attracted other budding young artists, growing rapidly and became a little sub community where we could critique and encourage one another. As time permitted, we also took requests from gamers who wanted specific art done for them and it was exciting to see how some of the folks who joined with little experience quickly advanced in their abilities and began producing some really professional looking work. The site galleries became online portfolios which a number of us used to look for professional work.
It was a short hop from doing this work for fun to doing it professionally, and a number of us ended up being hired by the publishers of the Star Wars Role Playing Game and other gaming companies to produce artwork for them.
Drawing Star Wars and being paid for it??? That was a childhood dream fulfilled!
SWNZ: I love the drawing style you've used in the Star Wars Roleplaying Game publications. The fact that you've taken familiar faces and canon contexts, but have been able to populate previously unseen corners and aspects of the Star Wars universe makes the material measurably more interesting… can you walk us through the process of designing and realising a specific character or scene?
Daniel: Thank you. It has been a great deal of fun and I do feel extremely lucky to have had the opportunity.
I've worked for Wizards of the Coast on and off for the last four or five years now, contributing little bits of artwork for their Star Wars Role Playing Game in its various incarnations and now also for the Star Wars Miniatures Game, an offshoot of the RPG. Both games have a great mix of established characters and environments, but depend on new ones being introduced regularly to remain fresh, so lucky for me they need work from artists like me continually. I usually have a good solid brief of what they want, be it a character description or a scene, and often it is accompanied by reference material from the Lucas Film archives. Then I get to have fun and build on that, either creating a new character from an existing alien race, giving it a new spin, or putting familiar characters in a new scenario.
To be honest, it's creating the new stuff that I enjoy the most – be it thinking up an entirely new alien species or creating a character who is of a recognisable race, but something different from what we have seen of that species in the films. I am lucky enough to have a day job at Weta Workshop as a designer – something that is a direct result of me seeing those making of Star Wars documentaries as a kid and striving to do what I saw being done there. I have a passion for design, so when I get to draw Star Wars stuff for Wizards, it's always my aim to create good design as well as good illustration. The two aren't necessarily always the same, but I try to achieve both with each assignment I get. Sometimes it works out better than other times, but with Star Wars it is always fun. There's such a great base there to work on.
SWNZ: Do you have a favourite, from amongst the Star Wars books, themes or topics that you've contributed to [and why]?
Daniel: Hmm, one of the first assignments I received from Wizards was to work on their Allies and Adversaries RPG ssourcebook, which was basically a collection of bad guys and allies that a Gamesmaster could quickly refer to when throwing things at his or her players in a game. Wizards' writers created a bunch of cool characters and the artists got create portraits of some of them.
One that I was given to draw was a female Kel Dor mechanic. It was only a head and shoulders shot that I was asked to do, so it was a small and relatively simple illustration job, but it proved to be a really fun design challenge for a number of reasons. Firstly, in the movies, the only Kel Dor we ever saw was Jedi Master Plo Koon in the prequels – a funky looking humanoid alien with a bizarre head that was a patchy knot of intestine-like tubes held together by a black-goggled face mask. He's a really cool looking alien, but creating a female version that was recognisably of the same species was not necessarily going to be easy. There's not much in that alien design that can suggest the sex of the character, so I elected to slim her down and angle her features, including her version of the mask so as to make her look more delicate and feminine in all the shapes. I would have simply put her in a dress as well, an obvious clue to readers of her sex, but in the character description it stated quite explicitly that she was a tom boy and only ever dressed in mechanics overalls, shunning any feminine trappings like jewellery or make-up – way to may my job more difficult!
So that one was challenging, but also a lot of fun and I am very pleased with the way she turned out. I don't know if everyone who looks at her picture can tell she is supposed to be female, but I think some hopefully will.
SWNZ: I understand that you have an equally avid interest in Tolkien's Middle-Earth realms? Can you tell us a little about that affinity?
Daniel: Yes sir. I read The Lord of the Rings when I was about eleven and, like Star Wars, the depth and wonder of the world impressed me. I devoured everything I could find on that subject as well and drew dragons and elves next to my spaceships and aliens in the back of my maths book at school. I always hoped that one day, if I achieved my dream of working in the film industry as a creature designer, perhaps I might be lucky enough to be hired on some future film adaptation of The Lord of the Rings. It is almost beyond imagining that this childhood dream actually came to pass in the most incredible way for me and I am eternally grateful to whatever guiding hand out there in the universe made that possible. I was lucky enough to have been hired at Weta as a designer just months before Peter Jackson brought that historic project to us all, an extraordinary case of being in the right place at the right time.
SWNZ: I suspect most, if not all, Star Wars fans have seen and enjoyed the Lord of the Rings trilogy of movies. Given that your work on those productions must have dominated a few years of your life, this is an admittedly broad question, but…what was that like? What tasks and roles were you involved in, and what aspects of them did you find particularly challenging/interesting/fun?
Daniel: Goodness, well, it was all incredibly fun, though, as you might expect, often times hard work as well. I think I lived, breathed and slept in Middle-earth for the better part of seven years through that trilogy. It is rare that an effects house is so intimately involved in so many aspects of a single film's production, let alone three being shot back to back, so there was a phenomenal amount of design work to be created. We had a small team of designers and sculptors working under the direction of Weta Workshop founder Richard Taylor and benefiting from the experience and friendship of renown Tolkien artists Alan Lee and John Howe.
Over those years we all spent between ten and twelve hours (or sometimes more) together in a studio talking and drawing Middle-earth, sharing ideas and theories, encouraging and learning from each other. It was an incredible apprenticeship for a bunch of young designers, most of us fairly green at the time, and I think our naivety was in part a blessing as the sheer scope of the project didn't necessarily daunt us the way it probably should have. Ignorance is bliss they say!
I had moved from Auckland where my girlfriend and family lived and was flatting with my fellow Weta designers, so the whole time I was saturated by the experience as we'd go home in the evenings and keep talking about the work we wer doing together during the day. Looking back now, it was almost surreal. We were detached from the rest of the world – a kind of secret society working away on this fantasy epic under the noses of suburban Wellingtonians. I'd miss the real world news for weeks sometimes. I think we went through three All Black captains at one point before I had even noticed, shaming myself terribly when I foolishly entered a conversation about rugby in a bar one night.
The team I was part of was tasked with designing all the cultures of Middle-earth. Working alongside Alan Lee and John Howe, whose focus was more environmental, we had to design the armour, weaponry and the creatures, but I also moonlighted in the evenings down in the costume department, dabbling in some wardrobe design, and did some art department work on props as well – just because I couldn't get enough of it in my regular ten hours at Weta.
Suffice to say that The Lord of the Rings was a totally immersive experience and something that I doubt I will ever be lucky enough to experience again. It happened at the perfect time in my life, when I could devote myself totally to it and in its wake I have been granted opportunities and had chances others in my career would kill for. To say I feel profoundly blessed is an understatement. And it has all been such incredibly good fun. I am so proud to be able to say I was part of those movies, because they turned out better than any of us dared hope.
Related link: Daniel Falconer's Gallery, on SWAGOnline.net