Rena Owen as Taun We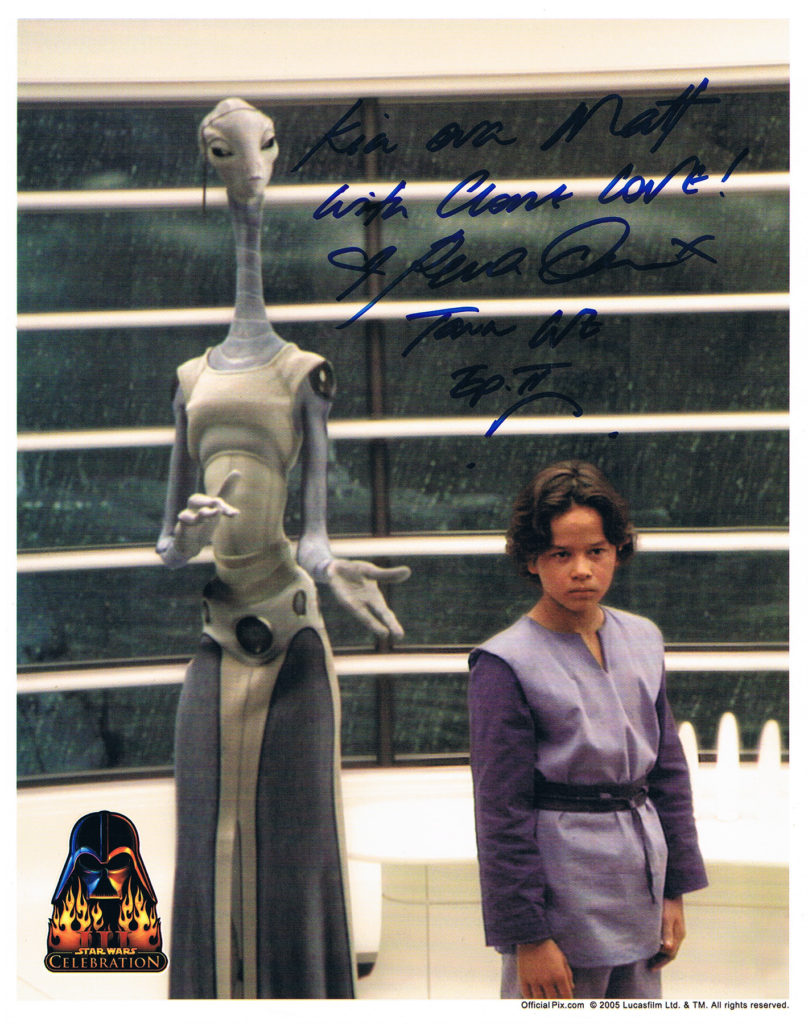 Rena Owen is the actress that voiced the character Taun We in Episode 2: Attack of the Clones. One of New Zealand's most well known actresses, she rehearsed the character on-set, and spoke the lines off-camera during filming. Even though her face is not seen in the film ('Attack of the Clones'), Rena couldn't resist the opportunity to work with George Lucas and to be part of the Star Wars legacy.
Rena was born in the Bay of Islands in the 1960's where she grew up with her parents and 8 siblings. She participated in her school Māori group, singing and dancing traditional Māori music, and continued her involvement in a Māori culture group through high school. In 1978 she played the lead in Calamity Jane, and graduated with school certificate and University Entrance. Even though she loved acting, she didn't purse the career further partly because of the lack of Māori role models. Instead, she moved to Auckland, to train as a nurse. She became qualified as a General and Obstetric Nurse, one of only two Māori women in a class of 66. In 1982 she moved to London to further her nursing training, but she again found her passion with acting, and became a professional actress in 1984.
She began her career in television and stage work, and in 1989 she moved back to New Zealand to continue her acting career. Rena soon started working in films, her most notable being 'Once Were Warriors', in 1995, which she stared in opposite fellow Star Wars actor Temuera Morrison. Her role earned several awards, including Best Actress Independent Spirit Award at Cannes Film Festival, and Best Actress Award at the Montreal, San Diego and Oporto Film Festivals in 1995. As well as a talented actress, Rena is also a writer, director and producer, and has worked in radio, stage, television and films throughout her career. Even with such a busy schedule, she also serves on many film festival jurys, lectures at universities and teaches drama.
Rena was contacted through her agent in July 2000 about a part in Episode 2. During a 3 hour stop-over in Sydney, she met with the casting director Robin Gurland at Fox Studios. She was shown early versions of the character, and George Lucas talked about Taun We and the Kaminoan species, 'flowing and kind, creatures of love and light'. After the brief meeting Rena continued on her way and after much hoping she received an e-mail confirming she had been given the part of Taun We.
Rena acted her character of Taun We on set, giving the other actors someone to interact with. She performed Taun We's graceful walk, and calm manner of speech; but Kaminoans are taller than humans. Stilts were initially thought of to replicate the extra height, but in the end a safer option was designed: Rena wore a hardhat on set with a cut-out of Taun We's head on top, to give a reference point of eyeline for the other actors. All of Rena's scenes involved blue screen, but during filming she spoke her lines off camera. In post production, Rena recorded her lines again in the studio, and were 'looped' into the final cut.
Rena is now based in Los Angeles, and often attends conventions in the U.S. Rena has also been cast for Episode 3 (as a non-masked character this time, Senator Nee Alavar).
Rena does reply to her fanmail, and you can contact her through her website www.RenaOwen.com or at the following address:
Rena Owen
P.O. Box 691907
West Hollywood
CA 90069
USA.