Boba Fett's Starfighter Silver Coin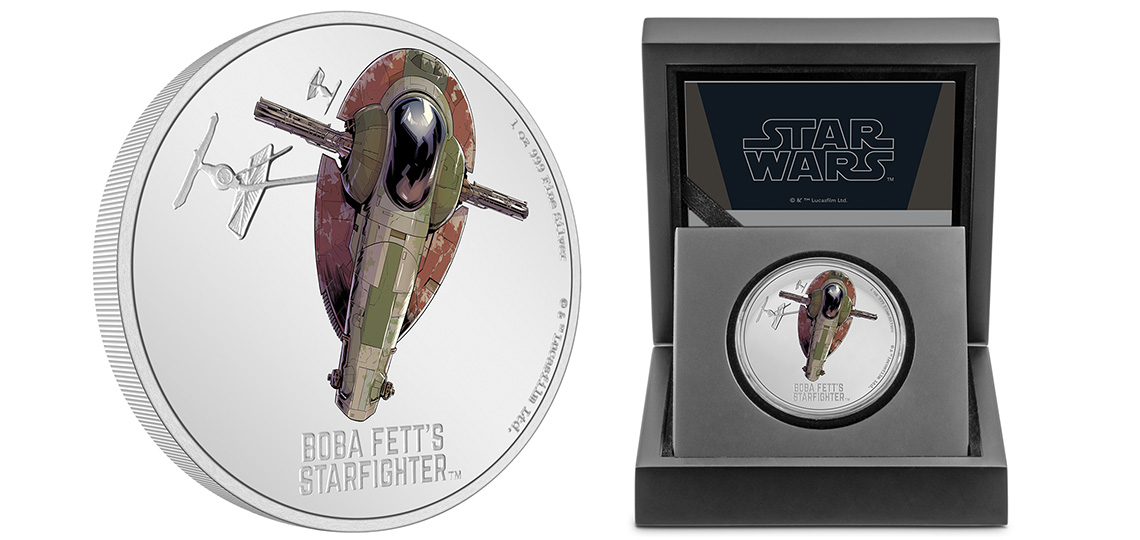 Boba Fett's Firespray-31-class patrol and attack craft features on the latest silver coin from New Zealand Mint. The starfighter imagery is coloured, set against an embossed silver scene of pursuing TIE Fighters. This 1oz silver coin, legal tender in Niue, is available now to purchase, but is limited to a mintage of 2,000 coins. Comes in a hinged display and storage box (affiliate link):
Boba Fett's Starfighter flees the TIE Fighters on this 1oz pure silver coin officially licensed by Lucasfilm. The use of relief in the design ensures that the ships are brought to life against the incredible glass-like finish on the background. Colour has been added to the Starfighter to make it 'pop'.

The coin arrives in a Star Wars™ themed box. Inside there's a quality black case to match, and the insert can be angled for display. Each coin has a Certificate of Authenticity confirming it as a limited edition, legal tender coin.

With only 2,000 coins available worldwide, you'll need to launch into hyperdrive if you want one for your collection!
You can read our 2017 interview with Brent Hindman, head of sales and marketing at NZ Mint, to glimpse behind the scenes of their design and manufacturing processes related to the NZ Mint Star Wars coin collections, and check out all of our NZ Mint coverage under the NZ Mint tag.