New Sith Trooper Silver Coin from NZ Mint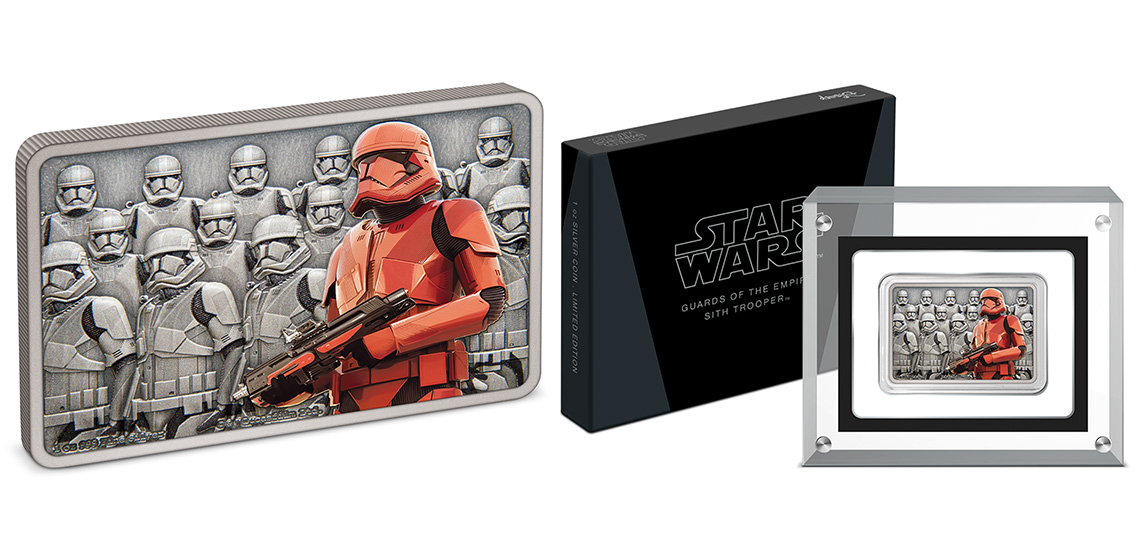 New Zealand Mint have added to their new Guards of the Empire silver coin collection with the Sith Trooper (The Rise of Skywalker) 53mm x 36mm coin, made from 1 Troy ounce of 999 Fine Silver, and legal tender ($2 denomination) in Niue. The coin is the 7th in the Guardians of the Empire line, and features a full colour trooper in his red armour, against a monochrome backdrop of additional assembled troops.
Our officially licensed Guards of the Empire Silver Coin Collection includes the Sith Troopers, an army of elite soldiers that draw inspiration and power from a dark and ancient legacy.

The coin shows one Sith Trooper in full colour holding his blaster rifle. The detailed, engraved background shows more Troopers standing shoulder to shoulder and ready for battle. This 1oz pure silver legal tender coin incorporates the Ian Rank Broadley effigy of Her Majesty Queen Elizabeth II and an antique finish to add to the menacing feel.

This striking rectangular collectible is packaged in an innovative acrylic holder, which frames the coin and lets you display it easily. A uniquely numbered Certificate of Authenticity is included which, along with the outer box, is Star Wars branded and complements the overall design. With a worldwide availability of only 2,000 coins, line one up in your sights today!