1kg Silver Death Star From NZ Mint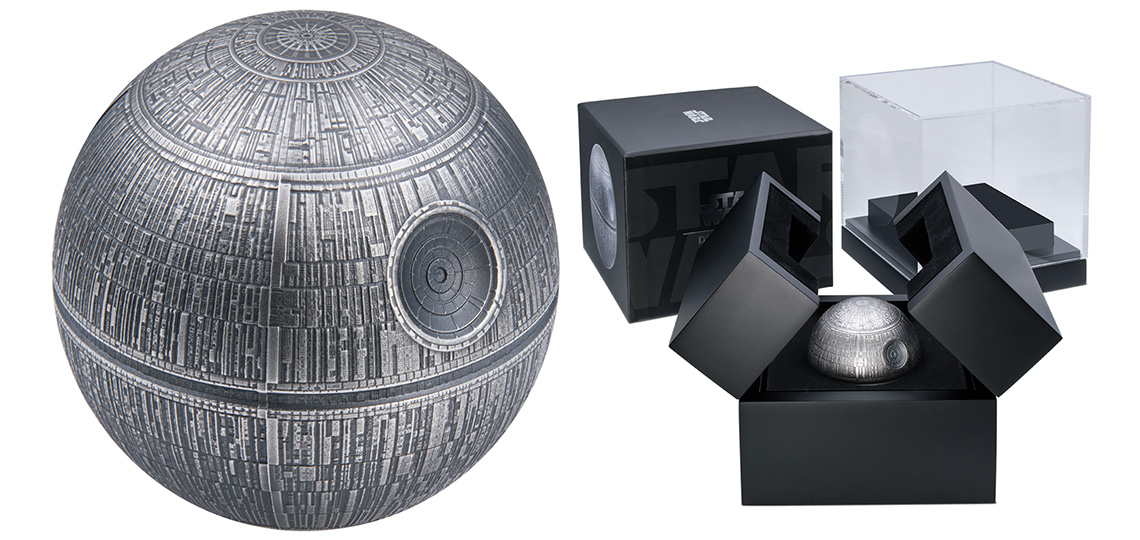 Without a doubt, this 1kg pure silver Death Star from New Zealand Mint is the pinnacle of their Star Wars coin collection. Believe it or not, this heavy-duty sculpture of the Imperial battle station from A New Hope is legal tender (in Niue) – the underside features the requisite effigy of Her Majesty Queen Elizabeth II, and denotes the denomination as $100.00.
This top-end piece is targets the completist collector, shipping with a large display box and display case to show off the 57mm mass of precious metal.
The Empire's ultimate weapon, the Death Star, is recreated in a weighty 1kg pure silver as a limited-edition 3D coin with an antique finish. With a mintage of only 299 coins worldwide for this amazing memento, get one and you'll be the envy of all your friends.

This unique collectible is encased in black velvet inside a specially designed coin case which is then packaged inside a Star Wars themed outer box. A Certificate of Authenticity is provided, which bears the exclusive serial number for the coin.

This one-of-a-kind coin has been produced to a very high standard, ensuring the design is faithfully recreated. Each coin arrives with an additional acrylic display case and a pair of white gloves to allow you to handle and proudly display this precious piece – we know you will want to!