HasLab 30″ TVC Razor Crest Vehicle – How to Buy in NZ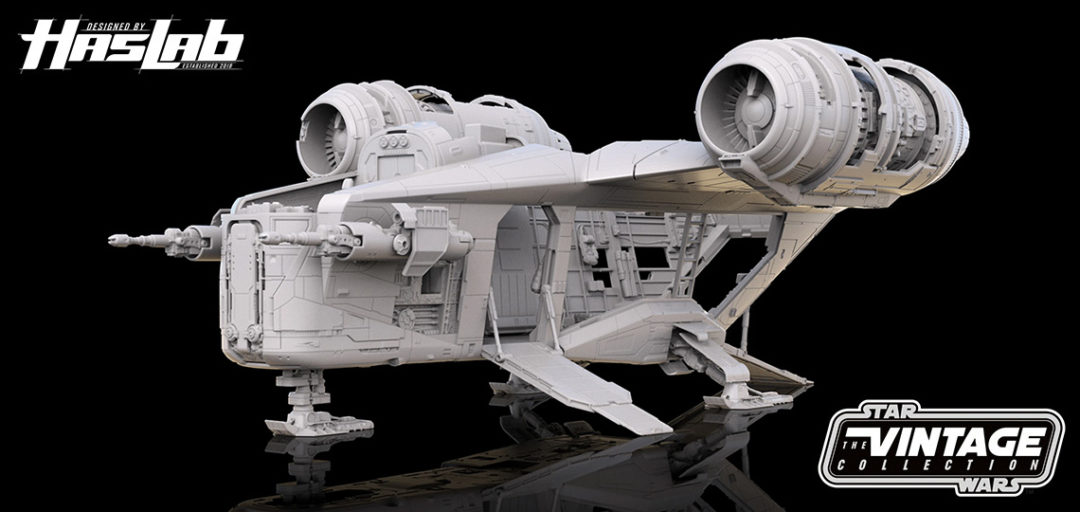 The next HasLab preorder/crowd-funding project, a Vintage Collection 3.75″ scale Razor Crest from The Mandalorian streaming series, was announced a little over a week ago (full details). The Razor Crest includes a brand-new version of the Mandalorian figure (Beskar armor version, with a one-of-a-kind soft-goods cape so he fits in the cockpit seat), an escape pod add on (8,000 backer bonus), and carded TVC The Child with hover-pod (10,000 backer bonus).
Although the last HasLab project (Jabba's Sail Barge) was a little challenging for kiwis to get in hand as HasLab/Hasbro Pulse wouldn't ship it direct to NZ, there are a few options for New Zealanders to purchase this more conveniently this time around. We present the calculations for all the cost components below, comparing a direct purchase with freight forwarding, vs EB Games, vs Mighty Ape. As you will see, the final pricing is quite close between each, so buyers can choose based on personal preferences, and the differences in the points at which payments are required.
Estimates are calculated using the exchange rate today (USD 0.6460), and may vary over time. The dimensions and weight for the Razor Crest aren't out yet, so we had to assume it'd be roughly comparable to Jabba's Sail Barge. MyUS charges based on weight only, while YouShop charges based on volumetric weight (i.e., takes package dimensions into account). MyUS offers a reduction on all shipments if you have an account (sign up here; affiliate link), and this product qualifies for free shipping from Mighty Ape if you have a PriMate membership (sign up here; affiliate link).
HasLab Direct (US): US$359.99 (NZ$557.26)
Purchase price due on November 9th, 2020
Internal (US) shipping (FedEx SmartPost via USPS) = $0.00
GST (collected by freight forwarder) = NZ$78.75
Freight forwarder shipping (MyUS; 5-10 days) = US$84.99 (NZ$131.56)
Freight forwarder shipping (YouShop; ecomony) = NZ$499.68
Total (MyUS) = NZ$767.57
Total (YouShop) = NZ$1135.69

Mighty Ape (NZ; affiliate link): NZ$749.99
Purchase price due at time of shipping (October 31st, 2021)
Shipping = NZ$4.90 (or free shipping with PriMate membership)


Total = NZ$754.89; or $749.99 with PriMate membership



EB Games (NZ): NZ$749.00
Deposit ($350.00) due at time of preorder; balance due at time of shipping (October 31st, 2021)
Shipping = $5.00


Total = NZ$754.00



This Vintage Collection Razor Crest is designed to be compatible with all of the Vintage scale figures. To do so, we had to make this thing pretty big. It's going to be 30 inches long (with the main cannons), 20 inches wide, and 10.5 inches tall when it's sitting on the landing gear.

That makes this one of the largest Vintage Collection vehicles we've ever made. But it's not just about size with this one. When we decided to create this, we wanted to keep with the principles of The Vintage Collection and make sure there were plenty of highly detailed features that made this as close to screen accurate as we could get for one epic display piece.

– The cockpit opens to reveal a fully detailed interior with three seats that fit Vintage Collection figures
– Detachable engines and removeable hull panels to recreate the season 1 scenes of the Jawas breaking down the ship for scrap
– A weapons locker with included, removeable, show-inspired weapons accessories to make sure your figures are always ready for whatever the galaxy throws at them
– A carbon freezing chamber and cargo hold with cargo netting
– Bounty hunters can make an entrance — or a fast exit — with opening rear and side doors and lowering ramps
– Removeable landing gear
– Bunk area with space for a figure to hide

https://hasbropulse.com/