Fan Spotlight – Star Wars Dioramas by Kelly Bennett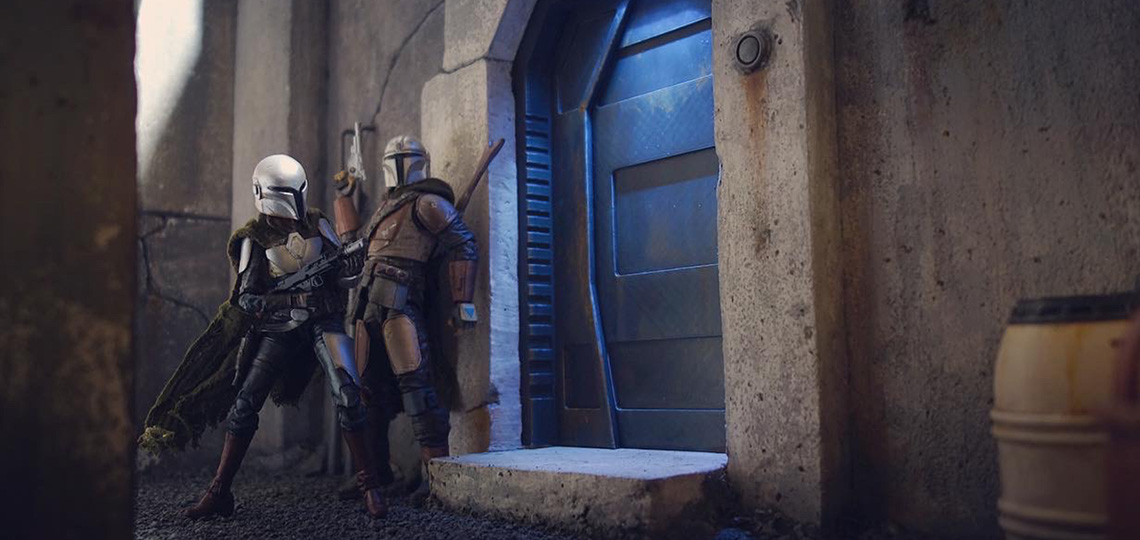 Today we shine a spotlight on local fan Kelly Bennett, who constructs and photographs elaborate 6″ scale action figure dioramas (check out our previous Fan Spotlight articles, and contact us if you would like to show off your specific Star Wars hobby or collection).
Kelly tells us about his approach to creating these displays: I rediscovered SW action figures in 2017 when Hasbro released their 6 inch ANH 40th Anniversary products. I was amazed at how much more realistic they had become since I was a kid. I bought a few and started taking photos of them for fun but what was missing was the realistic background. So, I started figuring out how to make their worlds. This new hobby sent me down a very deep rabbit hole.
Most of the techniques I gleaned from tutorials on YouTube although there are a few processes I had to figure out myself as the tutorials were for diorama's that were in a much smaller scale like model railway and tabletop gaming.
All the materials I use can be sourced easily and locally here in NZ. XPS Foam and polystyrene from the hardware store. Sculpting plaster from online classroom suppliers. I use Resene house paints as they're very cheap, durable and always available. Hobby glues, static grass, epoxy resin for the water effects can be sourced from arts/craft suppliers. Most of the props/doorways are 3D Print files which are free at Thingiverse.com. I just throw a link to my local 3D Print guy and the item is usually ready within a week. I also experiment with different lights which I import from China. There's some great tech out there for very cheap. The one diorama set I purchased myself is the very cool GTP Spacewalls which depict the hallways of the Death Star.
I've made some great connections through my Instagram and FB accounts where the dio community exchange ideas and techniques. Everyone is very encouraging which always helps.
Most of the dios I end up selling to local SW collectors. One diorama went as far as Puerto Rico. I've had a few commissions and I get offers all the time from people around the world however they normally back down when they see the shipping costs. I love discussing/sharing these techniques and so I'm currently working on my own video tutorials which I'll post online in the near future.
But, for me this is all about the photography. I just love making action figures look real and I take pride in the fact I don't photoshop anything (except the occasional lightsaber). The figures, the scenery and the lights are all real and in front of the camera.
If you're interested in following what I do you can go here: