'The Rise of Skywalker' Poster Coin from NZ Mint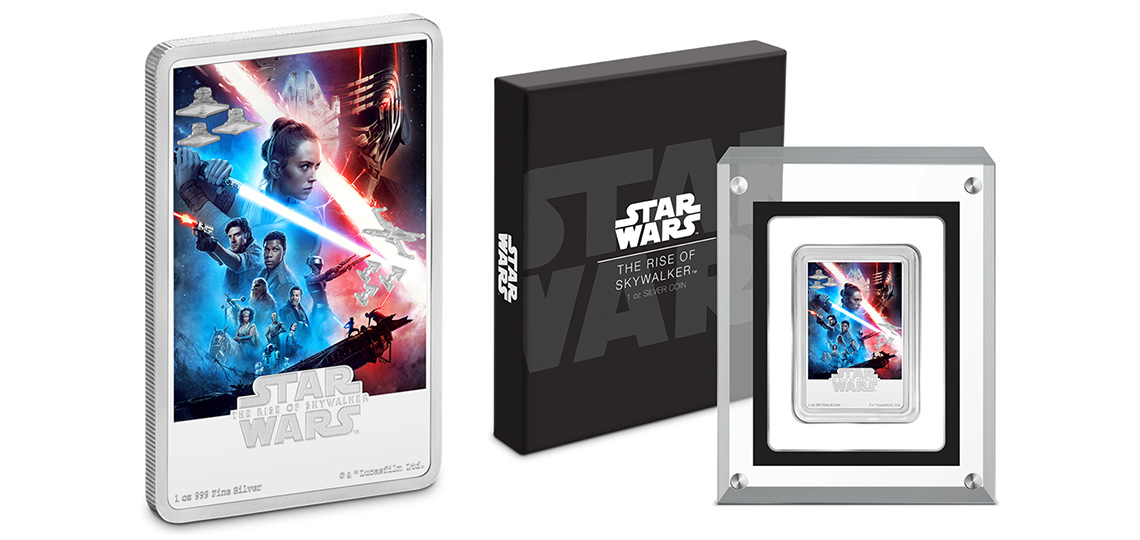 NZ Mint rounds out its series of Star Wars movie poster silver coins with the ninth Skywalker Saga instalment, The Rise of Skywalker. These 1oz silver coins have been released in the order of their original theatrical screenings, and each comes a perspex holder as well as a matching collector's packaging box.
Own a piece of movie history with this replica poster coin from the final movie in the Star WarsTM saga. Officially licensed, this Star Wars: The Rise of Skywalker coin is made with one ounce of 99.9% pure silver.

Celebrating the final film, released in December 2019, the design uses both colour and engraving to showcase the stirring imagery.

This unique rectangular coin arrives in an innovative perspex holder, which frames the coin and lets you display it easily. A uniquely numbered Certificate of Authenticity sits within the packaging, which is Star Wars branded to complement the overall aesthetic.

With only 10,000 Star Wars: The Rise of Skywalker coins available to buy worldwide, don't miss out – this is your final chance!