All The Child/Baby Yoda Merchandise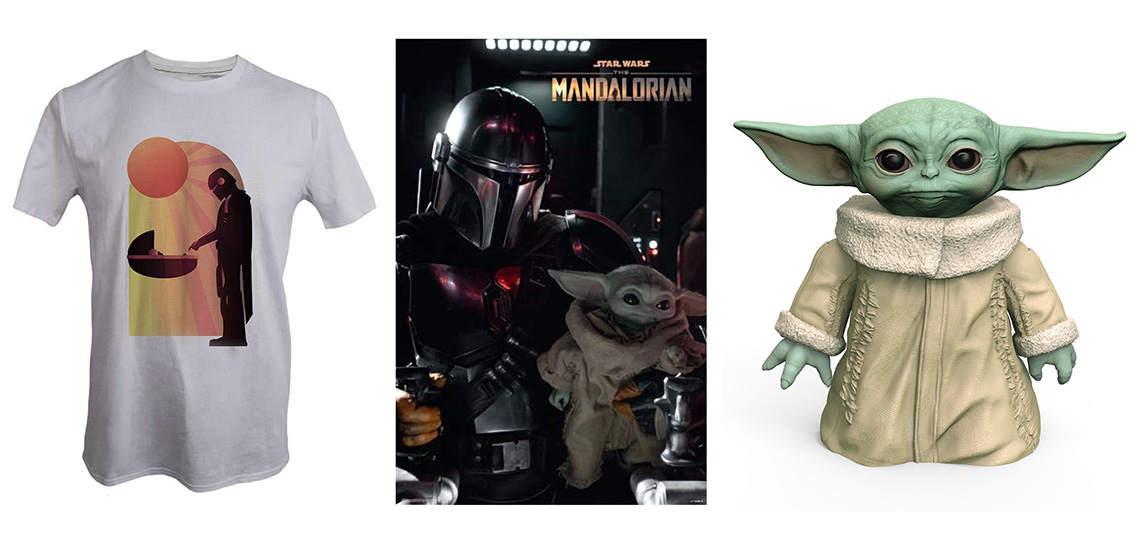 A lot of official The Child (aka The Asset, aka Baby Yoda), from The Mandalorian live-action streaming series, has been announced, but because of the secrecy surrounding the character and show, much of it is still only available to pre-order. Nevertheless, we can expect to see many products very soon, with a few available right now.
Check out the options for licensed figures, posters, and apparel below. Availability may very between retailers, and dates listed are estimates only. Listings include affiliate links.
Figures
The Child – Pop! Vinyl Standard Figure (estimated April 2020)
The Child – 10″ (25.4cm) Pop! Vinyl Figure (estimated June 2020)
The Child – Vinyl Plush, 11″ (28cm) (estimated July 2020)
The Child Talking Plush, 7.5″ (19cm) (estimated July 2020)
The Black Series: The Child action figure, 6″ scale = 1.2″ tall (3cm) (estimated June 2020)
The Child 6.5″ (16.5cm) action figure (estimated June 2020)
The Child 2 Pack (2.2″) – froggy snack and Force moment (estimated July 2020)
The Child 2 Pack (2.2″) – soup and blanket (estimated July 2020)
The Child 2 Pack (2.2″) – ball and "hold me" (estimated July 2020)
Calendars and Posters
The Child – 2020 Wall Calendar
The Child: First Flight, poster (610mm x 915mm)
Apparel
The Mandalorian – The Child White T-shirt
The Mandalorian – The Child Snack T-Shirt
The Mandalorian – The Child Black, Female T-Shirt
The Mandalorian – The Child Logo T-Shirt
+ many, many options at Design By Humans, US$26.00 each + US$4.00 international shipping (free international shipping for orders over $76.00)