'Attack of the Clones' Silver Foil from NZ Mint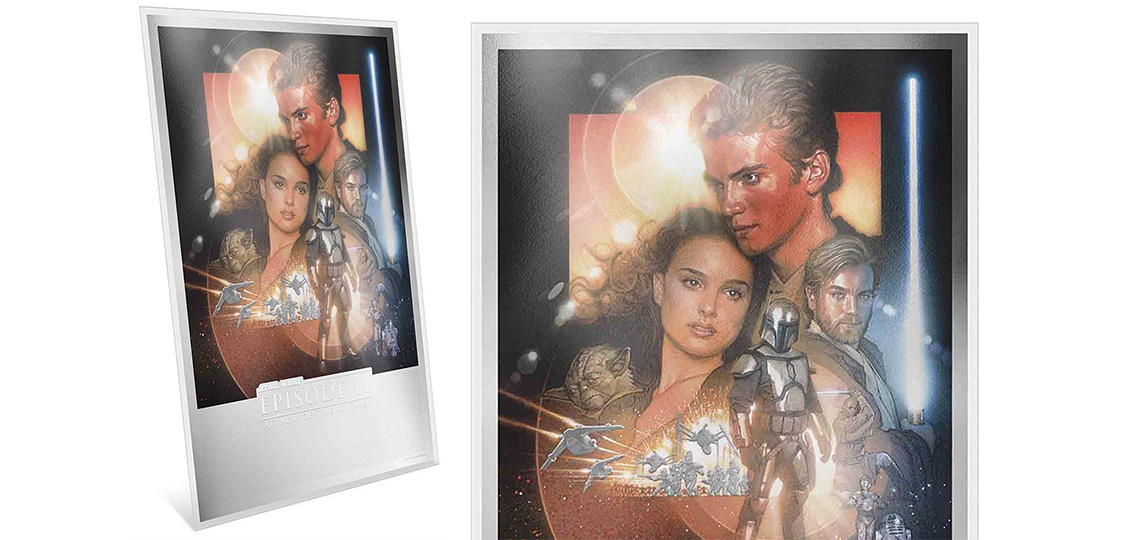 The silver foil line from New Zealand Mint are a series of 35g of fine silver products, measuring 175mm x 262mm. To date, in their Star Wars collection, NZ Mint have released movie posters from the Original Trilogy and a vintage Marvel comic cover as silver foils. Following on from the first prequel addition to this line (Episode 1: The Phantom Menace) comes this Episode 2: Attack of the Clones movie poster silver foil. The silver foils come with a certificate of authenticity and custom acrylic holder; they are legal tender in Niue.
The second episode in the Star Wars prequel series, Star Wars: Attack of the Clones, is celebrated on this striking 35g premium silver foil. Licensed by Disney, this fifth release in the Star Wars Posters Premium Silver Foil Collection uses a combination of both colour and engraving to create a unique precious metal replica of the film poster's artwork.

This precious metal keepsake is protected by an acrylic holder which also frames the foil and allows for easy display. A Certificate of Authenticity is printed on the outside of the complementary carrier.

The mintage has been set at 10,000 and this distinct foil is legal tender in Niue, the obverse featuring the Ian Rank-Broadley effigy of Her Majesty Queen Elizabeth II.