2019 Star Wars Easter Eggs at The Warehouse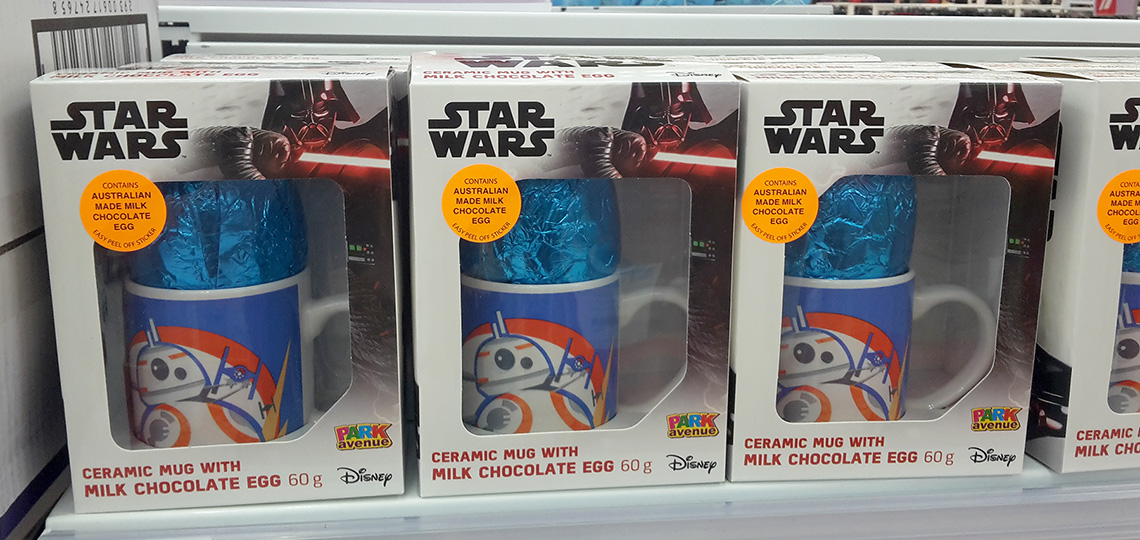 With Easter weekend just under a month away, The Warehouse has delivered in terms of a range of Star Wars chocolate products that are hitting the shelves of branches around the country. From Australian confectionery company Park Avenue, you can grab a 60g milk chocolate egg with ceramic mug ($6), a couple of designs of drink bottles that come packed with a a couple of foil-wrapped milk chocolate eggs ($8), or a plastic "Jumbo Egg" that includes "novelty toys, stickers, and assorted candies" ($5). And from UK company Kinnerton, there is a very cool sculpted Darth Vader helmet (225g chocolate, $15). This latter product is similar in concept to the R2-D2 that first came out from Kinnerton a couple of years back.
The egg-containing drink bottles from Park Avenue (BB-8 or Stormtrooper) are a new product type that provides functionality well beyond the likely short life-span of the accompanying chocolate. The plastic bottles have a protective cap, flip-out nozzle, and internal straw.