What to Expect from Star Wars in 2019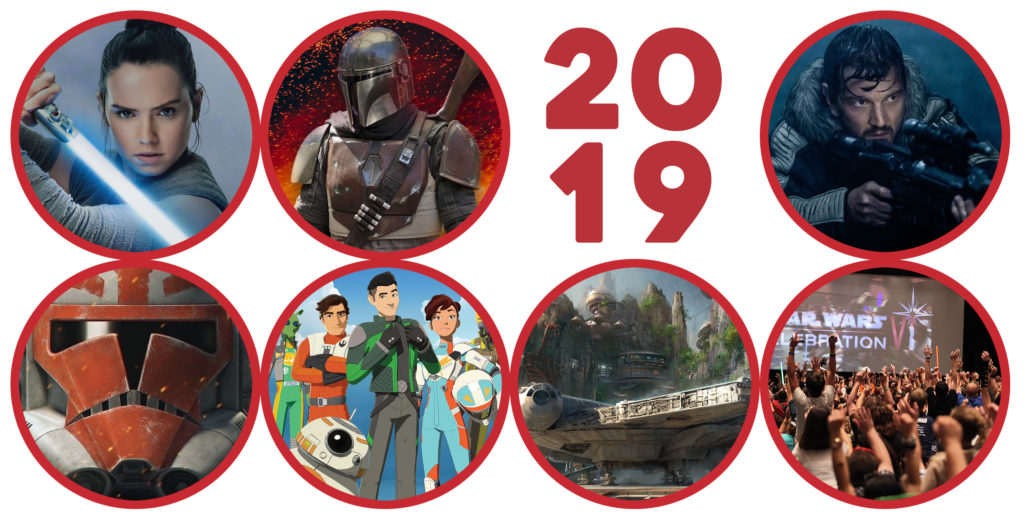 2019 is shaping up to be one of the biggest years for Star Wars in recorded history. We've got the conclusion to the sequel trilogy, two live-action television series, new episodes in a couple of animated series, and so much more. We've compiled a list of all the things we're particularly looking forward to… what tops your personal list in terms of anticipation?
Live-Action Media
Episode IX movie: the as-yet-unnamed conclusion to the Sequel Trilogy is expected to hit NZ cinemas on 19 Dec 2019. Although that's still a bit of a wait, we should be getting a title confirmation and seeing some teaser/video footage sometime in the next few months.
The Mandalorian live-action television series: led by Jon Favreau, but with an assortment of episode directors that includes kiwi Taika Waititi. This series is well into production, with most of the 10 first-season episodes already filmed – it will debut on Disney's upcoming streaming service, known as "Disney+"
Cassian Andor live-action television series: we don't know a lot about this series just yet, other than the great news that Diego Luna is reprising his role as Cassian. This show will also be a feature on Disney+, and will likely debut a little while after The Mandalorian has been released. Although a 2020 release date is expected, we look forward to hearing more details and seeing imagery during the 2019 year.
Animated Media
Star Wars: The Clone Wars season 7: after a hiatus of about 5 years, a new season of The Clone Wars will be returning, with 12 episodes being assembled from pre-existing scripts and ideas. Read out earlier coverage with more details here.
Star Wars: Resistance: season one continues and concludes in January 2019. A second season, extending the adventures of Team Fireball, is expected, as this animated series has been reported to progress up to and into the timeline of The Force Awakens.
Disney Parks
Galaxy's Edge, the Star Wars-themed extensions to the US Disney parks, will be opening in 2019. They are both approximately 14 acres in size, and feature two interactive Star Wars rides (Smuggler's Run, and Rise of the Resistance), as well as immersive surroundings, food retailers, and more. The exact opening dates are yet to be confirmed, but we do know the expected timeframes.
Galaxy's Edge, Disneyland, Anaheim: due to open in the US Summer of 2019 (NZ Winter, i.e., June-Aug).
Galaxy's Edge, Walt Disney World, Florida: due to open in the US Fall 2019 (NZ Spring, i.e., Sep-Nov).
Events
Star Wars Celebration, Chicago: the biggest Star Wars convention of them all returns in 2019, to be held in Chicago from 11 April 2019 to 16 April 2019. For those who attend, it's a solid few days of Star Wars saturation, but we can also expect some significant Star Wars announcements to come out of it, pertaining to movies, television series, and toy/product reveals. We'll have reporters on the ground there, with coverage on SWNZ as it happens.
Star Wars Identities, Sydney: the touring Star Wars costume exhibition which opened at the Powerhouse Museum in Sydney a couple of months back will continue until June 10 2019.  It's not quite New Zealand, but it's probably as close as we're going to get. Star Wars Identities is an interactive and educational exhibition experience that will feature 200 original objects used in the making of the Star Wars movies, including 12 that have never been shown in an exhibition before.
Novels
2019 is the 20th anniversary of Episode I: The Phantom Menace. We can expect this to be reflected in merchandise available through the year, including in new novels set around the time of that movie.
Star Wars: Master and Apprentice: a Qui-Gon Jinn and Obi-Wan Kenobi novel, set before the events of The Phantom Menace, by Claudia Gray. Due mid-April (pre-order via Mighty Ape).
Star Wars: Queen's Shadow: a young adult novel which focuses on Padmé Amidala and her transition from queen to senator, by E.K. Johnston. Due 2nd May (pre-order via Mighty Ape).
Thrawn: Treason: the third new-canon Thrawn novel by Timothy Zahn. Due 25th July (pre-order via Mighty Ape).
Gaming
Jedi Fallen Order: available for Xbox One, PS4, and PC. Not a lot is know just yet about this upcoming Star Wars game, but it has been described as "a brand-new action adventure game which tells an original Star Wars story around a surviving Padawan set shortly after the events of Star Wars:Episode III – Revenge of the Sith". It's 2019 release  month is yet to be confirmed (pre-order via Mighty Ape).