Finn 5g Silver Coin Note from NZ Mint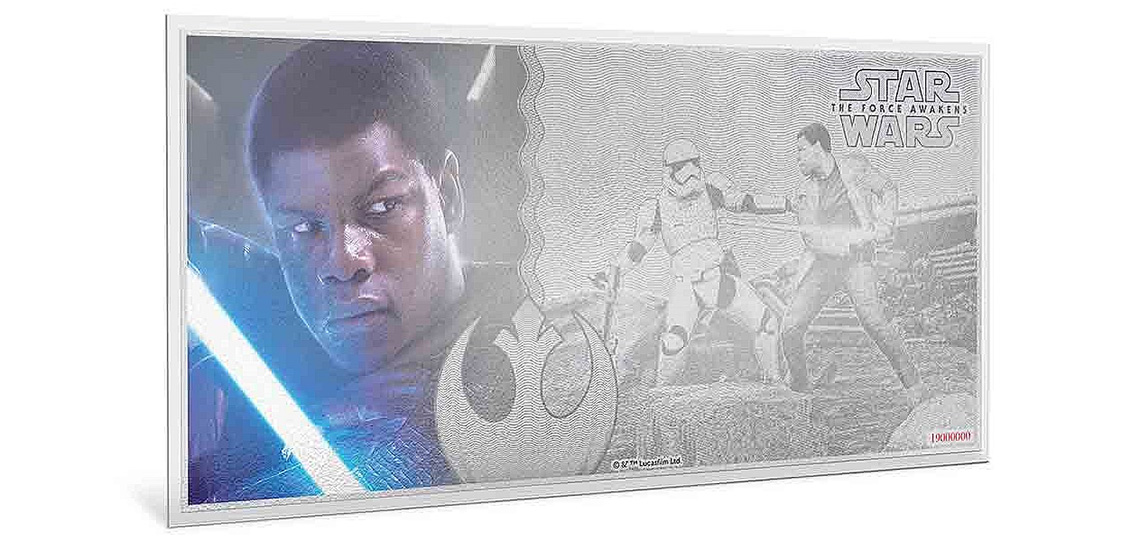 The second silver coin note from New Zealand Mint's The Force Awakens series features Finn, and is available for purchase now. This product includes a protective sleeve which includes details of the note's authenticity.
This second striking 5g pure silver coin note in the Star Wars: The Force Awakens Collection features a close-up coloured image of Finn and a detailed engraving of a scene featuring him battling a Stormtrooper. The movie's logo and the Rebel Alliance starbird are also included.

The obverse features the Ian Rank-Broadley effigy of Her Majesty Queen Elizabeth II and is legal tender in Niue.

Finn is one of the seven unique silver coin notes that make up the collection which also includes Rey, Kylo Ren, Han Solo & Leia Organa, Poe Dameron, and BB-8. A Star Wars: The Force Awakens Silver Coin Note Collector's Album, which is included with the purchase of the Rey Silver Coin Note, is the perfect place to display your Finn note. It's Star Wars themed, with each page designed to complement the corresponding note.

This Finn Silver Coin Note and the entire Star Wars: The Force Awakens Collection will delight any fan of the film.