'Attack of the Clones' Poster Coin from NZ Mint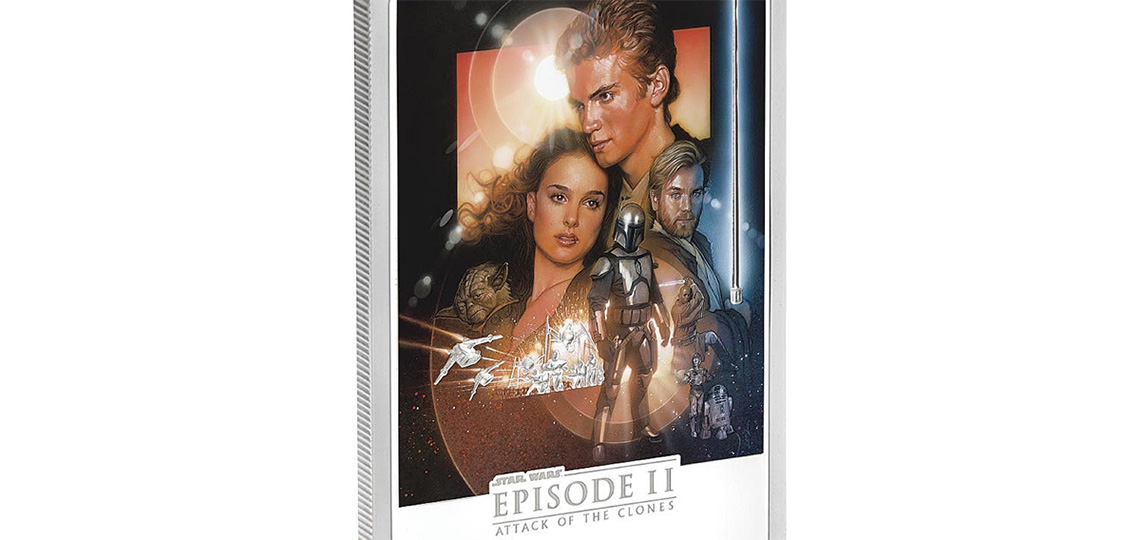 The legal tender Poster Coin products from NZ Mint will ultimately form a collection covering all 9 of the core Star Wars movies (as detailed in our interview with the company here). The poster coins are being produced in the order that they were originally released – the fifth in the series therefore, now available to order, features Attack of the Clones artwork. This rendition of the Episode 2 movie poster is made from 1oz of silver, and comes with an attractive acrylic display holder.
This officially licensed coin celebrates the second of the Star Wars prequel movies, Attack of the Clones, released in May 2002 – almost three years to the day after the first prequel.

It features a replica image of the original poster for the movie. Both colour and engraving have been used to great effect in the coin design.

Made from 1oz of fine silver, this striking collectible is presented in a clever perspex holder, which frames the coin and allows for easy display. The uniquely numbered Certificate of Authenticity sits within the packaging, which is also Star Wars branded to further complement the coin.

With only 10,000 coins available to purchase worldwide, don't be late in adding this one to your collection!