SWNZ News Digest – 02 Aug 2018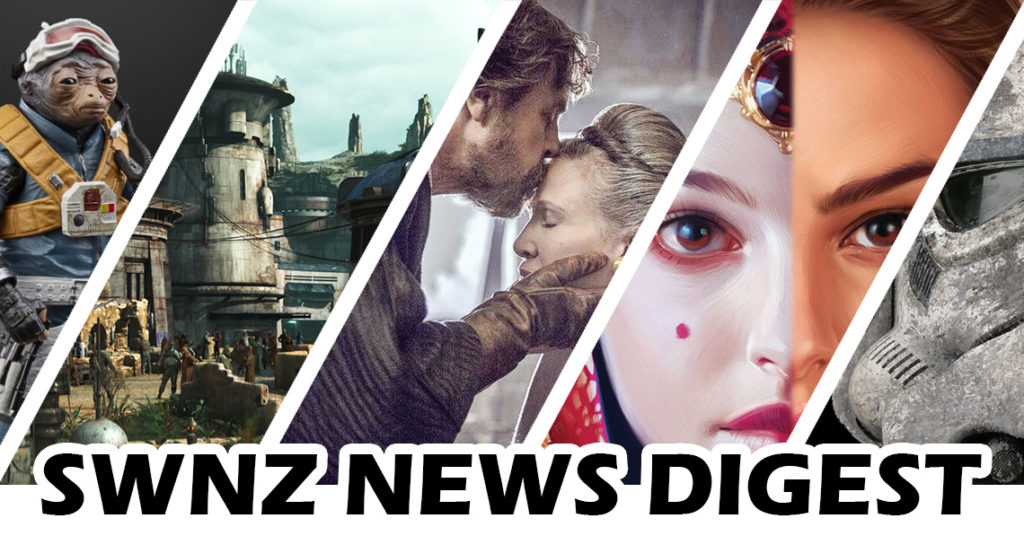 Welcome to the SWNZ News Digest, where we keep you up to date with all the recent official Star Wars news headlines and links, in case you missed them, or because they are exciting enough to re-visit.
---
Star Wars Episode IX Cast Announced
This one was hard to miss, but is exciting because, in addition to the interesting information it shares in its own right, it heralds the start of official updates about Episode IX.
You can read the full, official announcement about the Ep9 cast list on StarWars.com.
The stand-out aspects are the inclusions of Mark and Carrie. Entertainment Weekly covers Mark's reaction to this topic here.
Also related to the progress of the productions, director JJ Abrams has shared via Twitter a narrow depth-of-field image from the first day of shooting (which has just taken place), which seems to feature Finn and (presumably) Rey in the Millennium Falcon cockpit – check it out directly here.
Returning cast members include Daisy Ridley, Adam Driver, John Boyega, Oscar Isaac, Lupita Nyong'o, Domhnall Gleeson, Kelly Marie Tran, Joonas Suotamo, and Billie Lourd. Joining the cast of Episode IX are Naomi Ackie, Richard E. Grant, and Keri Russell, who will be joined by veteran Star Wars actors Mark Hamill, Anthony Daniels, and Billy Dee Williams, who will reprise his role as Lando Calrissian.

The role of Leia Organa will once again be played by Carrie Fisher, using previously unreleased footage shot for Star Wars: The Force Awakens. "We desperately loved Carrie Fisher," says Abrams. "Finding a truly satisfying conclusion to the Skywalker saga without her eluded us. We were never going to recast, or use a CG character. With the support and blessing from her daughter, Billie, we have found a way to honor Carrie's legacy and role as Leia in Episode IX by using unseen footage we shot together in Episode VII."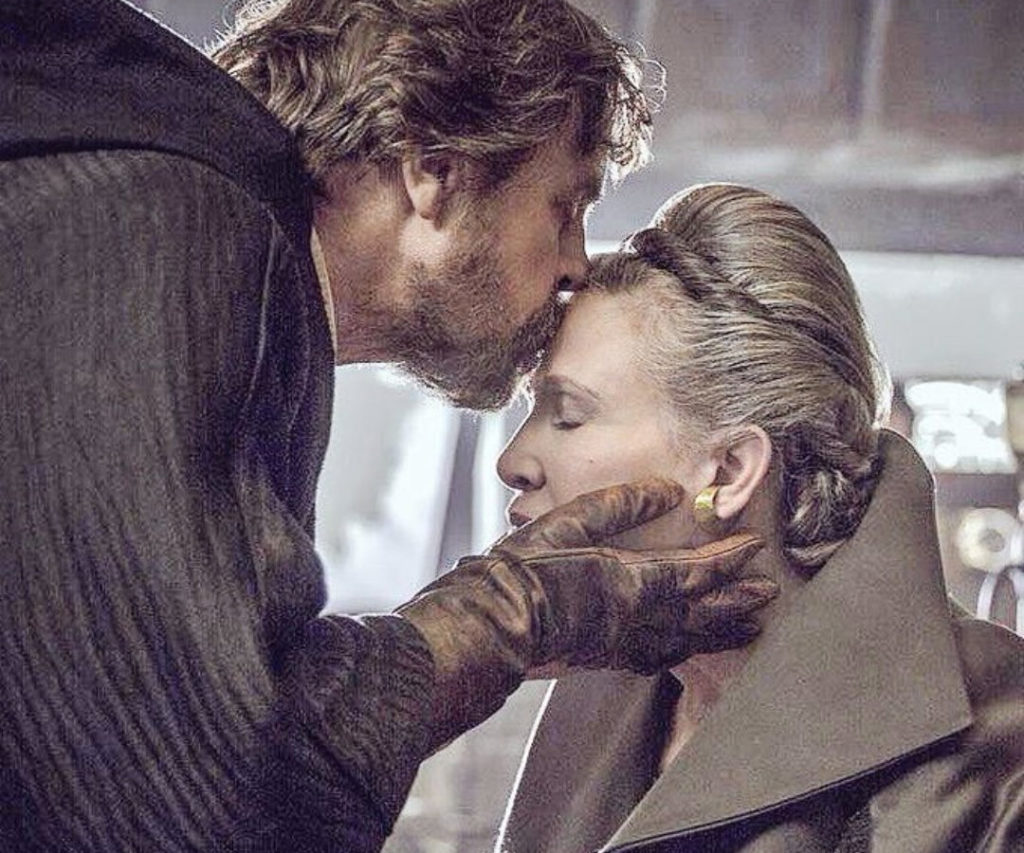 ---
Black Spire Outpost
Progress on the Star Wars additions to US Disney Parks continues steadily. The latest development is the reveal of the in-world name of the venue – "Black Spire Outpost". Expect to see that name crop up in other canon media moving forward. You can read the full announcement at the official Disney Parks Blog.
A fan blog has also captured a few photos of an expanded Star Wars: Galaxy's Edge model that has been revealed at Walt Disney Presents in Disney's Hollywood Studios – check out that imagery here.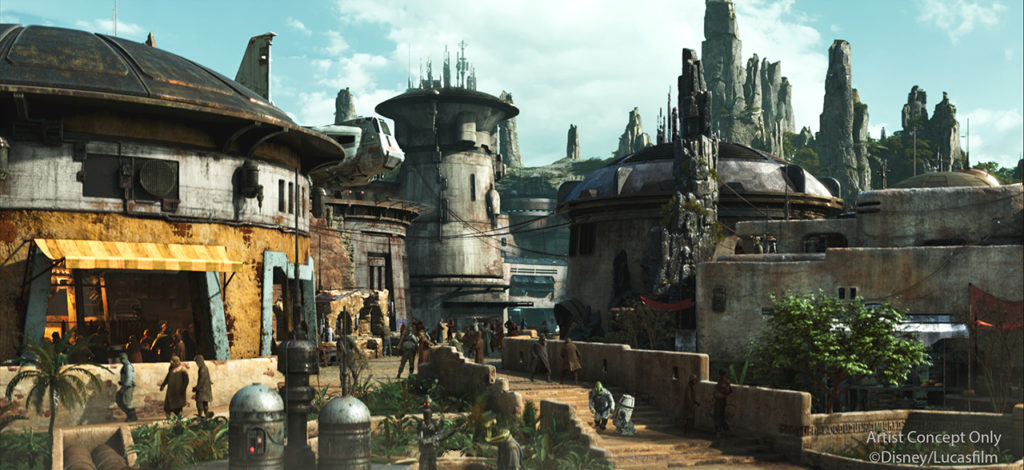 ---
Lupita Nyong'o To Get Hollywood Walk of Fame Star
Sequel Trilogy actor Lupita Nyong'o (Maz Kanata) will be receiving a Hollywood Walk of Fame Star in the near future. She was announced as being amongst the 2019 awardees on Variety.com. The actual date for each recipient celebrity is set and announced separately, and at the time of writing, the date for Lupita's ceremony is pending.
---
SDCC 2018: Hasbro Action Figure Reveals
San Diego Comic Con, which took place earlier in July, was the forum for a lot of upcoming Star Wars product reveals. Top of many collector's list were the new products shown and discussed at the Hasbro pavilion and presentation. Toy ranges covered included the TBS6 line (new characters, plus re-releases of "Archived" characters), Vintage Collection 3.75″ figures, standard 3.75″ Solo figures, Mighty Mugs, and more. Read the full breakdown at StarWars.com.
---
SDCC: Collectibles Panel
One of the events at SDCC is the "Collectibles Panel", which wraps up news and product reveals from a whole range of companies in one session. This year, plans for the next year or so were revealed by Anovos, Sideshow Collectibles, Regal Robot, eFX Collectibles (did someone say "Lifesized Porg maquette"?), Kotobukiya, Bandai, and Gentle Giant. StarWars.com has all the key points listed for each company, as well as a comprehensive photo gallery, right here.
---
SDCC: Upcoming Books
A number of new books and comics were discussed at Comic Con, covering a wide range of target audiences and reading levels. Two new novels are on the horizon: Queen's Shadow (featuring Padme Amidala), by E.K. Johnston, and Master and Apprentice (a story about Qui-Gon Jinn and Obi-Wan Kenobi, which is set before the events of The Phantom Menace) by Claudia Gray. I personally look forward to reading both. Read these announcements, and all the rest of the expected literature titles, at StarWars.com.
E.K. Johnston also recently did an interview with StarWars.com about her upcoming title – read the details here.