Vintage Toltoys NZ 48-Back Action Figure Cardbacks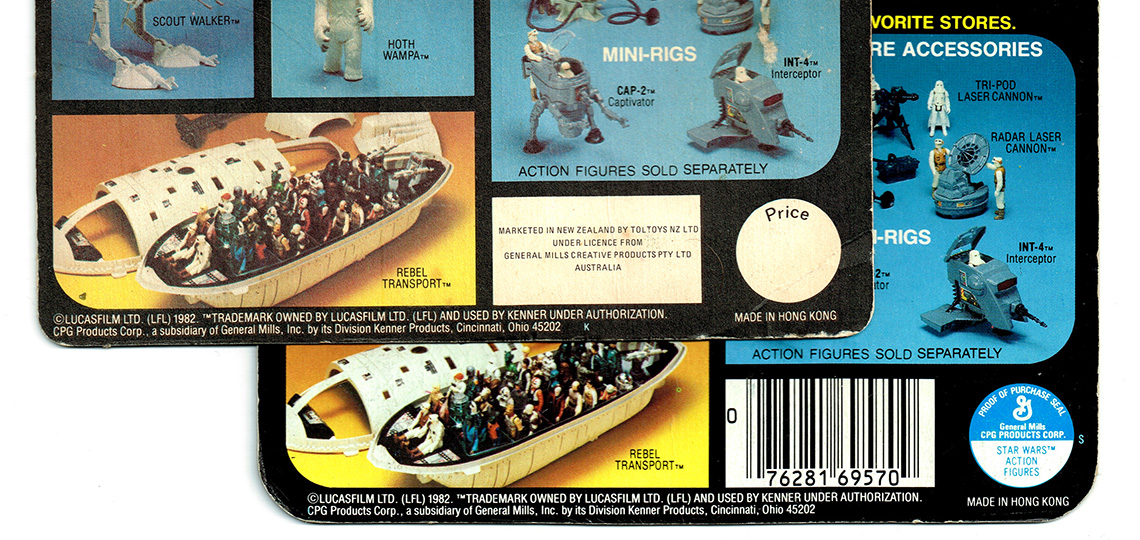 The locally printed vintage Toltoys NZ action figure cardback is a unique, interesting, and very rare piece of historic kiwi Star Wars memorabilia, as it is one of only a few action figure-related items that bear direct printed reference to its New Zealand origins. The photos above demonstrate how it varies from other 48-back cardbacks. Unlike its US Kenner counterparts, it has a white box on the rear where the barcode would normally reside, which bears the text "Marketed in New Zealand by Toltoys NZ Ltd under license from General Mills Creative Products Pty Ltd Australia". It also has a distinct white circular space for retailers to write in the price, where the proof of purchase is found on US cards. Other distinguishing aspects include the matt finish of the printing on the rear of the cardback, small radius corners, and an unmistakable, flat-based peg hanger hole.
More info about the NZ Star Wars 48-back cardbacks can be found in our previous article about all vintage Toltoys NZ cardback differences.