Interview with Adam Christopher (Author)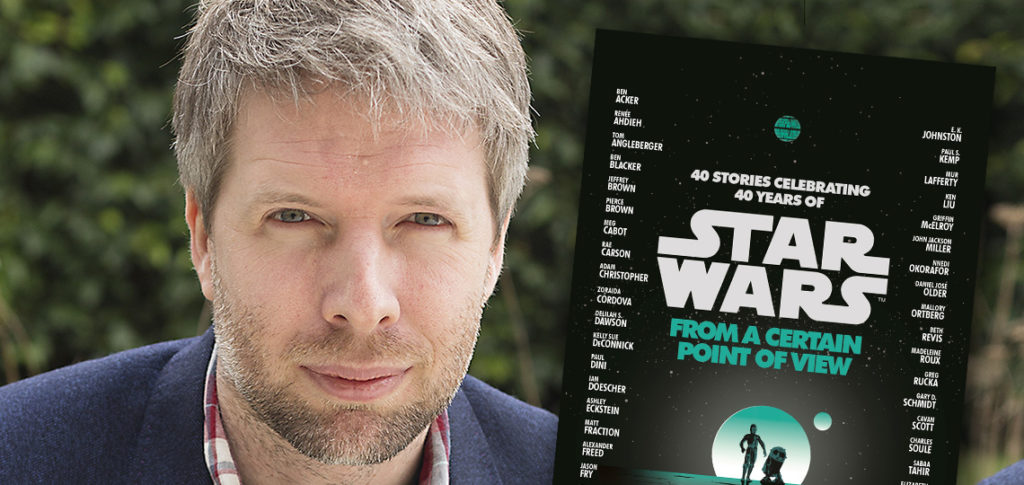 Adam Christopher is a New Zealand-born author (currently living in the UK) who contributed to the recent anthology book Star Wars: From A Certain Point of View. From a Certain Point of View celebrated the 40th anniversary of the theatrical release of Star Wars A New Hope by bringing together an assortment of short stories that span the events of that movie, but tell it from the points of view of incidental and background characters.
Adam's contribution to From a Certain Point of View, "End of Watch", is set on the Death Star and is told from the perspective of Commander Pamel Poul, an administrative Imperial officer in charge of Station Control West, the western hemisphere's control centre.
Adam generously took some time recently to give us insight into his involvement in this Star Wars publication, as well his love for Star Wars in general.
Adam Christopher Interview
SWNZ: What was the process by which you became involved in contributing to "From a Certain Point of View"? Was a story brief allocated, or did you have some freedom over your central character and subject matter?
Adam: I've known the editor, Elizabeth Schafer, for a few years – she knows my work, and she also knew that I've always wanted to write for Star Wars. I guess we'd been talking about it for a couple of years when this project came along… and she invited me to contribute! I was immediately hooked on the idea of the anthology, and I was thrilled to be a part of it, not least of all because it also going to support First Book, which is a fantastic organization.
The hardest part was actually figuring out what story I wanted to write! There was a list of suggested scenes, but it was really up to the individual writer. I had a couple of ideas, but the scene I ultimate chose was actually on that list. I've always loved Han's hilarious conversation over the comms when he, Luke and Chewie blast their way into Detention Block AA-23. How could I resist the opportunity to write the other side of it?
That also gave me the opportunity to create some new characters, as well as use existing ones, and I felt it was important to create some new female characters – I love the original trilogy with all my heart, but dang, does it need better representation. So in came Commander Pamel Poul and Sublieutenant Slallen.
SWNZ: How did you feel when you got confirmation that you would be contributing to the Star Wars canon? We assume that you initially had to keep that confidential… how challenging was that?
Adam: It was really a dream come true – seriously, I'll never forget seeing the email subject when the invite came in one morning. Star Wars is the greatest shared storytelling universe there is, so to contribute to that, even in a tiny way, was a tremendous honor.
As for keeping it a secret… well, yes, I was absolutely dying to tell people! But I'm a pro, and I've been doing this a while now and have had to keep all kinds of secrets during my writing career, so I'm used to it. But I was able to geek out with Elizabeth, and my agent, and some of my fellow contributors – there were forty-two other authors [ed note: some of the 40 stories had paired authors], after all! Plus I had the whole #OperationBlueMilk reveal to look forward to. Now that was a lot of fun.
SWNZ: What was the level of dialogue with Lucasfilm during the writing process? How was continuity and sign-off managed?
Adam: Obviously they oversaw the whole project, and they were there if I needed them. I actually reached out to a couple other authors to run some things past them. My hat is off to Elizabeth – she is the real star of this project, somehow managing to wrangle all us authors and LucasFilm!
SWNZ: In what way was writing for Lucasfilm different from your other published novels?
Adam: I'm lucky in that I've had experience with licensed work before, having done two novels for the CBS television show Elementary, and a couple more for the video game Dishonored. So really it was no different to those. I had a brief to fill, and directions to follow. I got to play in an amazing universe, and I had to promise not to break anything!
Obviously that's very different to writing your own work – I've had about ten "original" (ie, non-licenced) novels published, and with those you are out on your own, with your own creations.
SWNZ: When/where did you first see a Star Wars movie? What are your memories of that screening?
Adam: Star Wars was actually the first movie I ever saw – I was six months old, which places it around August 1978, during a school-holiday re-release of A New Hope in New Zealand. My parents are sci-fi fans, so I have them to thank for all of this!
After that, I must have seen The Empire Strikes Back in the cinema, although my only memory of seeing that on the big screen comes from much later, maybe 1987, when my parents took me to a special charity screening.
My first true Star Wars cinema memory then is from Return of the Jedi. My parents took me with my best friend Andrew, and on the way back to the car we re-enacted the final lightsaber duel all down the street. By that time I was a committed fan, having collected the toys for years and watched the first two films countless times on video.
SWNZ: To what extent do you consider yourself a Star Wars fan? Do you pursue, or participate in any specific Star Wars hobbies (games, collecting, etc)?
Adam: Oh, I'm a diehard fan, and have been all my life – I grew up with Star Wars and Doctor Who… and Star Wars had all the toys! I was very lucky in that my dad went on business trips in the Eighties to Taiwan and Japan, and would come back with, quite literally, suitcases full of Star Wars toys. Sadly they're all long gone, so I content myself these days with collecting Star Wars LEGO. Although shelf space in my home office is now reaching breaking point!
SWNZ: What was your favourite scene from any of the Star Wars saga movies? If you were able to develop the backstory of any specific character or event (other than Poul in "End of Watch"), who or what would you choose?
Adam: This is a tough, tough question. I love the bounty hunter line-up scene in Empire (who doesn't?), and I'd love to write 4-LOM and Zuckuss.
SWNZ: You have written a number of other novels based on your original character Raymond Electromatic. Can you describe that character and the setting of those tales? What is the inspiration behind those creations?
Adam: The Ray Electromatic Mysteries actually came about almost by accident. I'd sold a space opera trilogy to Tor Books, and as a new author I was interviewed on Tor.com. One of the questions was something like, if you could discover a new work by an existing author, living or dead, what would it be? For some reason I instantly thought of Raymond Chandler – he hated science fiction, and even wrote to his agent complaining about it! In that letter, he wrote a little bit of flash fiction, just a couple hundred words, mocking sci-fi, but even so, it still has that instantly recognisable Chandler voice. So, in my imagination, Chandler had clearly written a science fiction novel and was fishing for a response from his agent, under the guise of mockery.
My editor saw my answer and suggested I write that lost Chandler story. He was probably joking, but that idea turned into a novellete called Brisk Money – the title taken from Chandler's letter—which my editor bought for Tor.com. I enjoyed writing it so much that I suggested I could expand the concept into a whole trilogy of short novels, all in that sharp, Chandleresque style. My editor agreed, and that became the Ray Electromatic Mysteries, a noirish, hardboiled series about a robot private detective turned hitman, working in 1960s Hollywood, starting with Made to Kill, which came out in 2015. This was followed by a novella for Tor.com – Standard Hollywood Depravity – and the second full-length novel, Killing is My Business in 2017, and this year the series concludes with the third book, I Only Killed Him Once.
SWNZ: Last year you appeared on a panel presentation at New York Comic Con with other Star Wars authors. Can you tell us about your experience participating on that panel, and what you saw as the key information to come from it?
Adam: Wow, that panel was amazing, and I've been on a fair few as a writer. But it was a packed room, and something like thirteen authors gathered to talk about their stories. It was just fabulous. Del Rey and LucasFilm put on a hell of a show, and New York Comic Con 2017 was just a total blast. I love meeting fans and readers, and seeing the passion and love that they bring to Star Wars. Plus, it was great to finally meet a lot of the other contributors, who until then had just been names on the other end of an email or Twitter.
Key information – well, from my perspective, I think the panel really showed the love and attention to detail that everyone involved in the anthology put into it. Everyone involved in the Star Wars books are fans and they absolutely love the universe, the characters, the stories. And I think this shows, not just in From a Certain Point of View, but in all the Star Wars books that are published. It's really a wonderful thing to be a part of.
SWNZ: Many thanks for your time and responses Adam! We hope to see you in the Star Wars universe again sometime in the future.
You can keep up with Adam's work at www.AdamChristopher.co.uk, and follow him  at Twitter.com/ghostfinder and Facebook.com/AdamChristopher.
Star Wars: From A Certain Point of View is available in hardcover, paperback, and CD-audio versions at Mighty Ape and Book Depository.
Image credits: Lou Abercrombie (via www.AdamChristopher.co.uk), Penguin Books New Zealand