Pepsi Star Wars Episode 1 Promotion, 1999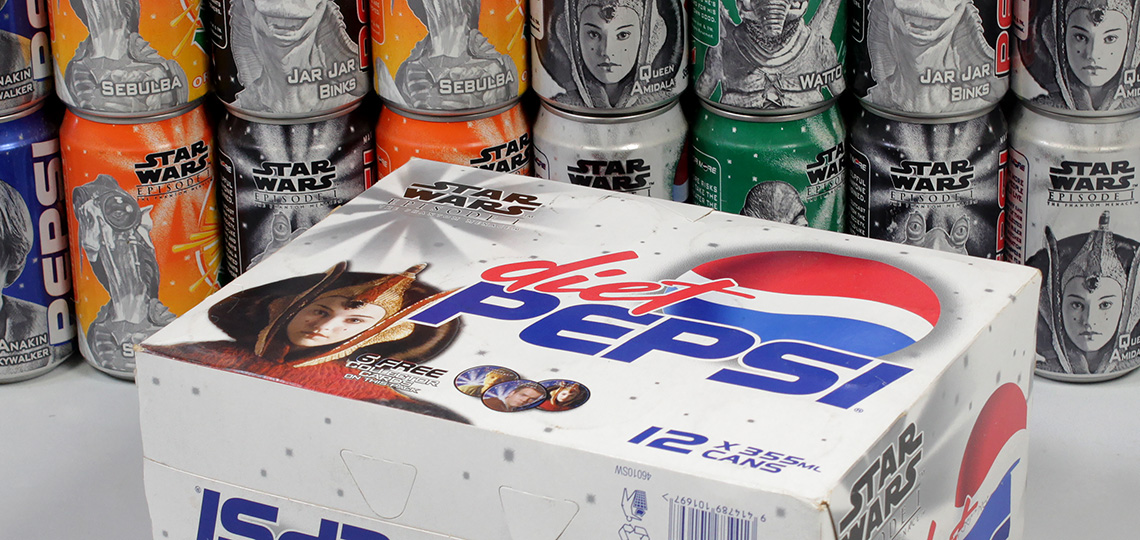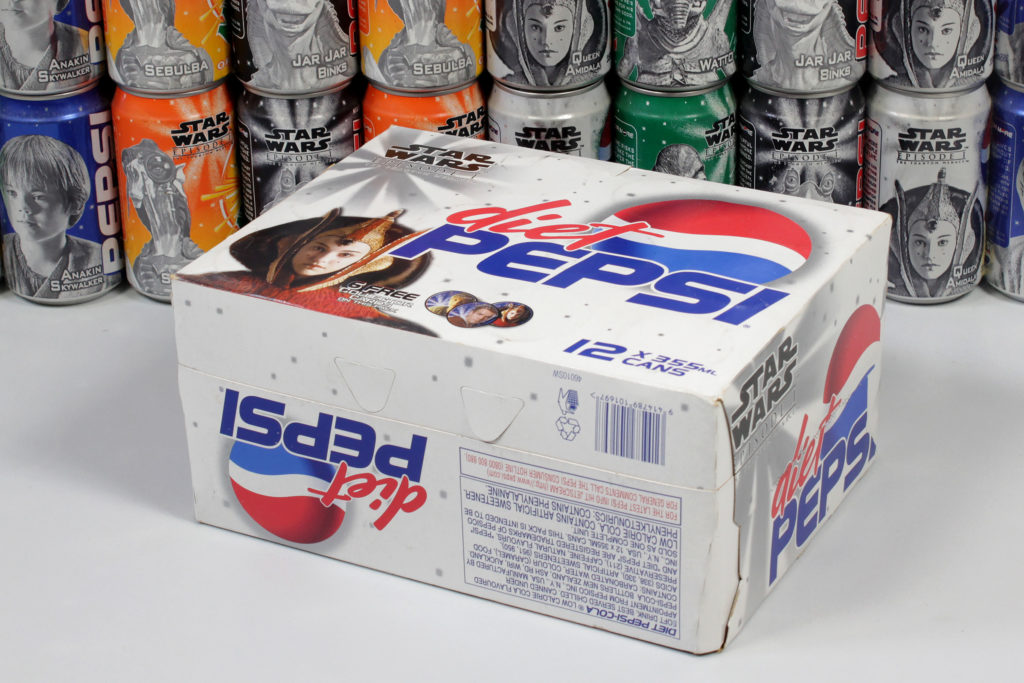 In 1999 PepsiCo Inc. made extensive use of its license to the Star Wars Episode 1: The Phantom Menace imagery, through its Pepsi (and many related) brands. In addition to a large variety of promotional and packaging material, core components of its international Episode 1 campaign were series of elaborately detailed collectible soft-drink cans. A number of unique series were available in different countries, and although the set of six different cans that were exclusive to the New Zealand market comprised one of the smaller sets, these are definitely worthy and sought after items, having been released in far lesser numbers than some of their international counterparts.
Pepsi Episode 1 Cans
Six characters adorned six different product offerings in the Pepsi line of soft-drinks. Anakin Skywalker, Queen Amidala, Jar Jar Binks, Yoda, Sebulba and Watto decorated cans of Pepsi, Diet Pepsi, Pepsi Max, 7-Up, Mirinda, and Mountain Dew, respectively. Whereas some cans released in other markets utilised full colour graphics for the character images, New Zealand cans have only grey/monochrome representations. This doesn't mean that the cans were dull or in any way lackluster: the product colours for each soft-drink were used to good effect, and the character images and Episode 1 branding are integrated with the standard beverage branding to provide a bold and bright combination.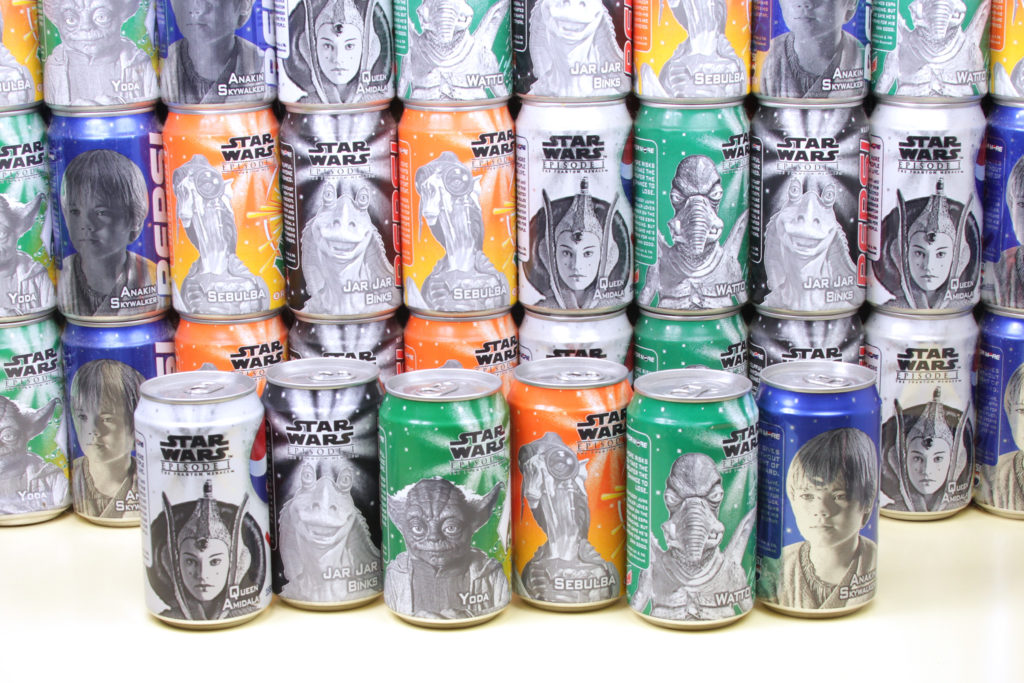 Character summaries complimented the images, hinting at attributes or the roles of that individual, and key story elements related to their role (the Pepsi cans predated the release of the movie in New Zealand). The stanza-like precis read as follows:
Anakin Skywalker :: He gives without thought of reward. Even as a slave, he is strong with the Force, and for this your flier, the more he dreams, the greater his destiny.
Queen Amidala :: She gave more so here people could live. The beauty and grace of this newly elected Naboo ruler equally matches her determination and fearlessness to do more for her people.
Jar Jar Binks :: More helpful than anyone imagined. An outcast from the Gungan society, his child-like curiosity and clumsy ways conceal a kind-hearted soul who wants to help others.
Yoda :: More powerful than his size would indicate. A calming force in a turbulent galaxy, this Jedi Master commands more power than meets the eye.
Sebulba :: Some opponents require a greater effort to defeat. The more he races, the more he's feared. Victory for this podracer is complete only when his opponents are destroyed.
Watto :: The more risks you take, the greater the chance to lose. This pudgy junk dealer loves to wager on the deadly Mos Espa podracing, but some days he's too shrewd for his own good.
Pepsi Episode 1 Cards
A set of 12 Episode 1: The Phantom Menace character cards could be collected by cutting them from the packaging of Pepsi soft drink multi-packs. The cards are round (about 58mm in diameter)… not the best configuration for a card that needs to be cut out by hand!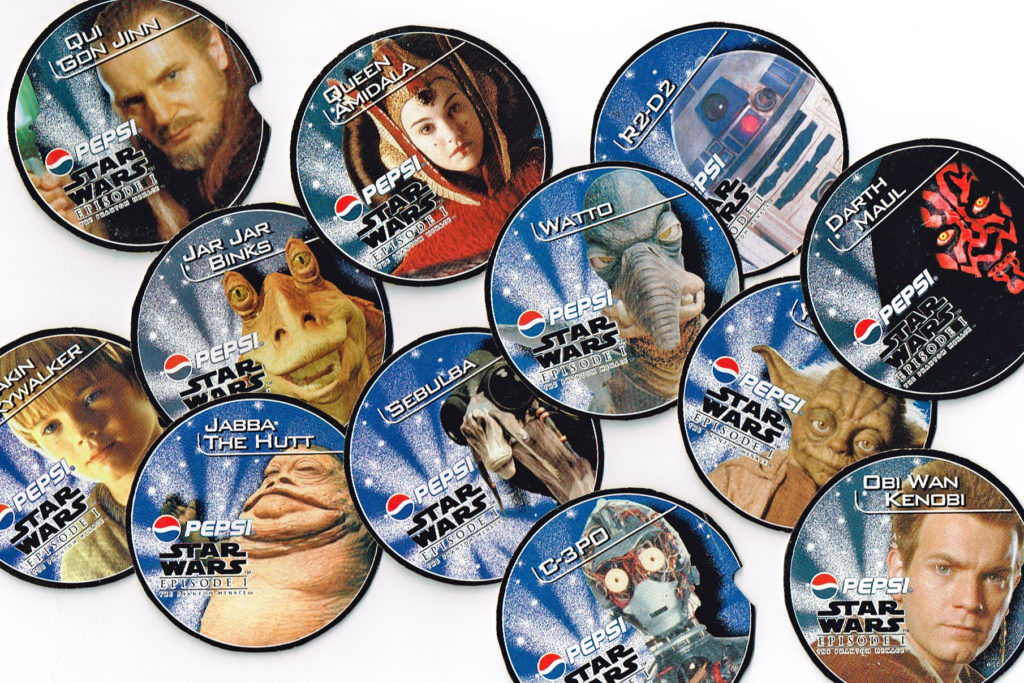 Their design and graphics closely matches the rest of the Pepsi Episode 1 marketing, including that of the associated soft-drink cans. Interestingly, these cards were available in both Australia and New Zealand, but with significant differences. In Australia a full set accompanied a case of 30 cans as a cardboard insert; whilst in New Zealand, you had to buy 2 different packs of 12 cans to get the full set of 12 cards (i.e., out of the 6 different Pepsi brand soft-drinks, 3 came with 6 cards, and the other 3 came with the other 6 cards). Obi-Wan, Anakin, Maul, Jar-Jar, Amidala and Qui-Gon comprised one half of the set. The remaining half set was made up entirely of non-human characters: Artoo, Yoda, Watto, Jabba, Sebulba and 3PO
Pepsi Episode 1 Posters and Promotional Materials
6 associated Pepsi posters, available from Shell petrol stations, measuring in at approximately 59cm x 85cm in size each. They use fairly common character images, blended with the Pepsi and "Ask for more" branding. Quite a nice little set, when assembled together. See more in the gallery below.
For the completist, another collectible associated with Pepsi's The Phantom Menace promotion are the locally manufactured Star Wars shirts that were worn by Pepsi salespeople/representatives wore Made-In-NZ Star Wars shirts during this promotion!
Pepsi 'The Phantom Menace' 1999 Gallery