Review – IncrediBuilds TIE Fighter Model and Book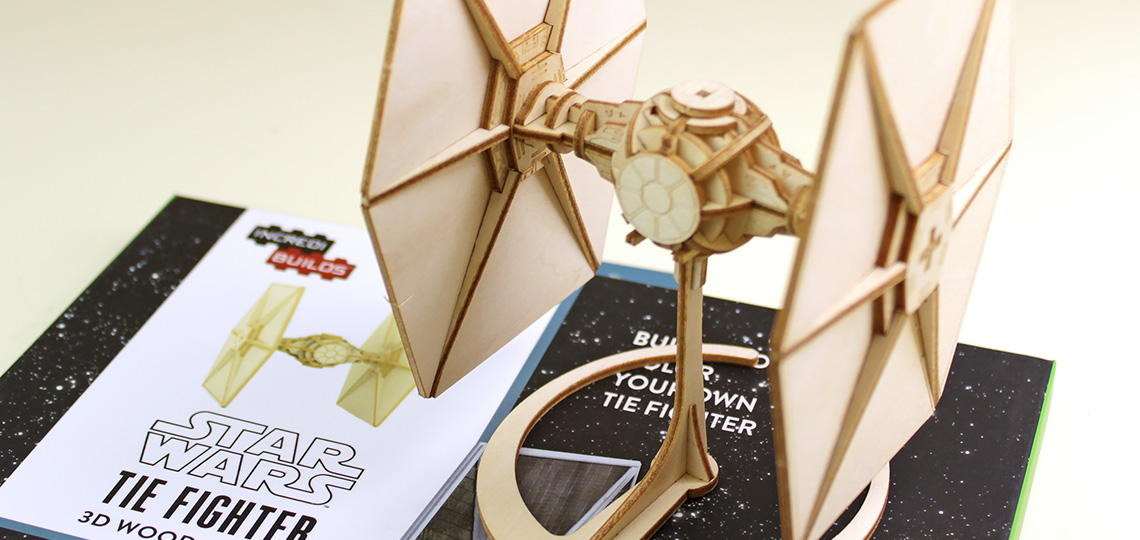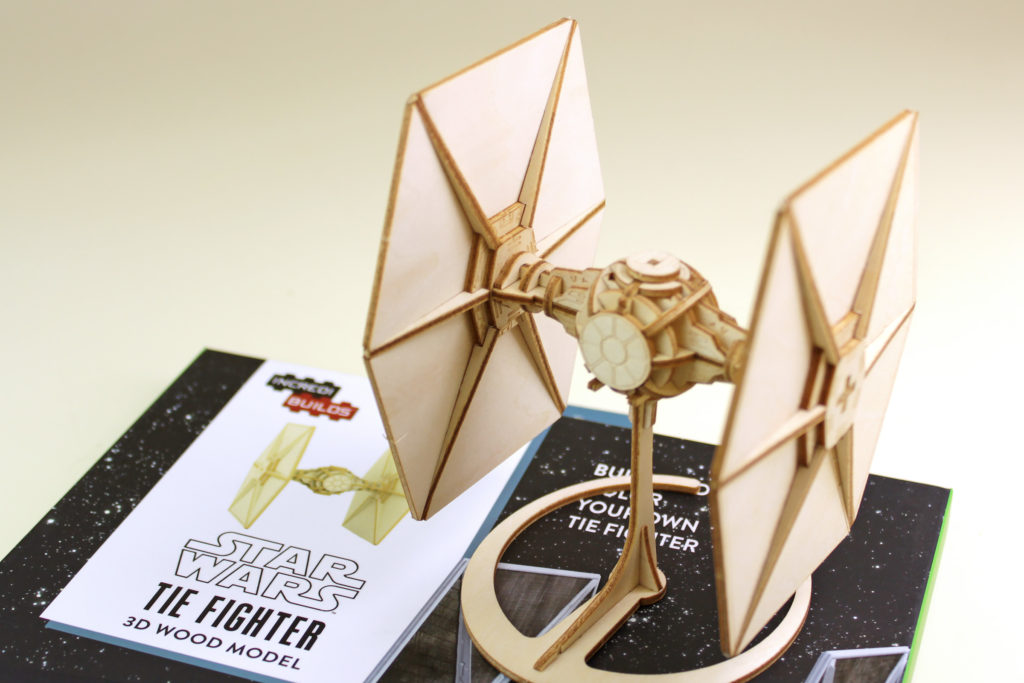 IncrediBuilds are collectible model kitsets, made from laser-cut, eco-friendly, etched wood. Their Star Wars range of vehicles and characters are fully licensed. Each IncrediBuilds bundle comes with a laser-cut FSC-certified wood sheet (with line-art detailing on one side), instructions, and an accompanying book which includes ideas for customising your IncrediBuilds model. Last week we reviewed the X-Wing Fighter – today we'll take a look at the principal spacecraft from the opposing team, the Imperial TIE Fighter.
The TIE Fighter is listed as being appropriate for ages 12 and up. It has slightly fewer pieces than the X-Wing, but the fact that it has so many axes of symmetry, particularly around the cockpit, means you really need to pay attention to the directions the components are assembled, as the differences between the front and back, for instance, can be very subtle. The instructions do a good job, however, of spelling out the landmarks that can help you get everything the correct way around. Once you get the front cockpit "glass" in place, it becomes a lot easier to work out which way you are heading.
There are some really fine details in this model, right down to the two tiny front-facing cockpit laser cannons. There are no spare parts, but at no time while removing pieces from the wooden sheet, or while slotting them together, did I feel like anything was at risk of snapping off important structural elements. No glue is required, but you could theoretically use small amounts of PVA to make sure your laser cannons, for instance, aren't at risk of becoming dislodged. Generally speaking, everything binds together tightly, and the further you get along, the more the interlocking design holds everything into a strong and reliable structure.
Although the cockpit isn't an enclosed sphere, the layered circles make for an artistic representation of a solid structure. There are enough carefully designed ribs and spars through the core of this spaceship model that your brain is tricked into filling in the complex surface topography.
As you might expect, the wing panels are fitted right near the end of the construction process. They aren't just flat, simple hexagons, however – their layered central hub and radial support struts are nice features that speak to the attention given to details by the IncrediBuild designers.
A four-piece display stand is included, allowing you to suspend your TIE in imaginary flight.
The 32-page softcover book that accompanies the TIE Fighter model takes a look at in-world information about the TIE Fighter and its variants (sticking with the Original Trilogy ), TIE pilots, and the key battles in which the TIEs were used. The behind-the-scenes portion of the book covers concept art, the filming of the original studio scale models, storyboards, and an interview with Colin Cantwell (the model maker who was responsible for the very early conversion of Star Wars concept designs into physical models).
The finished fighter is, including its display base, approximately 11.5cm tall, and 8cm wide. It is roughly in scale with the X-Wing starfighter, and as such makes for a really good partner piece. The satisfaction of working on assembling these kitsets means it may be hard to stop at just one or two IncrediBuild models (other kits include TIE Fighter, A-Wing, AT-ACT, Death Star, BB-8, R2-D2, and Millennium Falcon), but however big your IncrediBuild collection ends up being, they are a new and interesting way to show off your love of Star Wars on your display shelf.
Star Wars IncrediBuilds are available at: Mighty Ape, Toyco, Whitcoulls, Retrospace, Real Groovy Records, Astroman, Arkham Comics, and EB Games.
We are currently giving away 3 separate IncrediBuild models on the SWNZ Facebook page. There is still time to enter the competition before it closes tomorrow – go here to enter.