Star Wars Shopping Mall Christmas Gift Guide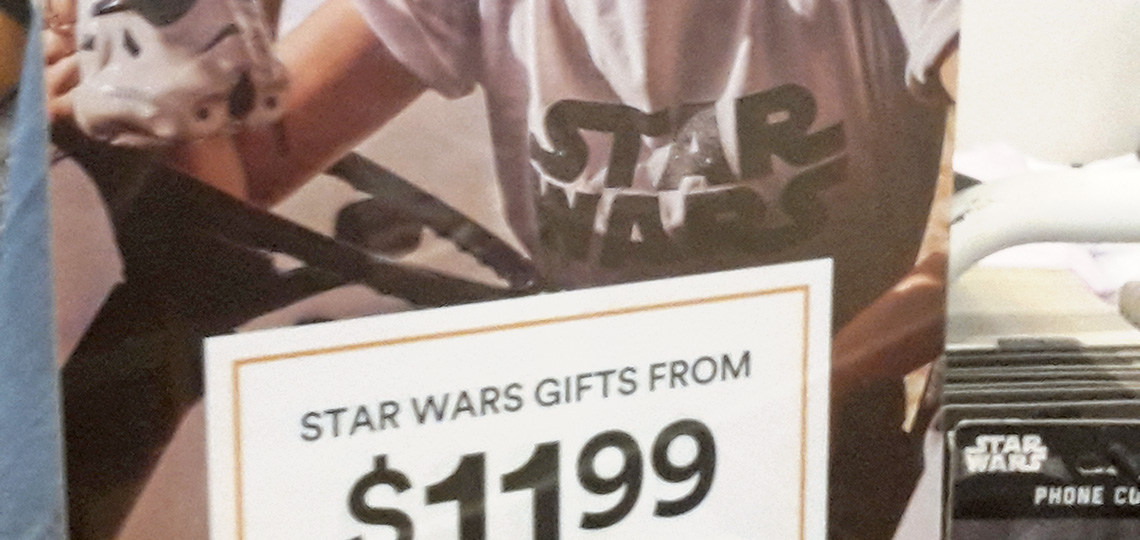 Looking for somewhere new or different to go hunting for Star Wars merch? The 2017 SWNZ Star Wars Gift Guide is here to help.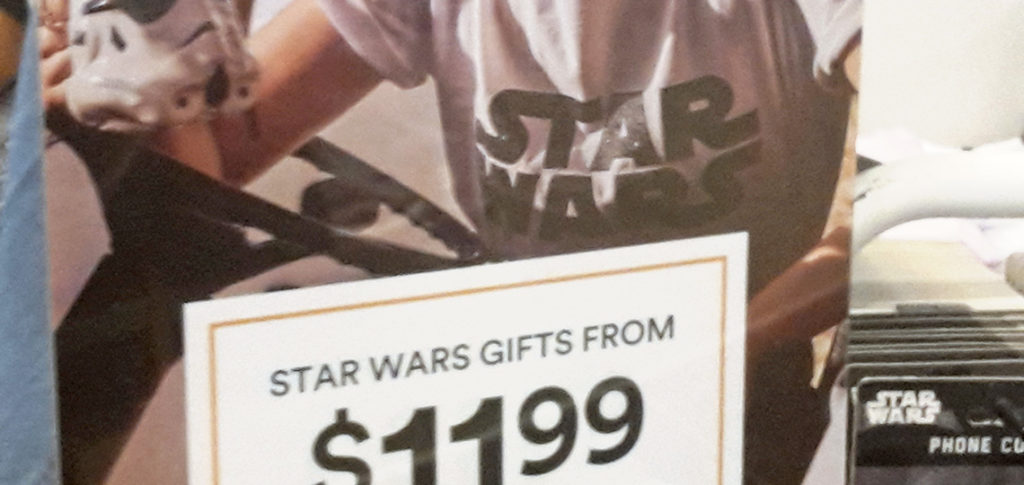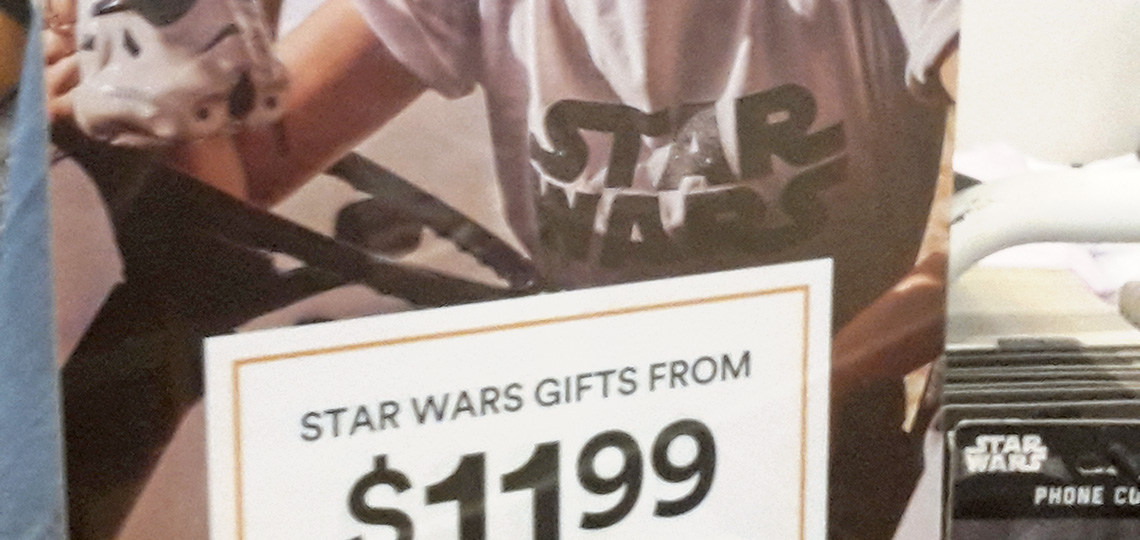 When it comes to looking for Star Wars gifts for a fellow fan or significant other (or, of course, for yourself), most of us are pretty familiar with the ranges available at the kiwi department store chains, as well as online retailers such as SWNZ affiliate Mighty Ape (keep an eye on the SWNZ Facebook Group for updates about current stock levels of recent releases though). We've taken a wander around a few shopping mall and shopping center retailers in order to be able to update SWNZ readers on some of the latest new stock offerings and discounts available, to give you ideas about which stores might be worth checking out this holiday season.
Spotlight
Spotlight stores still have a range of older Star Wars fabrics in stock, but have a few other "stocking stuffer" ideas as well, such as the luggage tags and kid's watch seen below. Some branches may still also have Star Wars Christmas crackers on the shelves.
Clearance Shed
Although Clearance Shed's stock may vary from location to location (find your local branch here), there is a good chance you'll find discounted Star Wars item in one close to you. The Albany branch, in particular, seems to have got hold of some pallet loads of Hasbro action figures, interactive stormtroopers, and Star Wars Nerf guns, among other things.
Cotton On & Typo
Cotton On and Typo stores have been pretty consistent this year with clothing for women and kids, as well as stationery, electronic items, and general gift ideas (check out our previous and recent Cotton On and Typo coverage). They've recently added in a new range of men's t-shirts, and generally have good stocks of all Star Wars, right down to the wrapping paper to finish your gift presentation off.
The Warehouse
Although we report on Star Wars product at The Warehouse quite a bit (previous coverage here), it's worth noting that many branches have some time-limited seasonal items in stock that may be of interest, including the ever popular BB-8 cookie jar for $15.
Farmers
In the last couple of weeks, Farmers have added in the Rey + BB-8 set from the Forces of Destiny doll line. If you head out for some late-night Thursday shopping, you can still make use of their 25% off toys discount currently going on. They also seem to have pretty solid discount on cushions and bedding, with licensed items below half price.

Jay Jays
A couple of days back we took a look at the currently available men's t-shirts from Jay Jays. Beyond that, they also have in stock a pink neon stormtrooper women's style t-shirt, and a couple of different sock 2-packs. At the moment you can get 50% off a second item of equal or lesser value, storewide.
EB Games and Zing
Particularly since EB Games started to introduce their Zing Pop Culture brand in NZ (both as dedicated stores, and as promoted departments/sections in some EB Games-branded stores), these retailers have really expanded their value as a source for Star Wars gifts and collectibles. The photos below convey the range at their Albany shopping mall branch. They carry Hot Toys sixth-scale figures, Gentle Giant mini-busts, Star Wars jewellery from BioWorld, bags and wallets from Loungefly, and much more. Plenty of price reductions are in effect at the time of writing.
One thing that really caught my attention were the character "Geeki Tiki" drinking vessels – I found these to be much more interesting to see in person than I thought I might.
Whitcoulls
Things that stood out at Whitcoulls today: licensed Star Wars Christmas crackers (3 for the price of 2), and a new range of Hot Wheels cars for $4.99 each (many, many of them, in some instances).
Calendar Club
The shopping mall pop-up Calendar Club stores have two square Star Wars calendars available.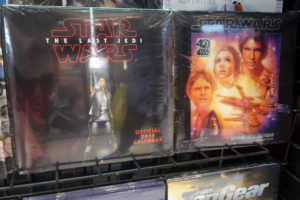 K-Mart
It's hard to beat K-Mart's t-shirt pricing at $12 per item across all sizes. They also have a few other apparel items such as caps and underwear bundles, and in the non-apparel sections, a pretty good assortment of stationery sets and activity/drawing sets for kids.
Paper Plus
To be honest, it feels like the pricing on Star Wars Hallmark Keepsake Christmas ornaments is creeping up from year to year, but if you are a completist collector, and haven't found the 2017 ornaments yet, they have been confirmed at some Paper Plus branches (these below are at Glenfield, Auckland). Note that the Hallmark 2017 ornaments have previously been reported at Briscoes.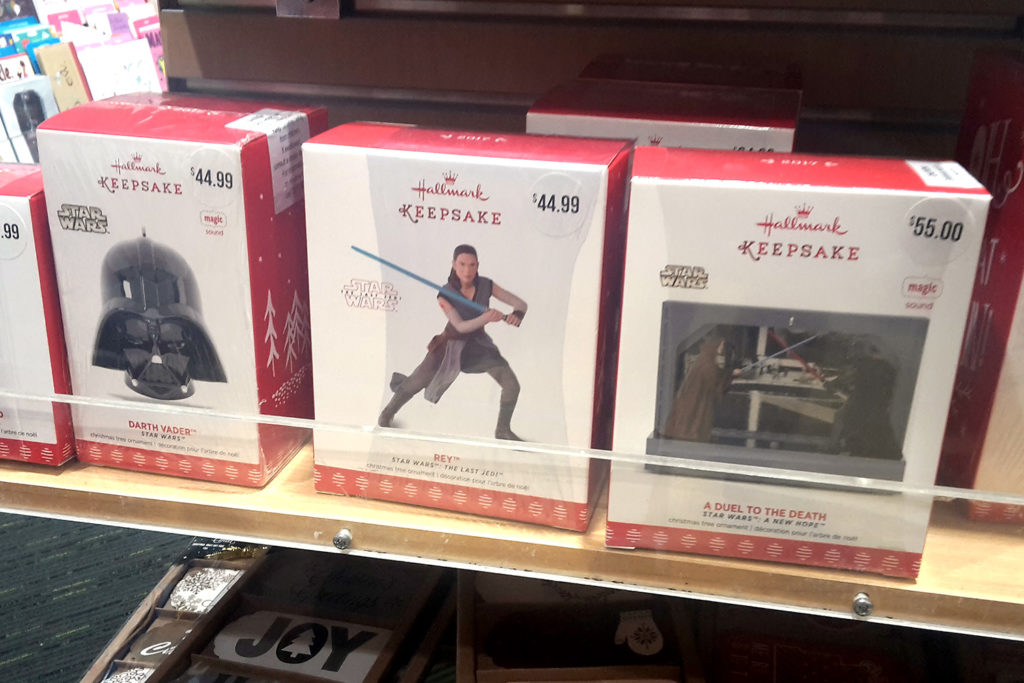 ---
For more recent store reports, for gift ideas and to just generally keep up to date with Star Wars product availability around New Zealand, check out the SWNZ Store Report tag. Happy shopping!