Forces of Destiny Dolls at The Warehouse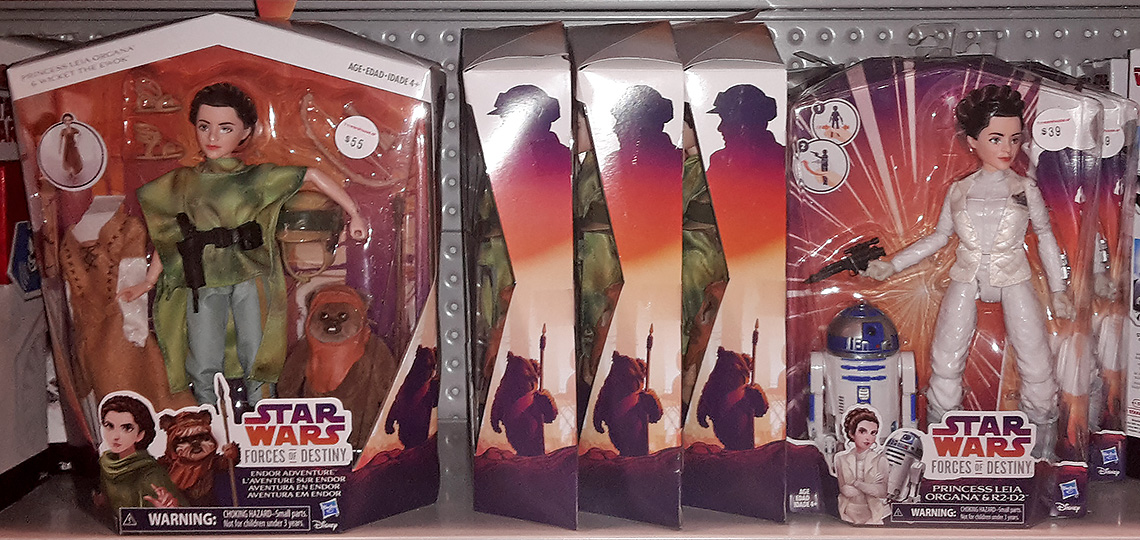 We've heard a few reports of the Forces of Destiny Princess Leia Organa dolls showing up at branches of The Warehouse, and it now looks like, in the last few days, these are getting stocked at many branches in good numbers. Confirmation has come in of shelves full at Albany, Royal Oak, Westgate, and Lincoln Road (Henderson). Even if these weren't stocked at your local branch a week ago, there is a reasonable chance that they may be there now.
These figures are nicely designed and executed. They are approximately 10″ tall (i.e., very similar in height to a standard Barbie doll). Endor Leia come with a fuzzy little Wicket, who has a flocked fur finish, as well as an alternate fabric costume ("Ewok Celebration Dress") that she can change into. Hoth Leia has a lot more of her costume detail sculpted rather than made from fabric. As well as coming with an R2-D2 figure, she has a "quick draw" action feature. Their respective current prices at The Warehouse are $55 and $39.
The first wave also includes Sabine, Rey (both of her The Force Awakens costumes – the "Resistance Rey" comes with BB-8), and Jyn Erso – although these haven't been spotted locally, we certainly hope that a kiwi retailer does pick them up. As best as we can tell, wave 2 and beyond will have Chewbacca, Ahsoka, Padme Amidala (Naboo pilot), Luke with Yoda, and Kylo Ren with The Last Jedi Rey.