Tom Beauvais Star Wars Poster Artwork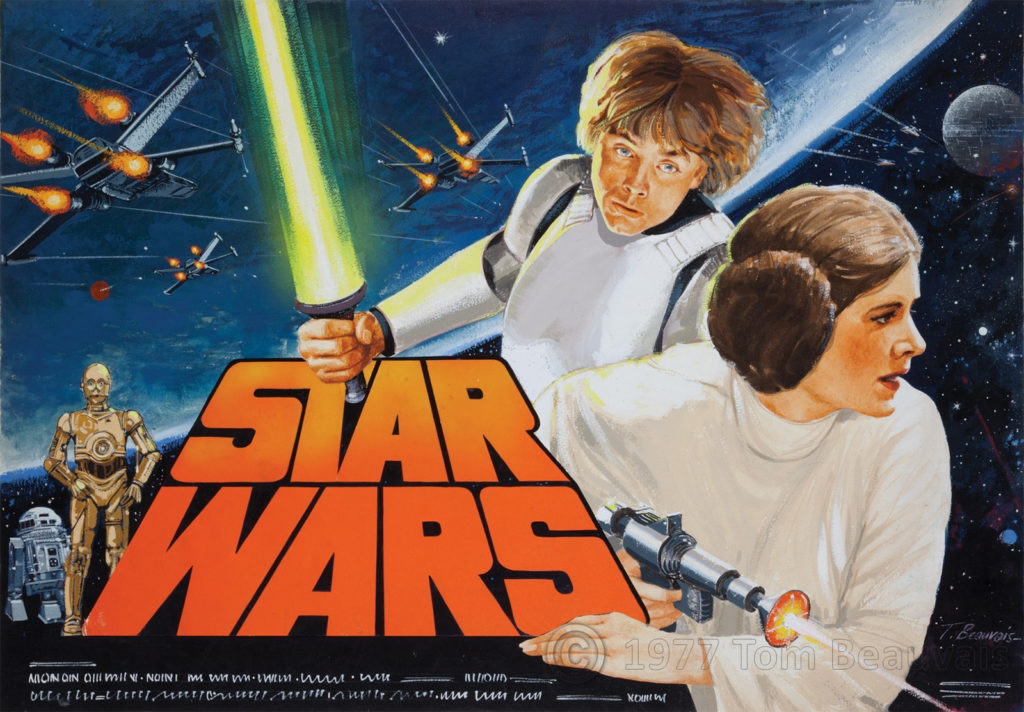 Tom Beauvais Star Wars Poster – Unseen For Almost 40 Years!
Those of you who know me are aware of my passion for collecting original Star Wars trilogy poster artwork, especially posters relating to its original 1977 release.
Either hanging on my walls or stored away in plan draws awaiting wall space, this artwork takes me back to a time when film studios readily commissioned skilled artists to create iconic eye-catching designs that would not only persuade passers-by to purchase a ticket, but also mesmerize the viewer into approaching the artwork for a closer detailed inspection, as if they were in an actual art gallery studying a masterpiece. Sadly the vast majority of theatrical 'photoshopped' posters nowadays don't even warrant a second glance.
It was a stroke of genius when producer Gary Kurtz and 20th Century Fox approached leading UK poster artists Tom Chantrell and Tom Beauvias and commissioned them both to present a more 'action' based design that would replace the classic Hildebrandt artwork for the films UK and International releases.
Tom Chantrell's design was ultimately chosen as the 'victor' and as a result would not only appear on the UK Quad poster, but as we all know would also gain global recognition as the US Style 'C' and even feature on the Australian Daybill and One Sheet posters (albeit in a far less quality print). What the vast majority of fans don't know is that the rejected design from Tom Beauvais was in my opinion one of the most stunning Star Wars poster artworks ever produced!
Before we take a closer look at this design, below is an image showing it sandwiched between the original Hildebrandt and Chantrell UK Quads. This clearly shows how Tom's use of a vibrant orange 'day-glo' paint for the title is far more effective at catching the eye than its blue and white counterparts.

Once you examine this concept you'll easily notice how Luke is holding a green lightsabre (something he wouldn't actually do until 6 years later in Return of the Jedi) and second to that he never held one whilst wearing his Stormtrooper disguise. However, perhaps Tom knew something we didn't? Perhaps he also thought that a blue blade against a blue planet wouldn't quite have the same effect?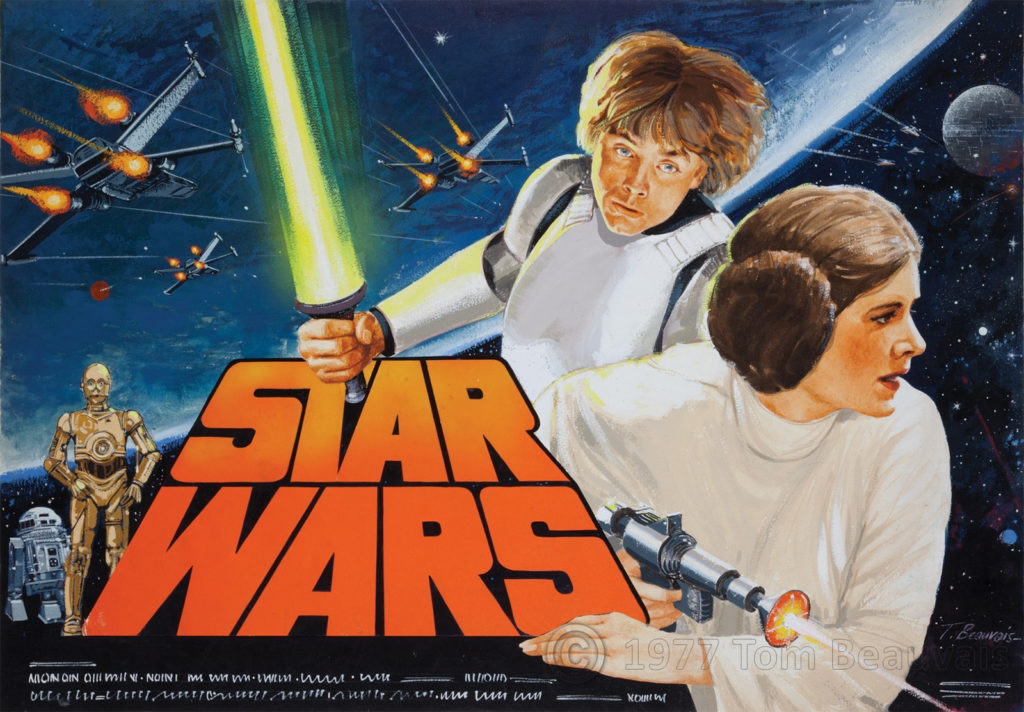 Then again perhaps like so many other poster artists of the time, he didn't have the opportunity to actually see the movie prior to painting this submission, therefore was totally reliant on the verbal brief and mass of stills provide to him by the production company. This can clearly be seen in his adaption of this black and white shot of Luke dressed as a Stormtrooper during Leia's rescue. I might also add that Tom's depiction of Luke in this disguise is the only reference to this classic scene on any Star Wars poster ever produced.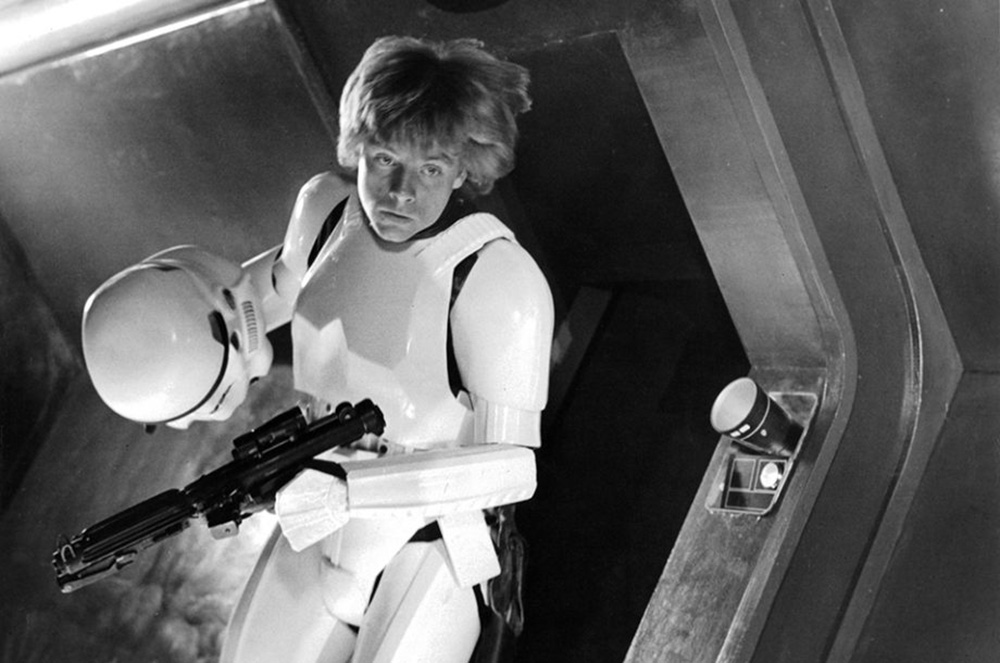 Although key characters such as Han Solo, Chewbacca and the galaxy's most famous villain Darth Vader do not feature, this less 'cluttered' concept design does feature other key elements of the Star Wars Universe, from the 'love/hate' metallic duo R2-D2 & C-3PO, through to X-wings and the Death Star. The squiggly lines along the bottom are obviously a representation of where the credits were destined to go.
Although he missed out on Star Wars, Tom Beauvais' body of work would include many other high profile movies, including: Fantastic Voyage, Butch Cassidy and the Sundance Kid, Zombie Flesh Eaters, Blade Runner and Mad Max. He also worked closely with Stanley Kubrick on many of his films including The Shining.
Beauvais' Star Wars artwork has remained one of the great unseen treasures of movie poster art for over 35 years, but was recently exhibited as part of "May The Toys Be With You" – an exhibition of vintage Star Wars toys and movie posters.
Tom Beauvais can be seen standing next to the widow of Tom Chantrell in front of both original artworks. Tom's artwork is smaller as it is the original painted concept and if accepted this would have then been printed at the standard UK Quad poster size of 30″ x 40″ (as per Chantrell's on the right).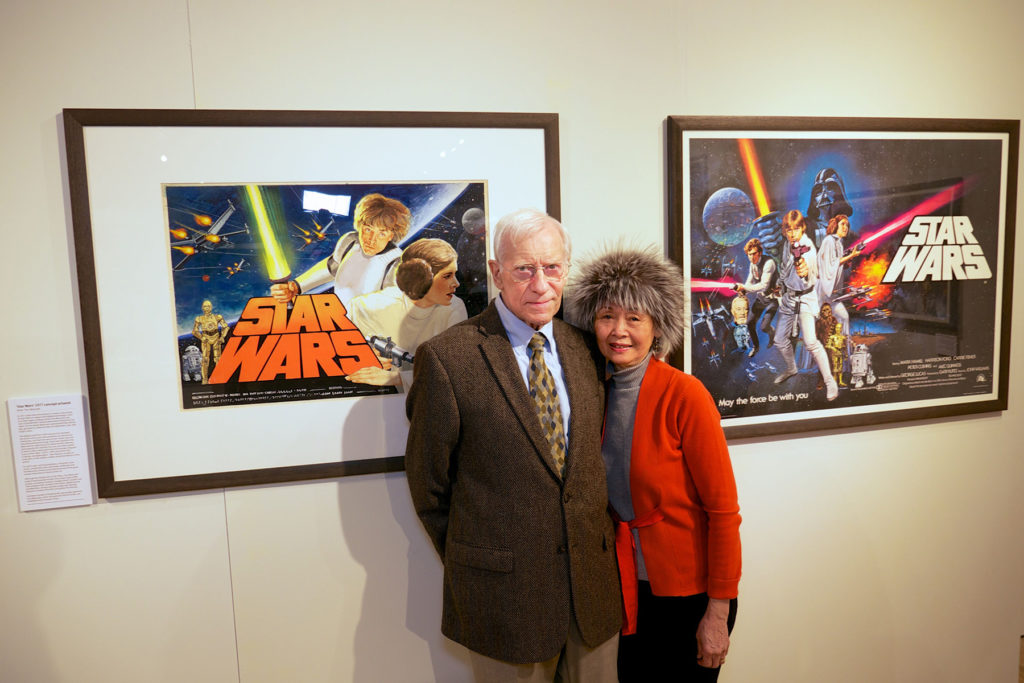 To accompany this exhibition, the Beauvais family has created a limited edition run of 295 fine art Giclee Prints. Created to the highest archival standard using pigmented inks on prestige paper to truly reproduce the stunning original artwork.
These prints are hand signed and numbered by artist Tom Beauvais (see below) and come complete with a certificate of authenticity also signed and numbered by the artist. They are sized at 30″ x 40″ (quad size) exactly as they would have been on cinema walls in 1977.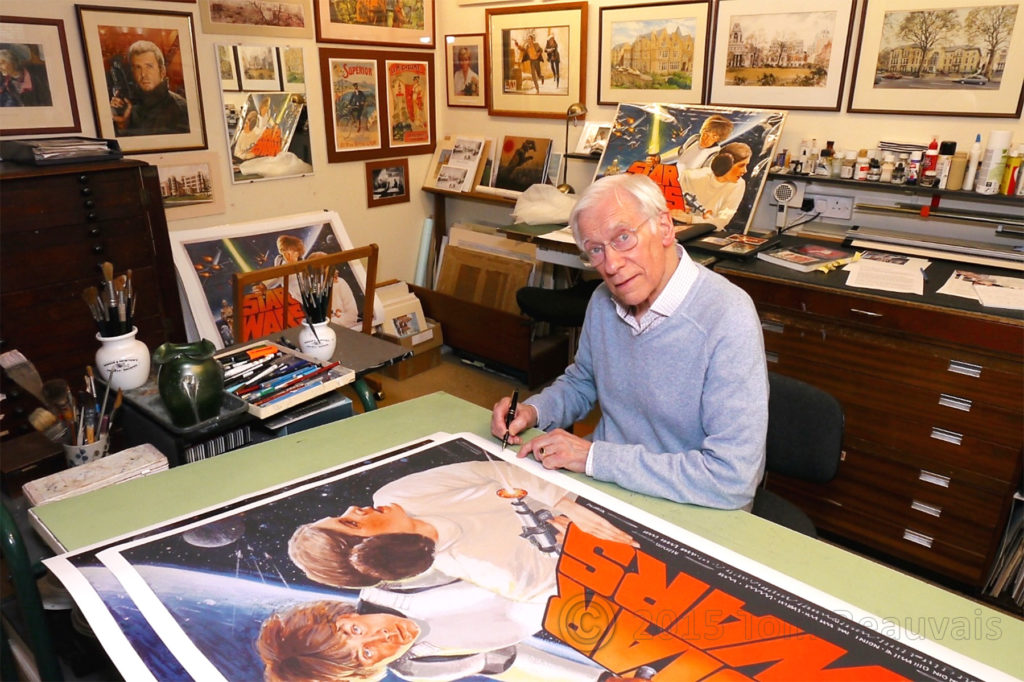 As you can imagine the design, size and rarity of this artwork will make it a focal point for any Star Wars collection and although I'm a diehard 'theatre-used' poster collector, I am proud to have one of these highly significant works of art within my own collection and without doubt once framed, it will sit pride of place alongside my Chantrell quad where I can think of no better company for it to be in.
This limited print usually retails at just £245 but for a limited period the family are offering a special 'early bird' cost of only £195. This offer will expire in three months, however I've no doubt that these will sell out prior to this date. As a fellow Kiwi Star Wars fan, I strongly advise any of you looking for something unique for you own collections to follow the link below and secure your piece of Star Wars history before the opportunity is lost forever.
http://spacefund.co.uk/star-wars-1977-tom-beauvais-print/
They obviously ship to New Zealand and perhaps if some of you get together they may even be able to combine shipping to save on costs. These large prints are limited to one per customer, so please no scalping allowed, these were intended to go directly to true Star Wars fans and not released to make someone a quick profit on eBay.