Street Art: The Stormtrooper Project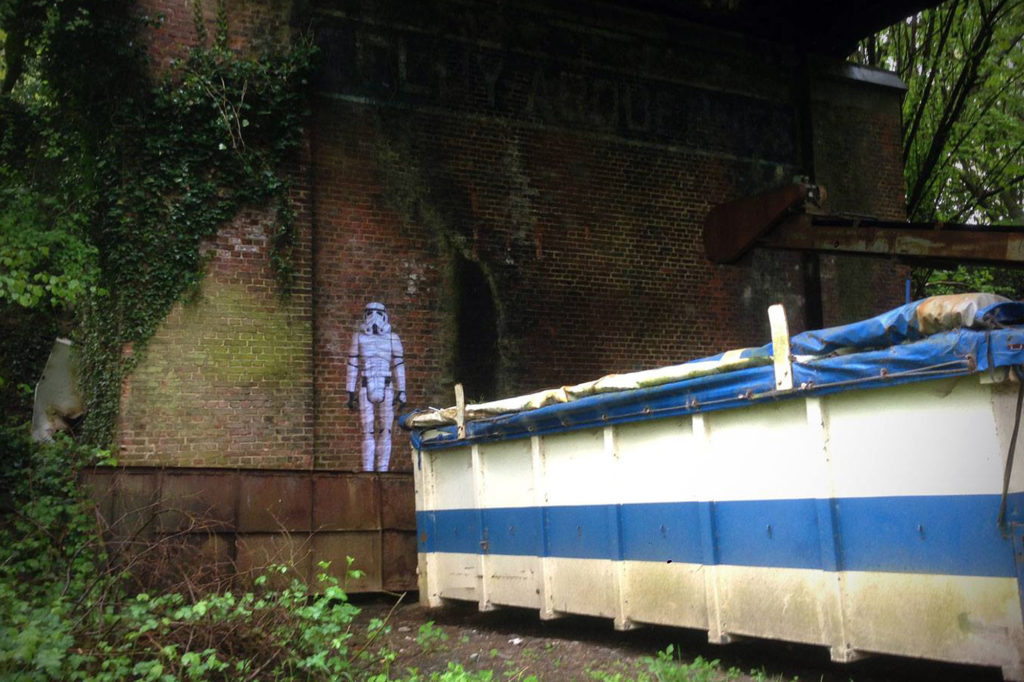 Mark Catley is a graphic artist based in Christchurch. Among his passions is a fondness for vintage Star Wars action figures, including many originals from his childhood which are still in his possession. He has combined that hobby with his artistic side to kick off The Stormtrooper Project, a street art movement that he has shared to spread around the world. We caught up with Mark to discuss The Stormtrooper Project, and other aspects of his Star Wars fandom.
Q: What is the Stormtrooper Project, and how did it get started?
Mark: I started putting up life size images of the original (also my original) Kenner Stormtrooper action figure around the walls of Christchurch. I then branched out to various other Kenner Star Wars figures. It was fun to use my original figures. Not perfect figures, but well worn, with bits missing and paint coming off in spots. I decided to see if I could branch out and get more of the Stormtroopers pasted up around the world using Facebook.
So essentially the Stormtrooper Project is getting people from all over the world to paste up a large scale Stormtrooper picture in time for May the 4th.
Q: What is the main motivation behind the Stormtrooper Project?
Mark: To do something a bit different for where ever the people involved live. To create something fun for the public… something I would personally love to come across while walking around my hometown of Christchurch.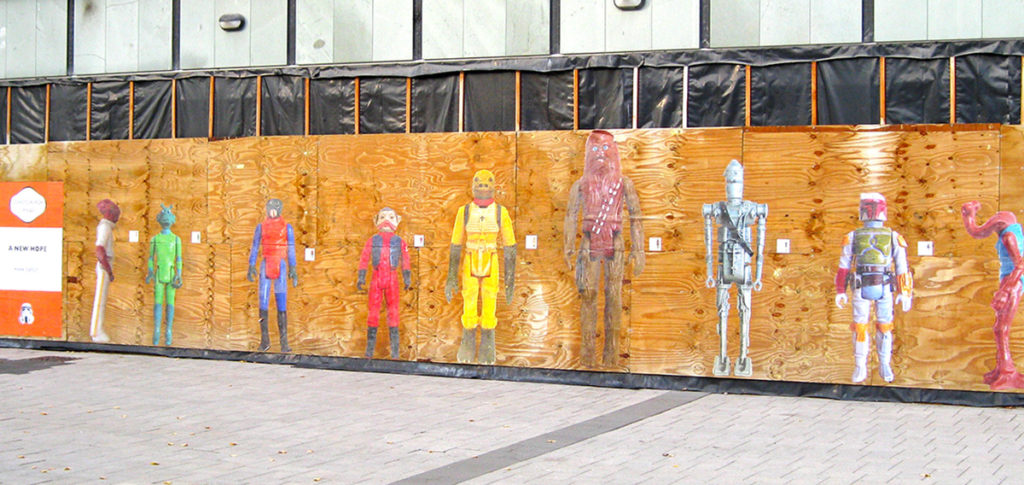 Q: How far around the world has the Project spread?
Mark: We have had Stormtrooper paste ups over various states of the U.S, the UK, Belgium, Germany, Australia and of course New Zealand in time for May the 4th.
Q: How do you select a site for a Stormtrooper Project installation?
Mark: Here in Christchurch there have been lots of boarded up buildings after the earthquakes. I make it my mission to only put work up on ply wood and not on actual businesses still operating. I want to give people a smile, not ruin someone's shop or business. It's street art not vandalism.
Q: Has Star Wars inspired your art in other ways?
Mark: I'm really into the original packaging of the Star Wars Kenner figures. I can't get enough of the design work of the card backs. It's really interesting seeing how they were all designed and made back in the late 70's and 80's.
Q: What other aspects of the Star Wars fandom are you into?
Mark: I have really got into the Kenner action figures line over the last few years and slowly collected the set of loose figures. I'm even now into collecting Kenner card backs and mint on card figures. If you asked me 5 years ago that I would ever be collected unopened Star War action figures I would have slapped you in the face. Now I can't get enough!
Looking at the card backs brings back so many memories of dreaming of my next Star Wars figure, only to get disappointed my parents would get me some other figure I never wanted.
I have also amassed a loose collection of just over 100 of the original Kenner Bossk action figure. Currently I have 111 loose Bossks.
Q: Why the love for Bossk?
Mark: Bossk was my very first figure and much treasured by the 6 year old Mark.
After my father passed away just after the 2011 Christchurch earthquakes I started collecting loose Bossk figures in a strange way to remember him. The collection just grew and grew and just recently I had an art installation of the Bossks in an event called, First Thursday's here in Christchurch, August 3rd. It's a bit odd, but that is what I like about it.
I had lot's of great feedback of the Bossk installation. Everyone was fascinated by anyone would collect so many of the same figure, but could also see how each figure was unique.
I really do see the original Star Wars action figures as mini sculptures.
Q: We assume that the vintage stormtrooper figure was amongst your childhood collection? What is your favourite Star Wars memory from when you were a child?
Mark: My favourite memory of Star Wars was seeing Return of the Jedi with my Dad and sister. I remember it was a special treat for us all to go out and see a film on the big screen. My very first Star Wars experience.
That and watching for the first time A New Hope. It was just on the TV, but what a great night.
I also have a terrible Star Wars memory and that was getting bullied by some older kids (I must have been 6 and they about 10) and they nicked half of my Return of the Jedi trading cards. Still irks me to this day haha… Still need to complete my ROTJ set come to think about it.
Check out more from Mark at www.markcatleydesign.com and www.facebook.com/markcatleydesign.