Kellogg's Cornflakes Star Wars Stickers (1984)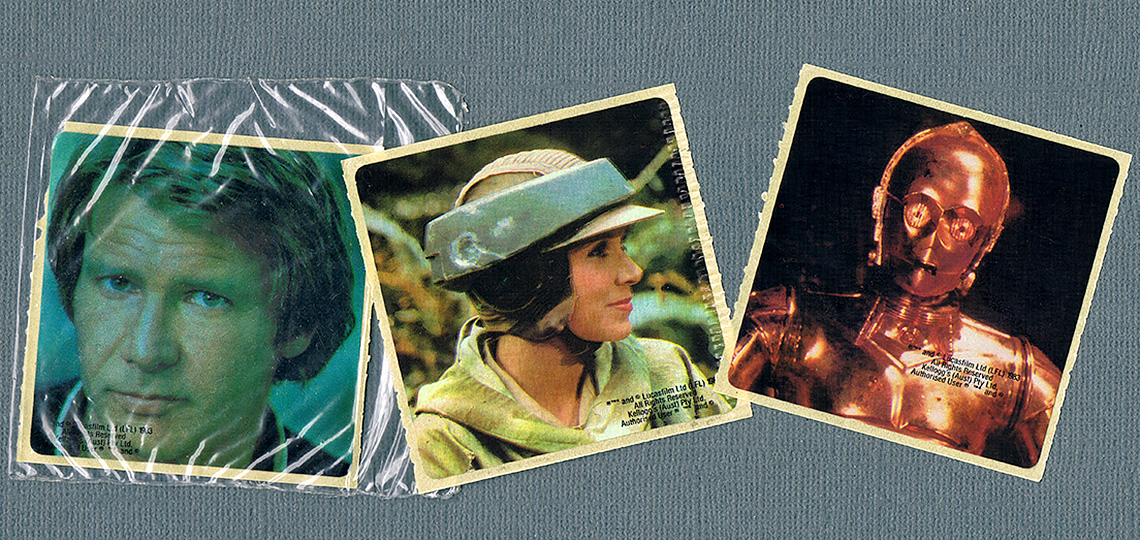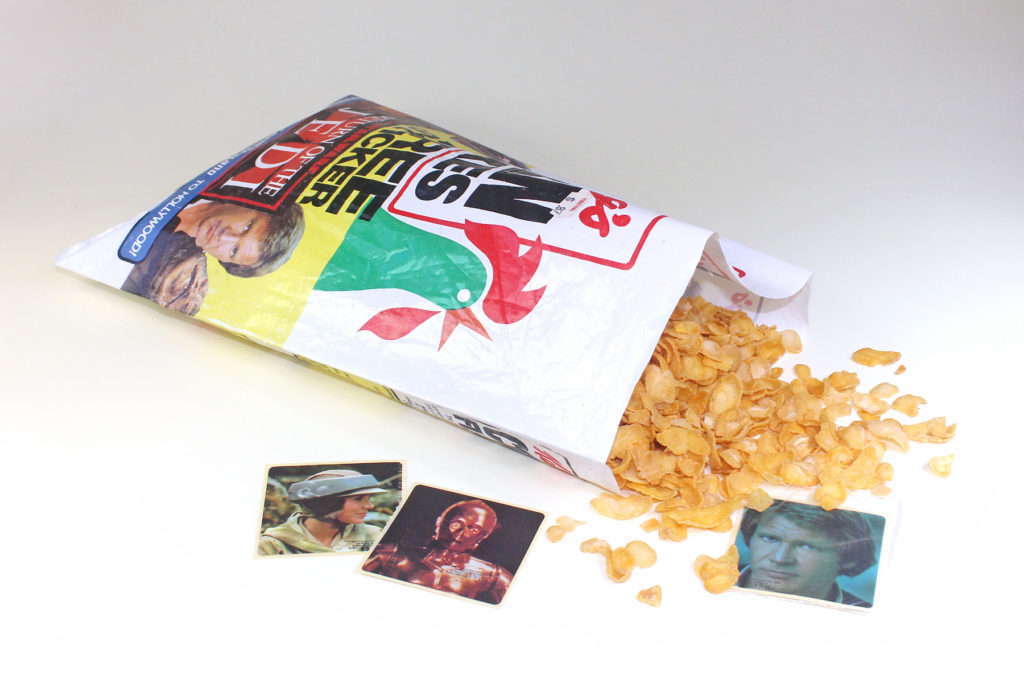 Many of you will have heard of or remember the Kellogg's Cornflakes Return of the Jedi Stickers. Many will even remember eagerly opening the single cellophane packet that came in 300g or 500g packages of cornflakes back in 1984 (around the time that Jedi was in the theatres), and sticking the now highly collectible sticker somewhere or on something that no longer exists, whilst checking the backing only to find out that "Darth Vader says 'Try Again'". It was because the stickers were intimately tied into the Return of the Jedi competition that Kellogg's were running at the time, that very few kids ended up being lucky enough to hold on to a complete, mint set.
There are 12 small (approximately 56mm along a side), square stickers in this series, each depicting a character from the third-released Star Wars movie (see full gallery below). Most of the stickers bear the well known favourites, or introduced new, major villains, like crime-lord Jabba the Hutt. A few lesser, but still interesting and worthy, characters slipped into the line-up: blue ortolan Max Rebo, obseqious twi'lek Bib Fortuna, a well known mon calamari admiral, and a couple of ewoks.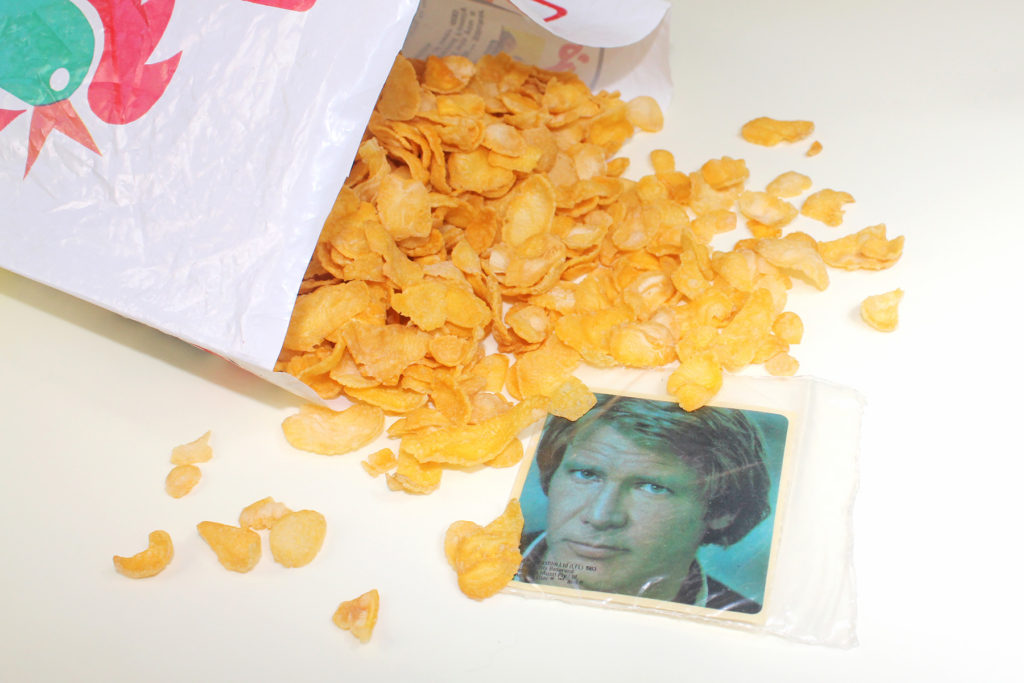 The backing paper, moreoften than not, had a small monochrome image of Darth Vader informing us that we hadn't won any prizes…but it was possible to send the backing, once the sticker was safely and irretrievably adhered to a miscellaneous surface, in to be entered into a random prize draw.
Alas, I personally never saw any of the prize winning stickers.
Kellogg's Cornflakes competition
In the yesteryears, Star Wars giveaways and competitions were slightly less common than current times, so when they turned up with everyday groceries, it was considered a real bonus.
Front and back images of a 300g Cornflakes package are above. Each package contained a single sticker, carefully heat-sealed in it own little plastic wrapper. The backing of the sticker revealed the prize won, or alternatively had a consolation message that could be sent in to go into the draw for unclaimed prizes – it was necessary to remove the sticker from its backing to claim a prize (or enter the second-chance draw). The correct answering of a topical question was an additional requirement for competition entry: "Answer this question Yes or No: Is Luke Skywalker Darth Vader's son?" Get your entry in by 31st March 1984 for a chance to win!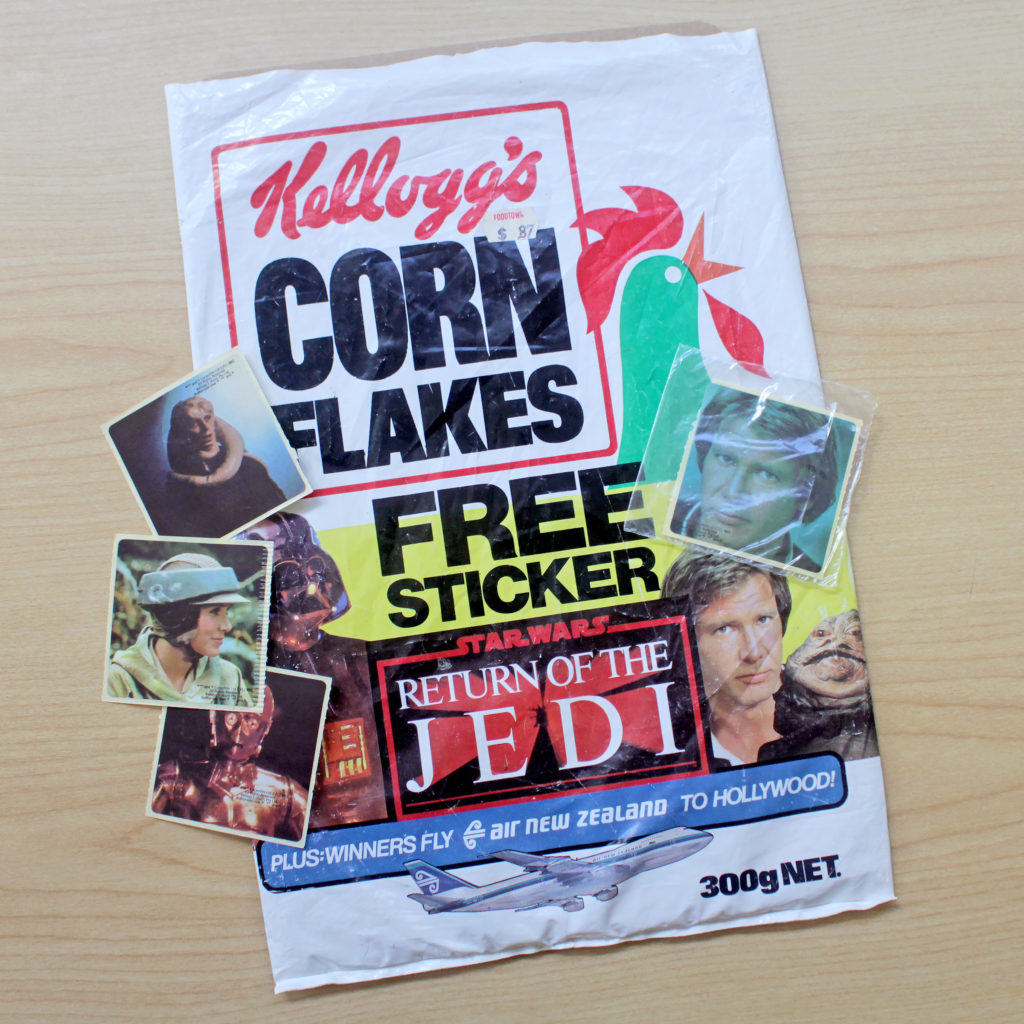 A substantial prize pool included the following (values in 1984 dollars, as they were listed on the packaging):
– A 5 day family of 4 holiday flying Air New Zealand to Los Angeles, stay at the Farm de Ville with free passes to Disneyland and other Hollywood attractions plus $200 spending money (value $10,000)
– 15 Mother Ship Tents ($85 each)
– 25 Patrol Fighters ($49.95 each)
– Plus Star Wars Merchandise from Toltoys (New Zealand) Ltd.
– 40 Laser Pistols ($18.00 each)
– 40 Mini Rigs ($14.00 each)
– 100 Jigsaws ($4.99 each)
– 200 action figures ($5.99 each)
Now, I'm not sure what a "Mother Ship Tent" might have looked like, or even what the "Patrol Fighters" referred to actually were, but that was a fair list of product given away! $5.99 for action figures… those were the days!