McDonalds 'The Clone Wars' Promotion (2008)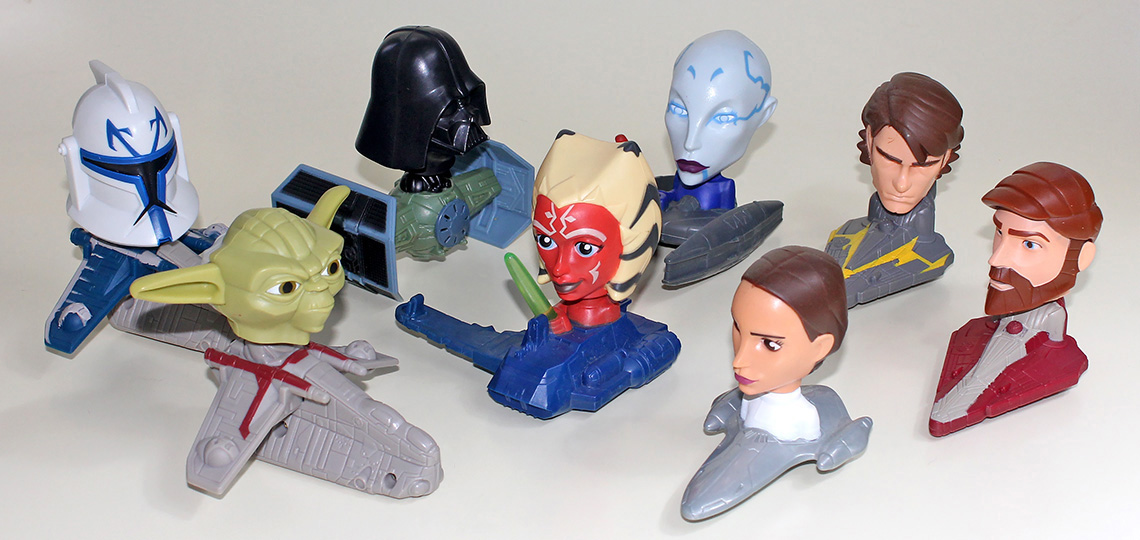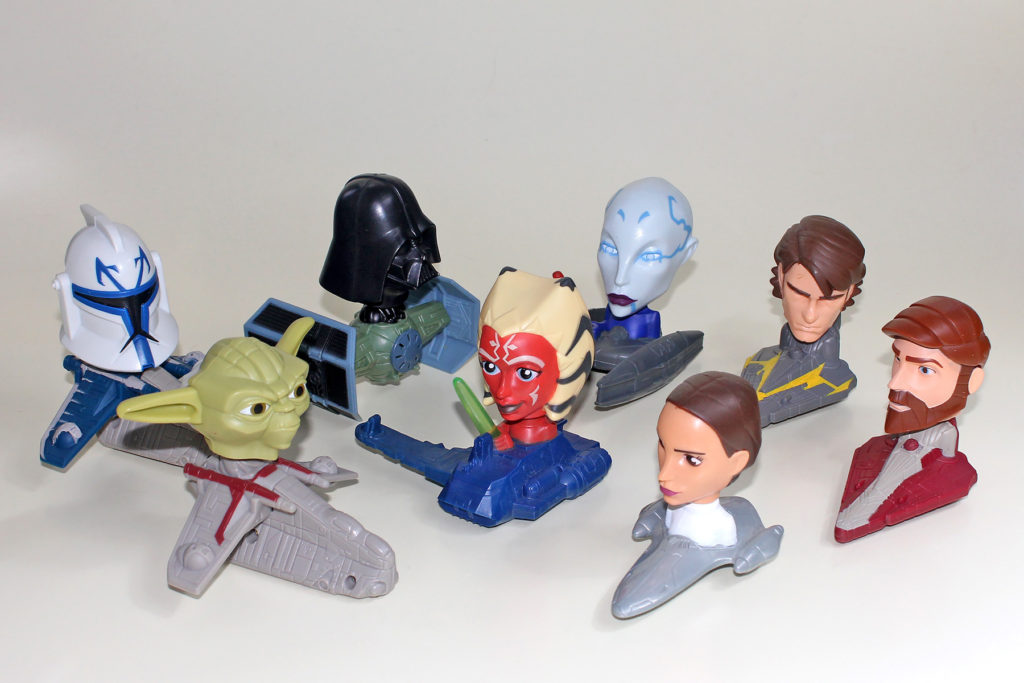 In August of 2008, shortly after the theatrical release of The Clone Wars, McDonalds restaurants in New Zealand quietly ran a Clone Wars Happy Meal promotion, based on the animated-style collectibles available in the US. The bobble-headed merchandise was available with $5 Happy Meals, or could be purchased for $2.50 separately – only 8 out of the 18 action toys that were available in the US were released (Anakin Skywalker, Asajj Ventress, Darth Vader, Padme Amidala, Captain Rex, Yoda, Obi-Wan Kenobi and Ahsoka Tano). This was the only Star Wars food premium promotion that McDonalds has done in New Zealand. Other fast food chains like KFC and Pizza Hut have run multiple over the years, and Burger King had a notable promotion in 2005.
There wasn't any associated advertising or other Clone Wars materials (the Happy Meal bags, for instance, were just a generic version). The promotion came and went fairly quickly, with a couple of toys released each week; but, given the near ubiquity of McDonalds outlets, most fans who sought these were able to complete a set, and the toys were traded on the secondary market for some time afterwards. It is noteworthy that they are fairly solid little constructions (with the bobble-head connection being the weak point), the plastics used were of mixed quality, and many have discoloured over time, with white's yellowing and grey's and blue's degrading to shades of green.
As well as spring-mounted bobble-head articulation, each toy featured an action element:
Anakin Skywalker in Jedi starfighter: pull-back-and-go action
Asajj Ventress in droid starfighter: light-up lightsaber
Darth Vader in TIE-advanced fighter: electronic sound samples (Vader breathing and blaster FX)
Padme Amidala in Naboo starship: push-and-go action
Captain Rex in Republic Gunship: pull-back-and-go action
Yoda in Republic Gunship: electronic voice sample
Obi-Wan Kenobi in Jedi starfighter: pull-back-and-go action
Ahsoka Tano in The Twilight: light-up lightsaber