Star Wars Christmas Shopping Round-Up
SWNZ Store Reports are a good way to keep up to date with product availability at online stores, and new releases in physical retailers. With both Rogue One and Christmas approaching, there is also value in taking a good look around NZ shops known to stock Star Wars collectibles and themed products. The following is a sampling of some of the traders worth checking out this month.
Cotton On/Typo
Cotton On stores have a good few Star Wars t-shirts in their current range, as well as a wide array of stationery and electronic items. Those latter two categories of products mainly come from an Australian brand called "Typo" – Typo products are stocked both in Cotton On branches, as well as a few actual Typo stores to be found in shopping malls around the country. The Typo range includes diaries, postcards, Christmas decorations, headphones, bluetooth speakers, pencil cases, laptop sleeves, ceramic mugs, and Darth Vader marquee light decoration. In addition to the in-store photos above, check out the following links to browse their respective ranges:
Calendar Club
Calendar Club pop-up stores, which you'll find in many shopping malls this time of the year, have a total of four different calendars. The smaller calendars are approximately $13 each, and the two larger were priced around $23-25.
K-Mart
Current Star Wars products at K-Mart include the usual Hasbro toys (no reports of recent waves just yet though), t-shirts, underwear, belts, socks, bags, and a few different pieces like foil sipper cups (with marshmallows) from Park Avenue, and a Star Wars Christmas ornament DIY kit. They also have a Rogue One calendar (which appears to be the same as the one from the Calendar Club, but at a lesser price).
Jay Jays
Jay Jays has a variety of Star Wars, including Rogue One, t-shirts (men's styles/sizing) and caps in their current range. As well as the products shown above, the following are links to selected t-shirts available through their online store.
Paper Plus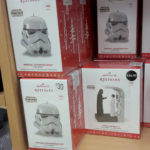 Paper Plus are known to be on of NZ's stockists of Star Wars Hallmark ornaments – this year a couple (stormtrooper helmet, Vader + Leia Tantive IV scene) of decorations have been confirmed around the country.
EB Games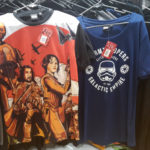 EB Games' Star Wars stock includes accessories like keychains, a comprehensive array of Vinyl Pop! figures, and a few new t-shirt designs.
The Warehouse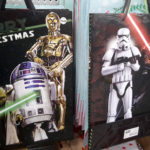 The Warehouse have many, many Star Wars items to select from (keep up with our other store reports about The Warehouse). They've recently stocked up on the latest 3.75″ and 6″ figures in particular, although these are disappearing fast. In terms of Christmas-specific products, check out stores for gifts bags and toiletry gift packs.
Farmers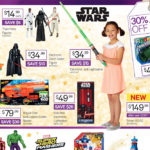 Farmers has a store-wide sale, with rotating specials and reductions, until December 24th. Some stores have large piles of smartphone-controlled AT-ACTs reduced by 25% until Monday. Some Star Wars bathroom/toiletry products have also been spotted in branches
Keep up with our other store reports about Farmers.