Star Wars Cosmic Shells (2016)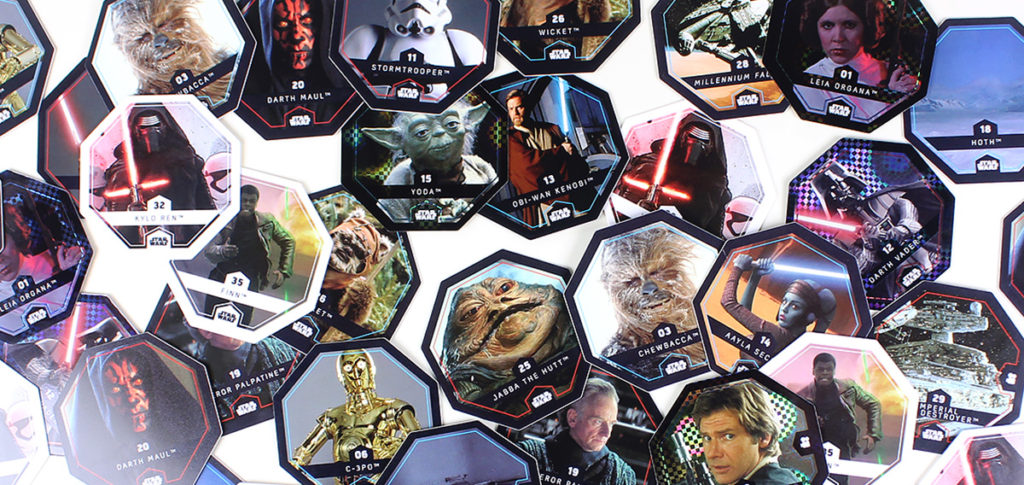 The Star Wars Cosmic Shells campaign was a promotion run by Countdown Supermarkets from 4th August to 18 September 2016. The campaign centered around 36 octagonal "Shells" – character, vehicle, and location cards that could be collected to store in the "Blister Album" (sold separately), or to play the Cosmic Shells game. Although similar Cosmic Shell sets and associated paraphernalia have been previously released overseas (Europe), our local set are distinct in a couple of ways, including the presence of Countdown logos and addresses on many items and/or their packaging.
The promotion was launched with a lot of fanfare. Costumed characters from the local contingents of the 501st Legion and Rebel Legion club appeared in Countdown branches. Coverage of the launch included articles by the New Zealand Herald. An advertising video from the campaign is available for online viewing on the Countdown Supermarkets Facebook page.
Below we take a look at all of the components of the Star Wars Cosmic Shells campaign. You can also check out all of our previous Cosmic Shell content from the last few weeks here.
The Star Wars Cosmic Shells
Cosmic Shells are collectible game pieces that need to be combined with the game board poster included in the purchasable "Blister Album". They measure about 5cm wide, and are made of thin plastic (or plastic-coated card).  Supermarket customers received one Star Wars Cosmic Shell with every $20 spent in-store or online in a single transaction. If you bought one of the advertised special products, which changed each week, you could be awarded an additional bonus shell along with those calculated based on your total purchase price.
The set consists of 36 Shells, featuring characters, planets and vehicles. Six of the hero character Shells featured a hologram foil finish, and eight bore a small movie projector icon, indicating that they could be used with the Movie Box accessory (purchasable separately) and smartphone app (see below). The reverse of each Shell describes some brief trivia about their respective character/vehicle/location, as well as their "Engage" and "Move" values, which pertain to the Cosmic Shell game (see below). The six highest-numbered Shells related to Episode VII: The Force Awakens characters, and stood out as they were set against a white border.
A set of Star Wars Cosmic Shells have previously been released in Europe. That set featured some near-identical Shells, but was made up of 54 pieces in total (meaning that it included some selections we didn't see in New Zealand), and did not have the white borders on the Ep7 cards.
The Album

Cosmic Shell albums could be purchased in store for $8 each. The rear of the album is a 3-page fold-out storage system, in which your collection can be stored, but removed for game-play. The early pages of the album feature glossy graphics and narrative summarising the Dark Side and Light Side factions of the Star Wars Universe, the plots of the seven feature films released to date, and biographies of Star Wars heroes and villains.
A pull-out, folded 2-sided poster had a game board on one side, to be used in conjunction with the Cosmic Shells. Game instructions were included within the album.
The Game
Countdown Supermarkets ran an energetic and comprehensive promotion – but it has to be said that the ambiguous Cosmic Shells name doesn't really describe the product, and the campaign hasn't really clearly spelled out what the purpose of the collectibles are, other than seeking to assemble a full set. It turns out that Cosmic Shells are actually collectible game pieces that need to be combined with the game board poster included in the Blister Album.
The aim of the 2-player Cosmic Shell game is to be the first to get all of your Shells to the other side of the game board. Instructions are as follows:
Each player is assigned 4-6 Dark Side or Light Side Cosmic Shells. Each Cosmic Shell has assigned Move Points and Engage Points values that determine how it moves across the board.

MOVE POINTS. A Cosmic Shell can move forward, sideways, or a combination of both, according to its assigned Move Points value. Cosmic Shells cannot move diagonally, backwards, or back and forth between two fields. If another Cosmic Shell is placed in your path, you must move around it.

ENGAGE POINTS. A Cosmic Shell can engage an opponent as indicated by its assigned Engage Points value. It is the distance to your opponent, not the number of Engage Points assigned that is crucial. When engaged, an opponent's Cosmic Shell must retreat to its starting position.

COSMIC SHELL INSTRUCTIONS

Step 1 To determine who plays first, draw a shell at random from a Cosmic Shells stack. If a red Dark Side shell is drawn, you begin. If a blue Light Side shell is drawn, your opponent begins.

Step 2 Choose a side, and place your fleet of Cosmic Shells along the highlighted squares along the appropriate edge of the game board. Both players must begin with the same amount of Cosmic Shells.

Step 3 Select a Cosmic Shell from your fleet. You may move it according to either the Move Points or the Engage Points assigned on the back of the Cosmic Shell, but not both. Once you have completed your move, it is your opponent's turn to move. When docking a Cosmic Shell on the other side of the board, all of that piece's Move Points must be used for the move to count as a success.
The Store Displays
During the Cosmic Shell campaign Countdown Supermarkets were heavily decked out in related promotional branding. Each store had at least one pop-up "Cosmic Shell Collector's Zone" island, at which you could grab your Movie Box, Blister Album, or other campaign-specific Star Wars products including pens, pencil cases, and coffee mugs/espresso cups. Store were heavily populated by stormtrooper standees, and plenty of The Force Awakens banner wraps adorned shelving and produce bins. Some of these advertising materials made their way in to collector's hands at the conclusion of the promotion.
And the Star Wars theme spread beyond the walls of the supermarkets too. Near each store (or sometimes near the branches of the competitor supermarkets), bus-stop advertising could often be found.
The Movie Box
The $3 "Movie Box" hologram projector device was available to buy at Countdown Supermarkets. It is a small DIY cardboard project that you punch out and assemble by way of a simple tabs-and-slots approach. The top of the box is open, and accommodates a smartphone with its screen facing down into the unit. With a Cosmic Shells app installed on your smartphone (Apple iTunes and Android versions available) a movie image is projected on to a 45 degree reflective screen to give the appearance of a floating hologram. 8 movies are "collected" by scanning specific Cosmic Shells using the smartphone app. Each features a classic vehicle from the Star Wars universe that rotates and zooms to detail features of the spaceship/vehicle, with accompanying narration and music. Once each of the 8 Cosmic Shells has been scanned, it is unlocked in the app, and as such doesn't need to be re-scanned each time. It's all a cute little novelty concept, worth checking out once or twice…but not necessarily a gimmick that'll hold your attention over time.
Trading
The Cosmic Shells proved to be reasonably sought after collectibles among local Star Wars fans. Collecting and trading was quite an active pursuit, and many kiwis collected up more than one set. If you got started on a stack of 36, but didn't quite finish, there is still some trading going on over on the SWNZ Forums and SWNZ Facebook group.
Check out all of our Cosmic Shell content here.
Gallery