Review – LEGO Rey Buildable Figure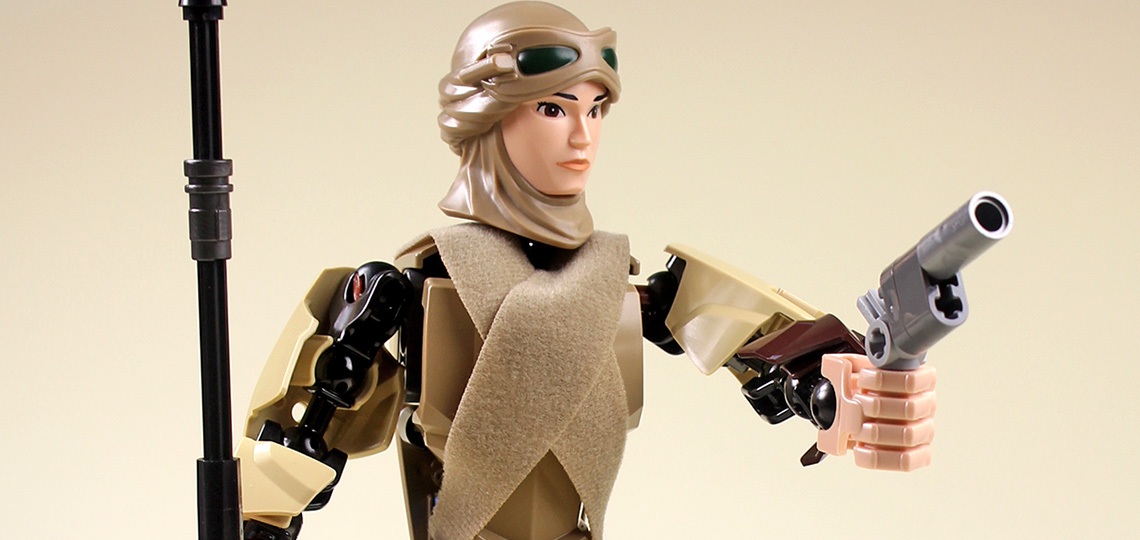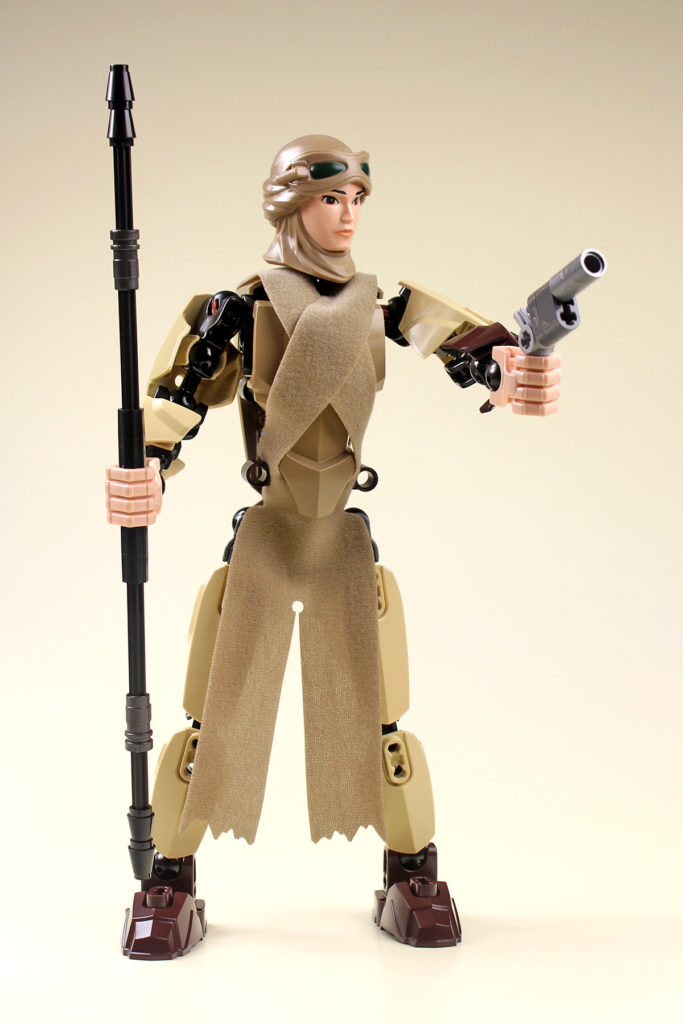 The LEGO Star Wars Buildable Figures are a range of articulated action figures with sculpted faces and features, each approximately 9″ in height. To date, 12 characters have been released, in two waves. In 2015 wave one consisted of Darth Vader (set 75111), Luke Skywalker (75110), Obi-Wan Kenobi (75109), General Grievous (75112), Commander Cody (75108), and Jango Fett (75108). More recently, The Force Awakens representatives joined the collection, with Rey (set 75113), First Order Stormtrooper (75114), Poe Dameron (75115), Finn (75116), Kylo Ren (75117), and Captain Phasma (75118). A Rogue One wave of six has been slated for release in conjunction with that movie.
This format works particularly well for the armoured and robotic characters, but some of the non-armoured humans have had their accuracy enhanced by the addition of fabric costume components. Rey qualifies in this regard, with a "real-cloth desert outfit", as well as staff and pistol accessories.
Rey is made up of 84 pieces and as well as being articulated at 15 joints, has a wheel-activated arm-swinging battle action feature. Multi-axis joints renders Rey very poseable, but the design of her limb connections mean that she is also very stable and stands easily in a multitude of action stances. Her sculpted head is a one-piece detail, slightly stylised in design, and is one of the highlights of this figure and of her companions and rivals in the range in general.
Because of the uniqueness of most of the LEGO pieces, construction is not challenging – this set is recommended for the 7-14 years old age range … don't let that stop you if you are an adult LEGO fan though! Rey looks best displayed with others from the buildable figure range … set her up with Finn and Poe to face off against Kylo, Phasma, and the representative First Order Stormtrooper. The LEGO Rey Buildable figure is on sale at Mighty Ape, for $29.74 at the time of writing (buy it here), and you can check out the other LEGO figures here.