The Early George Lucas + Disney Relationship (1955-1987)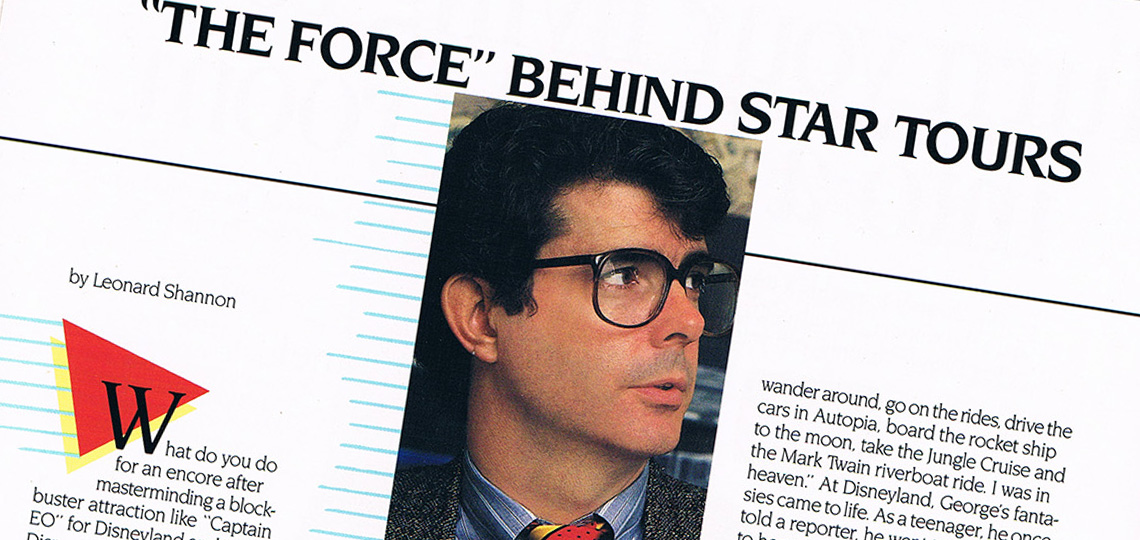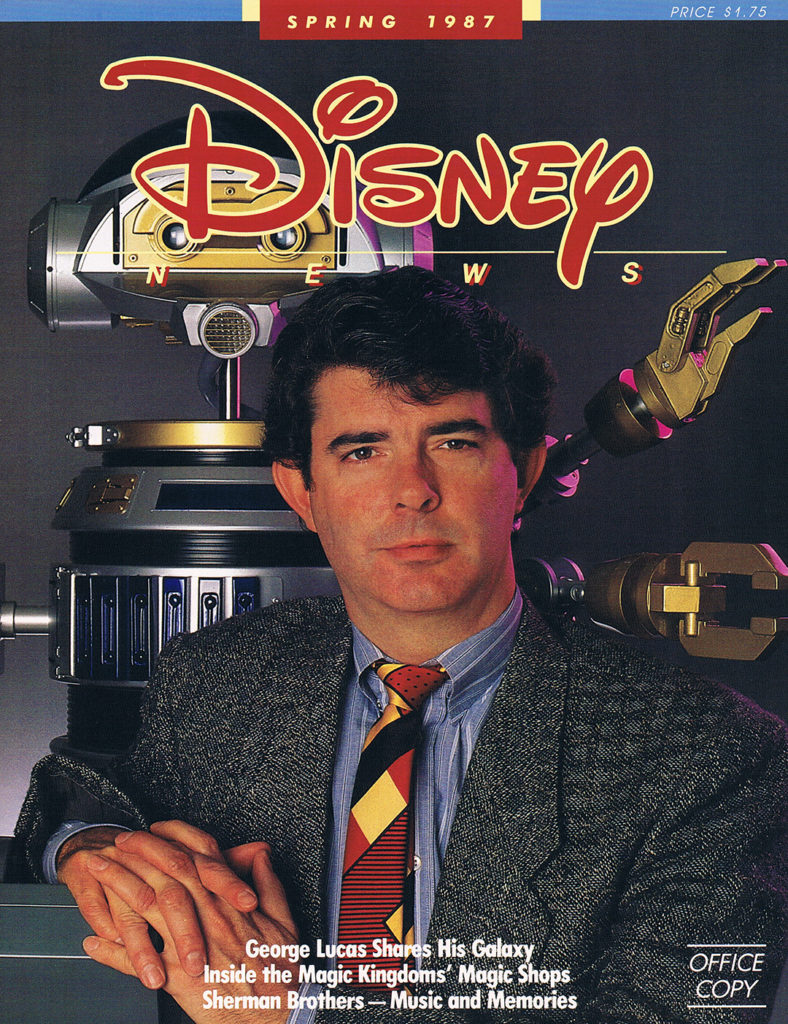 In October of 2012, Disney formally announced its acquisition of Lucasfilm from George Lucas for a sum of US$4.05 billion. This set off a sequence of developments that looks to keep the Star Wars universe entertaining us for many decades to come. This was not the first interaction between The Walt Disney Company and Mr Lucas, however. Looking back, there have been a few significant projects including a couple of Star Tours park ride iterations, and prior to that, the production of Captain EO in 1986. Lucas' love for Disney, however, harks right back to 1955, when a young and impressionable George first attended the newly opened theme park.
An article in the Spring 1987 issue of Disney News describes how Lucas' early passion for Disney began: "…George Lucas, whose fervor for Disneyland goes back to his boyhood. Lucas was 11 in 1955, when Walt Disney opened the Magic Kingdom, and George was among the first in line. He returned to Disneyland year after year from his hometown of Modesto in Northern California."
By 1986 George Lucas had a long list of successful movies associated with his name and that of Lucasfilm Ltd. At that time, he engaged in a formal relationship with Disney theme parks to contribute to the creation of Captain EO, a 3D musical film starring Michael Jackson – Lucas executive produced that extravaganza, and also had a writing credit along with Rusty Lemorande and Lucas' longtime friend and collaborator Francis Ford Coppola. Captain EO opened in September of '86 and continued to screen at Disney theme parks until 1996 (making a limited return in 2010 after Michael Jackson's death).
Shortly following the Captain EO project, the world of Disney got its first permanent installment of Star Wars characters and scenarios in the form of Star Tours. Disney News investigates that adventure just as it was set to open, in its Spring '87 cover story: "Star Tours is Lucas's astonishing new excursion into galactic fantasy at Disneyland, a thrilling interplanetary flight that hurtles passengers toward the distant Moon of Endor in a Starspeeder 3000 manned by droids RX-24 and R2-D2. As it struggles to stay on course, the Starspeeder is pounded by frozen fragments of a colossal iceteroid, caught in an aerial dogfight between Imperial and Rebellion forces and drawn into combat with the Death Star itself." Star Tours was originally envisaged as an attraction based on Disney's 1979 live-action sci-fi film The Black Hole. As a direct consequence of the Lucasfilm/Disney collaboration for Captain EO (as well as unrelated financial considerations…the budget for a bespoke Black Hole project ended up being prohibitive) the concept was repurposed, and the Industrial Light and Magic team went on to create the first-person perspective footage that made up the visual component of the motion simulator attraction. Star Tours has since given way to its successor, Star Tours – The Adventure Continues at Disneyland, Disney's Hollywood Studios, and Tokyo Disneyland, but remains at Disneyland Paris (where it is due to be upgraded in 2017). A spin-off, of sorts, of the Star Tours attraction, are the Star Wars Weekends at Disney's Hollywood Studios – a multi-event festival held over 4-5 weekends, which first took place in 1997 and has been active through active 2000-2001, and 2003-present. Other Lucasfilm properties feature within Disney theme parks too – the Indiana Jone Adventure is a vehicle ride attraction at Disneyland (March 1995) and Tokyo DisneySea (September 2001), which stemmed from the successful Indiana Jones Epic Stunt Spectacular! at Disney's Hollywood Studios (active since August 1989).
And thus, the foundations were laid. In 1987, George Lucas was quoted as saying "Overall, with the kind of films I was making, Disneyland seemed the perfect place to put my characters". Lucas still had a lot he desired and intended to do with the Star Wars franchise over the years, but covert discussions between The Walt Disney Company and Lucasfilm took place as early as May 2011, ultimately leading to the October 30th, 2012 revelation that Disney would acquire Lucasfilm in its entirety. As a side note, that transaction was settled half in cash and half in Disney stock – a Lucasfilm spokesperson revealed at the time that "George Lucas has expressed his intention…to donate the majority of the proceeds to his philanthropic endeavors" (Lucas is known for his philanthropy, particularly to education-related charities).
The consequences of this long-standing cooperative association is that fans can now look forward to a sequel trilogy of films despite Lucas positioning himself as semi-retired (he remains a creative consultant for that cluster of movies) and an array of spin-off character-based theatrical releases…pretty much a film every year for an as yet largely unspecified period of time. And with the Disney corporation's masterful marketing machinery leveraged against the already successful stature of Star Wars, I anticipate key characters like Yoda, Darth Vader, and R2-D2 being elevated in the public consciousness to iconic statuses in the realm of Mickey, Minnie, and Donald. Thank you George Lucas and Disney.
Join the discussion on this topic in the SWNZ Message Boards.