D23 Expo Disneyland News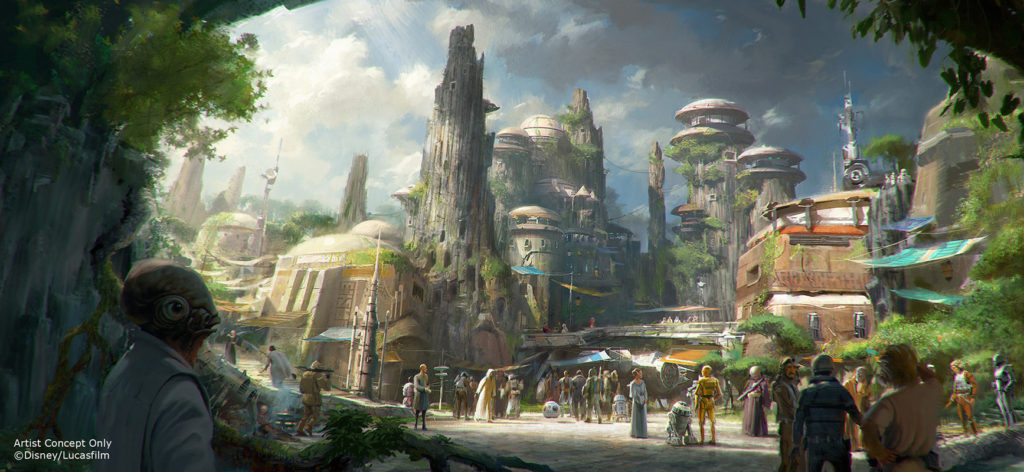 Disney held their bi-annual D23 Expo this past weekend, and as expected the event's panels brought many great announcements. During the theme park panel Disney Company CEO Bob Iger announced a huge Star Wars Land expansion for both Disneyland and Walt Disney World. To summarize this amazing news –
A 'Star Wars Land' will be built at both North American theme parks (Disneyland and Walt Disney World)
With 14 acres for each park, this is Disney's largest single-land themed expansion ever
A new planet from Episode 7 will be added to the existing 'Star Tours' ride at both parks later this year
'Star Wars Launch Bay' will open at both parks later this year, with elements from the first 6 films and Episode 7
'Season of the Force' event will be held at both parks in early 2016, with special entertainment and themed food
Disneyland's Space Mountain attraction will become 'Hyperspace Mountain' during 'Season of the Force'
Walt Disney World will feature a Star Wars fireworks display during 'Season of the Force' (on weekends)
Jedi Training Academy will feature new characters and a new villain to battle from 'Star Wars: Rebels'
This newly announced future expansion will let fans visit a never before seen Star Wars planet from the outer rim – it wasn't specified if this describes a new planet created for Disney parks, an existing planet that hasn't been depicted visually, or a planet from an upcoming film that fans haven't seen yet. The teaser footage showed a fairly green planet, with architecture reminiscent of Theed on Naboo – though it's unclear just how far through concept development these expansions are. This new area will be completely 'in story' – the staff/crew members will interact with park attendees in character, so fans will really feel like they've stepped off a starship on to a new planet. The expansion at both parks will include two new signature attractions – one centered around piloting the Millennium Falcon on a secret mission, the other puts fans in the middle of a battle between the First Order and the Resistance. The Millennium Falcon features prominently in the theme park concept art – the experience of stepping inside the full size Millennium Falcon on the 'The Force Awakens' set was a story told by many involved in the film, it would be fantastic if fans were able to experience this for themselves at the parks!
Even though these big expansions may be years away from completion, there are exciting Star Wars additions coming much sooner than expected! The 'Star Wars Launch Bay' will be opening later this year at both theme parks – located in Tomorrowland in Disneyland, and Animation Courtyard in Disney's Hollywood Studios at Walt Disney World. This new interactive experience will include food outlets, character meet-and-greets, special exhibits (including costumes and props from the films), and merchandise. In addition, the popular 'Star Tours' ride at both parks will be updated later this year with a new planet and characters from 'The Force Awakens'. Each journey on the 3D motion simulator ride features a visit to two randomly selected planets (out of six in total), so it will be exciting to see how this new planet will feature in the line up of options. With no further specifics or hints given, we can only guess what this new content will include – but the trailer sequence of flying into the crashed Super Star Destroyer would fit in well with the current ride experiences!
The popular Jedi Training Academy will also get an upgrade, with new designs, storyline and characters from the 'Star Wars: Rebels' television series. Currently the live action experience lets children learn lightsaber moves from a Jedi Master before dueling Darth Vader or Darth Maul, with stormtroopers looking on. It hasn't been announced when the changes to the show will come into effect, or who the new villain will be – possibly because it features new characters from the upcoming season and they don't want to spoil any surprises for viewers.
Building on the success of 'Star Wars Weekends' at Walt Disney World, early next year both parks will host a new limited time seasonal event 'Season of the Force'. Disneyland's Space Mountain will be converted for the event, becoming 'Hyperspace Mountain' with a new Star Wars audio track and new digital projections. Weekends at Walt Disney World will feature a new Star Wars firework show during 'Season of the Force', complete with newly recorded John William's music. The dates for this new event haven't been announced yet, but hopefully they will release more information soon.
While this all may not seem immediately relevant for New Zealand fans, this is a very exciting development. Both North American parks feature the 'Star Tours' ride and Jedi Training Academy, but Walt Disney World has a larger Star Wars presence with it's annual 'Star Wars Weekends' events. The further distance to travel to Walt Disney World (and subsequent higher costs) has put those events out of reach for many fans here in New Zealand – so it is great news to hear that the much more accessible Disneyland is not left out when it comes to Star Wars theme park additions. It was confirmed today that construction won't begin (at Disneyland) until 2017, giving New Zealand fans the chance to plan and budget for an amazing Star Wars holiday experience when these new additions are finally open to the public.